'Destiny 2' Xur Inventory & Location February 22: Graviton Lance & Orpheus Rig
Destiny 2 's Xur inventory is live for the weekend of February 22, and it includes Graviton Lance, Orpheus Rig, Synthoceps and more. Get his location and learn critical details about each piece of gear below.
Where is Xur in Destiny 2 today?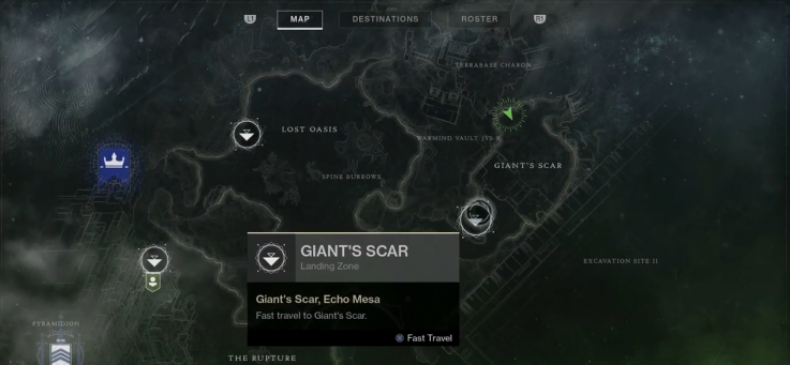 Xur is at Giant's Scar on Io. Use the map below if you need extra help finding out exactly where that is.
Destiny 2 Xur Inventory February 22
Once you've found Xur, here's a quick recap of the advantages of everything he's carrying.
Graviton Lance [Energy Pulse Rifle - 29 Legendary Shards]: Its Black Hole perk buffs the second shot of a burst with high damage and high recoil. In terms of the meta, that makes the gun worthwhile for PvP and add-control situations. While it may not be as powerful as it was in earlier updates, this gun still shreds if its perk is leveraged correctly. The shooting is a bit wonky, but it deals serious damage.
Orpheus Rig [Hunter Leg Armor - 23 Legendary Shards]: Orpheus Rig features the Uncanny Arrows perk, which offers Ability Energy for each enemy tethered by Shadowshot anchors. This might be the best tether-based Exotic in all of Destiny 2. It sets up a practically endless string of Supers.

Fusion Rifle Dexterity - Hand Cannon Dexterity - Outreach
Scout Rifle Scavenger - Special Ammo Finder

Synthoceps [Titan Gauntlets - 23 Legendary Shards]: Its Biotic Enhancements perk offers increased melee lunge range and increased melee and Super damage when surrounded. Especially if you're a Juggernaut Striker, there's no way this Exotic should be missed. If you're ever beset by lots of enemies, you can smash your way out of danger. Especially if you like melee Synthoceps is a blast to use.

Fusion Rifle Loader - Hand Cannon Loader - Impact Induction
Sniper Rifle Scavenger - Machine Gun Scavenger

Aeon Soul [Warlock Gauntlets] - 23 Shards: With everything else as strong as it is, Aeon Soul is probably the biggest letdown of the bunch. Its Aeon Energy perk only grants class-specific buffs to other allies wearing Aeon Cult gear, which means everyone has to be wearing these gloves to make them worthwhile. In general, we suggest a hard pass on this one.

Fusion Rifle Loader - Hand Cannon Loader - Impact Induction
Sniper Rifle Scavenger - Machine Gun Scavenger

Five of Swords: This is a Nightfall Challenge Card that can raise or lower the Power handicap to fit your needs. Raising the handicap increases your score multiplier.
As far as Xur inventories go, this one definitely has a few promising items worth picking up. For new Guardians, obvious highlights are the Orpheus Rig and Synthoceps. While they enhance totally different gameplay types and offer diverging advantages, their perks are strong enough to set you on a path toward smart character development. It is true that pretty much all of this gear has been sold by Xur in recent weeks, but those who happened to miss it are getting a second chance to secure something nice.
Destiny 2 is available on PS4, Xbox One and PC. Xur will be active through the Weekly Reset on Tuesday.
What are your thoughts on Xur's inventory for February 22? Will you be buying Orpheus Rig or Synthoceps? Tell us in the comments section!