'Destiny 2' Xur Inventory & Location Jan. 4: Graviton Lance & Sanguine Alchemy
Destiny 2 players can experience the first Xur appearance of the new year, and it features Graviton Lance, Celestial Nighthawk, Sanguine Alchemy and more. We'll tell you where Xur is located and offer tips on how you should be spending those hard-earned Legendary Shards.
Where is Xur in Destiny 2 today?
This week Xur is located in his usual spot in the EDZ's Winding Cove. We've included a map for those who need it.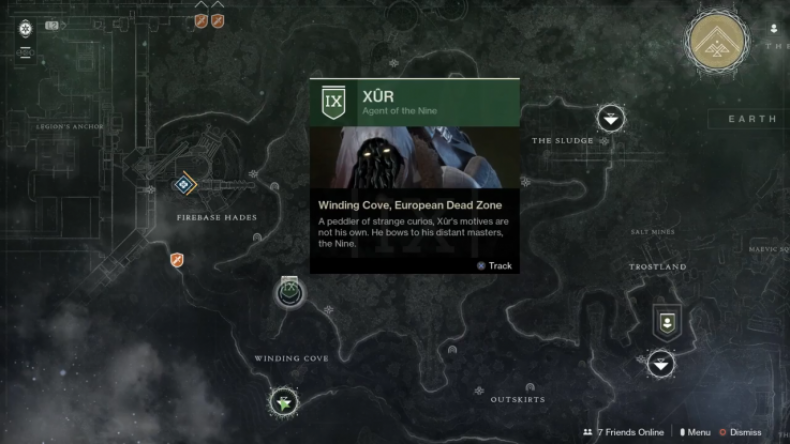 Destiny 2 Xur Inventory Jan. 4
Once you find Xur, here's a brief rundown of everything he's selling.
Graviton Lance [Energy Pulse Rifle - 29 Legendary Shards]: Its Black Hole perk buffs the second shot of a burst with high damage and high recoil. In terms of the meta, that makes the gun worthwhile for PvP and add-control situations. While it may not be as powerful as it was in earlier updates, this gun still shreds if its perk is leveraged correctly. The shooting is a bit wonky, but it deals serious damage.
Celestial Nighthawk [Hunter Helmet - 23 Legendary Shards]: Its Hawkeye Hack perk modifies the Golden Gun to fire one high-damage shot. Those harmed by the shot offer an explosion of Super energy. In the current meta, its best use is for boss damage. If you plan on completing Last Wish or Scourge of the Past, this is a must-have in-slot Exotic for Hunters.
Dunemarchers [Titan Leg Armor - 23 Legendary Shards]: With Linear Actuators sprint speed increases and builds up a static charge that releases when meleeing enemies. This isn't the most popular Exotic of the bunch, but it's good at everything it advertises. If you want to move faster and deal melee damage, this option is for you. It meshes well with pretty much every Titan subclass even though most wouldn't call it a must-have.
Sanguine Alchemy [Warlock Chest Armor - 23 Legendary Shards]: Also not very popular, Sanguine Alchemy has the Heightened Senses perk. When standing in a Rift, powerful enemies are more clearly visible. It's also possible to maintain radar while aiming down sights. This extra visibility is definitely great for team coordination, and it might be worth the extra Shards if you have some to spare.
Five of Swords: This is a Nightfall Challenge Card that can raise or lower the Power handicap to fit your needs. Raising the handicap increases your score multiplier.
To kick off 2019, this Xur inventory is a fresh collection of weapons not offered very often. Especially considering how many weapons were repeated in rotations at the end of the year, this particular catalog is a welcome surprise. While not as meaningful as selling Year 2 Exotics, at least Xur has refreshed out some of the ugly mainstays.
Destiny 2 is available now on PS4, Xbox One and PC.
What are your thoughts on Xur's latest inventory? Will you be picking up Graviton Lance or Celestial Nighthawk? Tell us in the comments section!