'Destiny 2' Xur Inventory & Location May 3: Huckleberry & Gemini Jester
Destiny 2 has a new Xur inventory that includes the Huckleberry, Gemini Jester, Antaeus Wards and more. Below, we'll recap his location and detail the benefits of each piece of gear he's carrying.
Where is Xur in Destiny 2 today?
This week you'll find Xur at Giant's Scar on Io. Those who don't know where that is can consult the map below.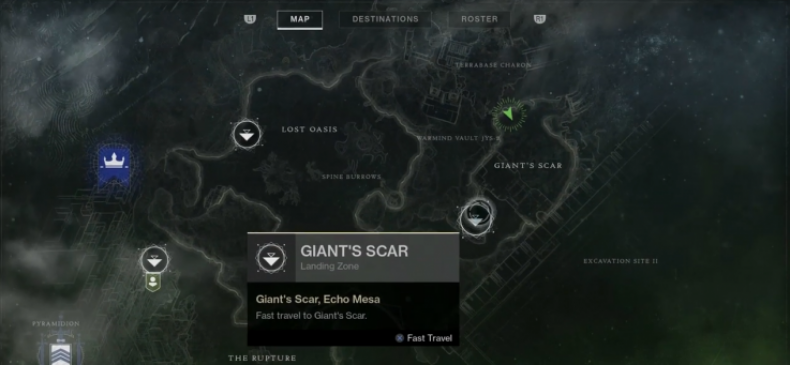 Destiny 2 Xur inventory May 3
Once you've found Xur, here's a quick recap of the goods he's carrying.
The Huckleberry [Primary SMG - 29 Legendary Shards] : With its Ride the Bull perk, rate of fire and recoil increase while pulling the trigger. Perhaps most critically, the magazine reloads after kills. In other words, if you're a good shot, you never have to reload. In the current meta this is favored as a PvE gun with an exceptionally worthwhile Catalyst. If you're looking to raid or finish up some of the Black Armory Forges or Reckoning, this is a nice gun to have at your side.
Antaeus Wards [Titan Leg Armor - 23 Legendary Shards] : With the Reflective Vents perk, sliding reflects projectiles. Any reflection also grants Super energy. In general, this is a high-skill Exotic with some serious benefits in PvP. Especially if you're able to reflect a Nova Bomb or Blade Barrage, the advantage of this armor pays off quickly. Just get up close, shield up, absorb the shot and return one of your own. For Guardians in the know, the Wards are a nice buy.

Fusion Rifle Dexterity - Hand Cannon Dexterity - Outreach
Scout Rifle Scavenger - Special Ammo Finder

Contraverse Hold [Warlock Gauntlets - 23 Shards] : These gloves have the Chaotic Exchanger perk, which resists incoming damage while charging Void grenades with Chaos Accelerant, Feed the Void or Handheld Supernova. Charged grenades also return a random amount of grenade energy on hit. In short, what you get with this Exotic is a chance to hurl unlimited supercharged grenades at will. It's a shame the Nova Warp got nerfed, but these are still worth your time.

Fusion Rifle Loader - Hand Cannon Loader - Impact Induction
Sniper Rifle Scavenger - Machine Gun Scavenger

Five of Swords : This is a Nightfall Challenge Card that can raise or lower the Power handicap to fit your needs. Raising the handicap increases your score multiplier.
Justice [Invitation of the Nine - Nine Shards]

Complete strike "The Hollowed Lair."
Hive samples: nine
Vex samples: nine
Scorn samples: nine
As far as Xur rolls go, this week's inventory is yet another average set of items. Pretty much everything listed here was already on offer over the past few weeks. So, if you weren't interested in it then, odds are you won't be now. If you don't have it, though, the Huckleberry is a great gun that's tailored to the kinds of activities happening in Destiny 2 right now. With just a few more days to run through the Verdant Forest, a pickup like this can help you make the most of it. Otherwise, you may be best off trying your luck with a Fated Engram.
Destiny 2 is available now on PS4, Xbox One and PC. Xur is available through the next Weekly Reset on Tuesday.
What are your thoughts on Xur's latest inventory? Will you be picking up the Huckleberry or Gemini Jester? Tell us in the comments section!