'Destiny 2' Xur Inventory & Location June 21: Jade Rabbit & Phoenix Protocol
Destiny 2 has a new Xur inventory for the weekend of June 21. Today's highlights include Jade Rabbit, Phoenix Protocol and Ursa Furiosa. Below, we detail the advantages of each piece of gear alongside the possible Perk rolls you may get.
Where is Xur in Destiny 2 today?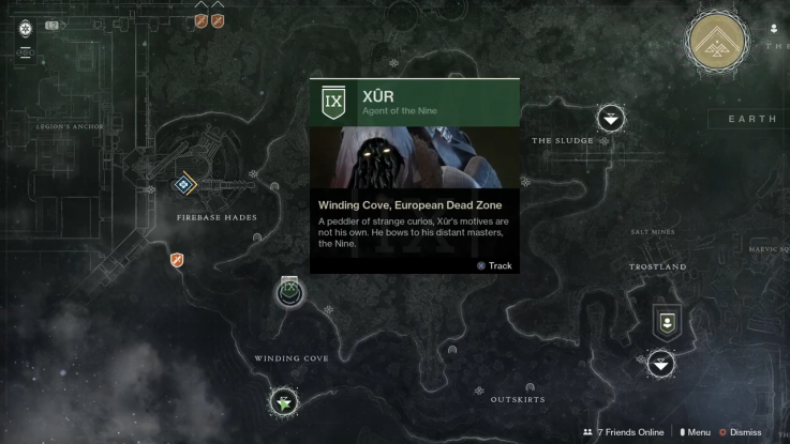 For the week of June 21, you'll find Xur at his usual spot in the EDZ Winding Cove, Those who don't know where that is can use the map below.
Destiny 2 Xur Inventory June 21
The Jade Rabbit [Primary Scout Rifle - 29 Legendary Shards]: With its Fate of All Fools perk, you can chain body shots to gain bonus damage on your next precision shot and refill ammo in your magazine. This is far from the best Exotic in Destiny 2, but it's a solid sniper substitute if you're looking for one. It has high headshot damage and is well suited for wide-open spaces. Especially if you've got the catalyst, it can shred in Crucible.
Oathkeeper [Hunter Gauntlets - 23 Legendary Shards]: With the Adamantine Brace intrinsic Perk, a bow's charge can be held indefinitely. If you've got Le Monarch or Wish-Ender in your inventory already, these gloves can make your Guardian feel like a god. It ensures you get max damage with every strike. This won't help those who dislike bows, but it certainly looks cool.

Pulse Rifle Loader - Momentum Transfer - Power Weapon Loader
word Scavenger - Special Ammo Finder

Ursa Furiosa [Titan Gauntlets - 23 Legendary Shards]: The Ursine Guard perk lets you move faster while Sentinel Shield is active. Additionally, guarded energy converts to Super energy once your Super finishes. This is a really strong Exotic for Void class Titans in PvE, but be forewarned that it requires a ton of absorbed damage to get your Super back. In other words, human foes in PvP mostly won't be dumb enough to let it be worthwhile.

Fusion Rifle Loader - Sidearm Loader - Enhanced Impact Induction
Shotgun Scavenger - Heavy Ammo Finder

Phoenix Protocol [Warlock Chest Armor - 23 Legendary Shards]: With the Battle Hearth perk, kills and assists inside Well of Radiance return Super energy. While Bungie recently tried to nerf it, very little has changed with regard to this armor, It's still essential for all forms of PvE from Reckoning to Raids. Overall, it's a solid replacement for traditional Nova Bomb strategies.

Unflinching Pulse Rifle Aim - Unflinching Shotgun Aim - Unflinching Rifle Aim
Pulse Rifle Reserves - Sidearm Reserves

Five of Swords: This is a Nightfall Challenge Card that can raise or lower the Power handicap to fit your needs. Raising the handicap increases your score multiplier.
The World [Invitation of the Nine - 9 Legendary Shards]

Lake of Shadows Strike
Nine Fallen Samples
Nine Cabal Samples
Nine Taken Samples
With the exception of Phoenix Protocol, this amounts to a pretty bland turnout for Xur this week. Weapons like the Jade Rabbit are solid if you're looking for something new to buy, but it's far from a game-changer. Even though Oathkeepers used to be somewhat reliable, the roll for this week is fairly deplorable considering there are no bow perks to be had. Unless you're a Warlock main, the weekend of June 21 might be a good time to spend some Shards on an Engram instead.
Destiny 2 is available now on PS4, Xbox One and PC.
What do you think of Xur this week? Will you be spending Shards to buy Jade Rabbit or the Phoenix Protocol? Tell us in the comments section!