'Destiny 2' Xur Inventory & Location Dec. 21: Merciless & Apotheosis Veil
Destiny 2 has a new Exotic inventory courtesy of Xur, and we want to make sure you take advantage. This week, his highlight items include the Merciless Fusion Rifle and Apotheosis Veil Warlock helmet. Below, we'll recap Xur's location and possible perk rolls.
Where is Xur in Destiny 2 today?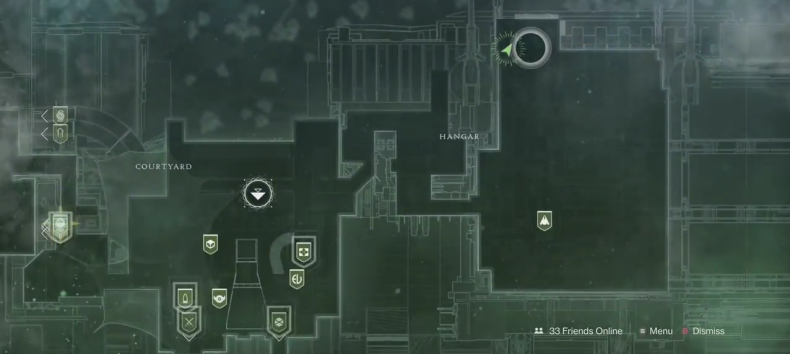 This week you'll find Xur at the Tower inside the Hangar by some vendors. In case you need a map, we've supplied one above.
Destiny 2 Xur Inventory Dec. 21
Once you find Xur, here's a quick recap of the gear he's carrying.
Merciless [Energy Fusion Rifle - 29 Shards]: Merciless has the Conservative Momentum perk, which triggers faster weapon charging after non-lethal hits from projectiles until the wilder gets a kill. Merciless is best leveraged for crowd control, DPS and boss fights. Especially if you're taking on one of the Black Armory Forges this weekend, Merciless is worth having in your arsenal.
Knucklehead Radar [Hunter Helmet - 23 Shards]: Since Forsaken brought Destiny 2's sniper meta back into view, the Knucklehead Radar has become a much more useful helmet. As its name implies, the Upgraded Sensor Pack Perk gives access to radar while aiming and enhances resolution while crouched. If you're a Hunter sniper, the advantages there can't be overstated. It helps get the drop on your enemies in PvE and PvP alike.

Bow Targeting / Hand Cannon Targeting / Hands-on/ Shotgun Reserves / Heavy Ammo Finder

Aeon Safe [Titan Gauntlets - 23 Shards]: The hard truth about Aeon Safe is that it's probably one of the worst Exotics in all of Destiny 2. It offers specific energy boosts depending on your class, but those boosts only activate if that player is also wearing Aeon Cult gear. In other words, these gloves are pointless unless everyone else on your team is wearing them too. Why does Xur keep selling this?

Fusion Loader / Hand Cannon Loader / Impact Induction / Shotgun Scavenger / Heavy Ammo Finder

Apotheosis Veil [Warlock Helmet - 23 Shards]: The Apotheosis Veil has been around since the original Destiny, and its benefits are largely the same in both games. Its Insatiable perk regenerates health, melee, grenade and Rift energy when activating your Super. Nearby enemies also recharge their class abilities faster, making it a solid support item. Especially when paired with gear that buffs your Super, you can't go wrong. If you like PvP, Apotheosis Veil is worth consideration.

Bow Targeting / Hand Cannon Targeting / Hands-on/ Shotgun Reserves / Heavy Ammo Finder

Five of Swords: This is a Nightfall Challenge Card that can raise or lower the Power handicap to fit your needs. Raising the handicap increases your score multiplier.
This week's Xur inventory is a bit of mixed bag, but we've certainly seen worse over the past few months. Since you might be heading to Xur anyway to give him some special treats for the Dawning, there's no harm in giving this latest Exotic collection a second pass. Nothing here will blow you out of the water, but, when it comes to the Merciless or Apotheosis Veil specifically, there's a chance to get gear Xur doesn't sell very often.
Destiny 2 is available now on PS4, Xbox One and PC.
What are your thoughts on Xur's latest inventory? Is Merciless worth spending the Shards? Tell us in the comments section!