'Destiny 2' Xur Inventory & Location January 11 - Merciless & Crown of Tempests
Destiny 2 players can get a new Exotic inventory from Xur this weekend, and it includes Merciless, Young Ahamkara's Spine, Doom Fang Pauldron and Crown of Tempests. Below, we'll list Xur's location and discuss the advantages for each piece of gear.
Where is Xur in Destiny 2 today?
This week Xur is located in the Hangar area of the Tower. Use the map below to find him.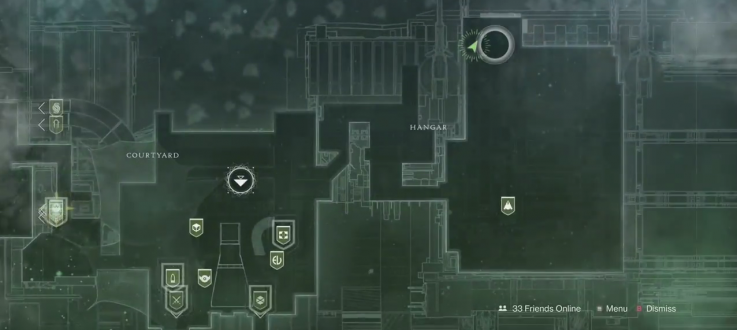 Destiny 2 Xur Inventory January 11
Once you find Xur, here's a quick rundown of everything he's carrying.
Merciless [Energy Fusion Rifle - 29 Shards]: Merciless has the Conservative Momentum perk, which triggers faster weapon charging after non-lethal hits from projectiles until the wilder gets a kill. Merciless is best leveraged for crowd control, DPS and boss fights. Especially if you're taking on one of the Black Armory Forges this weekend, Merciless is worth having in your arsenal.
Young Ahamkara's Spine [Hunter Gauntlets - 23 Shards]: This item typically has the Wish-Dragon Teeth perk that increases Tripmine Grenade duration and blast radius. Ability damage also regens grenade energy. Especially when paired with the Way of a Thousand Cuts, you can essentially have an endless loop of projectiles.

Fusion Rifle Loader / Hand cannon Loader / Impact Induction
Sniper Rifle Scavenger / Machine gun Scavenger

Doom Fang Pauldron [Titan Gauntlets - 23 Light Shards]: With the Horns Of Doom Perk, Shield Bash kills recharge shield throw and melee ability kills recharge the Sentinel Shield super. This perk is only going favor of those who play as a very aggressive Titan. If you're really into the Captain America fight style, it may be worth a look.

Fusion Rifle Loader / Hand Cannon Loader / Impact Induction
Sniper Rifle Scavenger / Sniper Rifle Scavenger

Crown of Tempests [Warlock Helmet - 23 Shards]: Its Conduction Tines perk increases the recharge rate of your Arc abilities with each Arc-ability kill. Stormtrance duration is also extended. In terms of Crown of Tempests' use in the current meta, it's best leveraged during PvE scenarios where Warlocks can just spam Arc for days. Especially with a Hands-On roll that charges Super even more, this option is hard to ignore. It's not necessarily a must-have item, but it's a nice piece of complimentary gear if that's what you're looking for.

Fusion Rifle Targeting / Hand Cannon Targeting / Hands-on
Sniper Rifle Reserves / Machine Gun Reserves

Five of Swords: This is a Nightfall Challenge Card that can raise or lower the Power handicap to fit your needs. Raising the handicap increases your score multiplier.
Despite being the first appearance of Xur since Bungie declared Destiny's independence from Activision, this particular inventory isn't exactly a standout. After all, Merciless was offered just a few weeks ago, and many of the other pieces make frequent appearances in the rotation. At best, Warlocks should probably spring for the Crown of Tempests with Hands On. Other Exotics, like Young Ahamkara's Spine and Doom Fang Pauldron have rolls that are either contradictory or only useful for very specific playstyles. Even without Activision's influence, those Year 2 Exotics manage to elude Guardians.
What are your thoughts on Xur's inventory this week? Will you be springing for Merciless or Crown of Tempests? Tell us in the comments section!