'Destiny 2' Xur Inventory & Location March 6: Prometheus Lens & Helm of Saint-14
Destiny 2 has a new Xur inventory available for March 6 that includes Prometheus Lens, Helm of Saint-14 and Apotheosis Veil. Below we recap all you need to know about Xur's location and the best ways Guardians should spend those precious Legendary Shards. Will you be heading into Season of the Worthy with a bespoke piece of gear, or will you try your luck at a Fated Engram?
Where is Xur Destiny 2 March 6
This week, players can locate Xur at the Barge on Nessus. Those who don't know where that is are free to use the map below.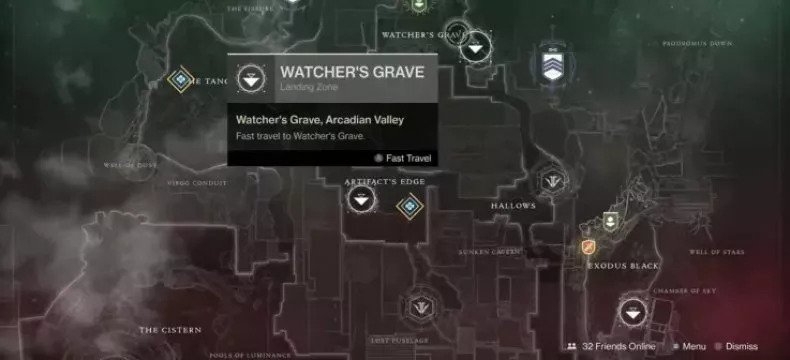 Destiny 2 Xur Inventory March 6
Now that you've made your way to Xur's location, here's a quick recap of the wares he's carrying to help you make the best decision.
Prometheus Lens [Energy Trace Rifle - 29 Legendary Shards]: The Prometheus Lens is an Exotic Trace Rifle that packs some serious punch in PvE. This gun isn't as OP as it used to be, but it's still worth having in your armory as a raid companion. Especially considering Trails of Osiris is coming back, it makes sense to have this Exotic featured heading into Season 10. For longtime Guardians, Xur selling Prometheus Lens today will feel very appropriate.
Lucky Pants [Hunter Leg Armor - 23 Legendary Shards]: With the Illegally Modified Holster perk, precision hits load a single round to the chamber of a stowed Hand Cannon. Hand Cannons also load faster and are more accurate once you swap to them. If you like using Ace of Spades or Last Word, you can't go wrong with these. That being said, if you don't use Hand Cannons, they're pretty much useless.
Helm of Saint-14 [Titan Helmet - 23 Legendary Shards]: This is a fairly rare Exotic for Xur's repertoire. The Starless Night perk blinds enemies who enter Ward of Dawn and shields allies who pass through it. Guarding with the Sentinel Shield also blinds nearby enemies. Overall, this headpiece is decent for a bit of a troll, but it's not a serious contender. Unless you're a hardcore Sentinel Titan, the uses for this one are limited.
Apotheosis Veil [Warlock Helmet - 23 Shards]: The Apotheosis Veil has been around since the original Destiny, and its benefits are largely the same in both games. Its Insatiable perk regenerates health, melee, grenade and Rift energy when activating your Super. Nearby enemies also recharge their class abilities faster, making it a solid support item. Especially when paired with gear that buffs your Super, you can't go wrong. If you like PvP, Apotheosis Veil is worth consideration.
Five of Swords: This is a Nightfall Challenge Card that can raise or lower the Power handicap to fit your needs. Raising the handicap increases your score multiplier.
Strength [Invitation of the Nine - Nine Legendary Shards]

Complete the Garden World Strike
Nine Cabal Samples
Nine Hive Samples
Nine Vex Samples
While featuring Prometheus Lens and other PvP-focused Exotics like Apotheosis Veil is a nice touch heading into Season 10 and the return of Trials, there's nothing particularly unique about Xur's inventory today. Most of these items have been offered several times over the past few months, and others have very specific use cases. It will be super cool to see lots of Prometheuses running around when Season of the Worthy kicks off on Tuesday, but that's a novelty at best. Yet, as bland as today's Xur inventory may be to dedicated players, it leaves the door open for some surprises next week. Will we see a new weapon work its way into the rotation as a new chapter begins?
Destiny 2 is available now on PS4, Xbox One and PC.
What are your thoughts on Xur's inventory for March 6? Will you be picking up Prometheus Lens, Helm of Saint-14 or Apotheosis Veil? Tell us in the comments section!