'Destiny 2' Xur Inventory & Location June 14: Queenbreaker & Geomag Stabilizers
Destiny 2 has a new Xur inventory for the week of June 14. The Queenbreaker, ACD/0 Feedback Fence and Geomag Stabilizers are up for grabs. Below we reveal Xur's location and explain the rolls and advantages of each piece of gear.
Where is Xur in Destiny 2 today?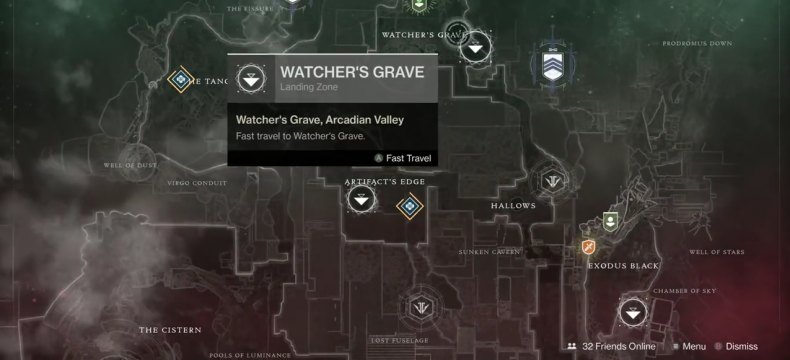 Despite also being there last week, Xur is back at the barge on Nessus. Those who don't know the location can use the map above.
Destiny 2 Xur Inventory June 14
Once you've successfully located Xur, here's a quick recap of everything he's carrying for the week of June 14.
The Queenbreaker [Heavy Linear Fusion Rifle - 29 Legendary Shards]: As far as we know, this is a brand-new weapon for Xur's inventory. Its Wire Rifle perk fires a long-range protection Arc bolt that blinds enemies on hit. It's a fairly powerful Exotic even though it is slightly held back by the fact that it requires Heavy Ammo. With its quick fire rate this bow is very effective in the Crucible, but you're better off using a standard sniper in PvE. In PvP, though, this is a fast, satisfying weapon.
Knucklehead Radar [Hunter Helmet - 23 Legendary Shards]: Since Forsaken brought Destiny 2's sniper meta back into view, the Knucklehead Radar has become a much more useful helmet. As its name implies, the Upgraded Sensor Pack Perk gives access to radar while aiming and enhances resolution while crouched. If you're a Hunter sniper, the advantages there can't be overstated. It helps get the drop on your enemies in PvE and PvP alike.

Bow Targeting / Hand Cannon Targeting / Hands-on/ Shotgun Reserves / Heavy Ammo Finder

ACD/0 Feedback Fence [Titan Gauntlets - 23 Legendary Shards]: Given its Fury Conductors perk, melee kills boost energy and being struck by melee reduces damage and unleashes an explosion. Like most melee-based Exotics, these gloves are more or less useless in Crucible. The effect builds in stacks of three, and even at its worst it's not as powerful as you'd think. We'd suggest passing on this one.

Fastball - Kinetic Weapon Loader - Power Weapon Loader
Grenade Launcher Scavenger - Heavy Ammo Finder

Geomag Stabilizers [Warlock Leg Armor - 23 Legendary Shards]: With its Close Enough perk, this armor tops off your Chaos Reach Super energy by sprinting. To make it even better, doing damage with Chaos Reach extends its effects further. With this kind of advantage, the Stabilizers are best suited for PvE activities and Gambit bosses. Any Warlock that runs Chaos Reach shouldn't be without these. This is probably the best Exotic in this week's inventory.

Fusion Rifle Dexterity - Hand Cannon Dexterity - Outreach
Scout Rifle Scavenger - Special Ammo Finder

Five of Swords: This is a Nightfall Challenge Card that can raise or lower the Power handicap to fit your needs. Raising the handicap increases your score multiplier.
The World [Invitation of the Nine - 9 Legendary Shards]

Complete the Lake of Shadows Strike
Nine Fallen Samples
Nine Cabal Samples
Nine Taken Samples
Overall, this week's Xur inventory is fairly average with a couple noteworthy standouts. For those who like to have every Exotic they can carry, it's nice to see the Queenbreaker finally up for sale. While it may not be the most potent firearm on the planet, it is a lot of fun to use in PvP where speed and accuracy are paramount. On the other end of the spectrum, Geomag Stabilizers are a PvE beast as long as you're a Warlock. The other two items are pretty forgettable, but we've certainly seen worse Xur setups than this in the past. Especially heading into Iron Banner next week, both the Queenbreaker and Geomag are well worth consideration.
Destiny 2 is available now on PS4, Xbox One and PC. This Xur inventory is active through the Weekly Reset on Tuesday.
What are your thoughts on the June 14 Xur inventory? Will you be buying the Queenbreaker or Geomag Stabilizers? Tell us in the comments section!