'Destiny 2' Xur Inventory & Location February 8: Skyburner's Oath & Sunbracers
Destiny 2 has a new inventory from Xur that features Skyburner's Oath, the Dragon's Shadow, Sunbracers and more. Below, we recap his location and best gear for the week.
Where is Xur in Destiny 2 today?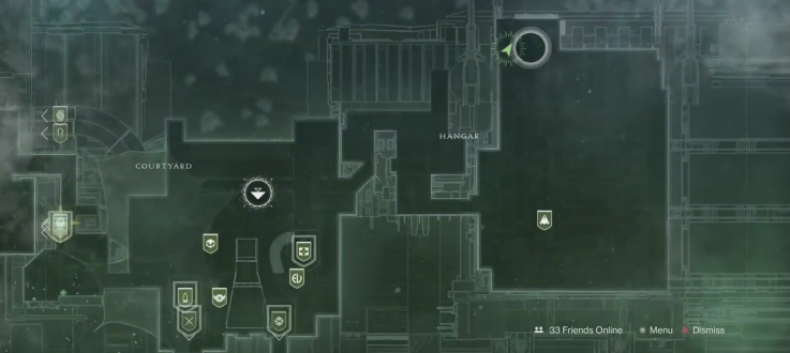 Xur is located near the Dead Orbit hangars in the Tower. If you don't know where that is, feel free to use the map above.
Destiny 2 Xur Inventory February 8
Once you've found Xur, here's a recap of what he's carrying alongside all possible rolls.
Skyburner's Oath [Scout Rifle - 29 Legendary Shards]: This weapon has the Slug Rifle perk that makes its rounds more powerful when aiming down sights. The Oath isn't the best Scout in the game, but its extra damage can be helpful for those who need to accomplish a lot in solo sessions. This gun is long overdue for a buff, which means it may be worth investing in if you have the extra shards.
The Dragon's Shadow [Hunter Chest Armor - 23 Legendary Shards]: The main perk of this Exotic is Wraithmetal Mail. It increases your movement and weapon-handling speed after dodging. The emphasis on movement makes this Exotic perfect for PvP, but it's not that useful otherwise. You won't see this Exotic too much in the wild.

Unflinching Bow | Unflinching Fusion | Unflinching Kinetic
Scout Reserves | Special Ammo Finder

Sunbracers [Warlock Gauntlets - 23 Legendary Shards]: The main draw for these is the Helium Spirals perk that increases the duration of Solar Grenades and offers unlimited Solar Grenade energy for Solar melee kills. In short, it allows you to have multiple grenades cooking for an extended period of time. You can't just toss a bunch at once, but there's still a real advantage here in terms of crowd control. This is best suited for PvE, where enemies are more apt to walk into grenades, but it's not a terrible Exotic overall.

Fusion Loader | Hand Cannon Loader | Impact Induction
Sniper Scavenger | Machine Gun Scavenger

Wormgod Caress [Titan Gauntlets - 23 Legendary Shards]: With the Burning Fists perk, melee kills increase melee damage with a stacking impact as you slay more foes. This Exotic is tailored to movement-focused builds in PvE, because you're best able to chain together melee attacks in that scenario. This Exotic is sort of a one-trick pony, but if you're the kind of Guardian who loves to melee it may be worth a look.

Fusion Loader | Hand Cannon Loader | Impact Induction
Sniper Scavenger | Machine Gun Scavenger

Five of Swords: This is a Nightfall Challenge Card that can raise or lower the Power handicap to fit your needs. Raising the handicap increases your score multiplier.
Overall, this week's Destiny 2 Xur inventory is one of his weakest in a while. Some of these Exotics are decent for specific purposes, but there's too much here that's one-dimensional. If you're a longtime player with Shards to spare you might find something worthwhile, but new players should keep saving for a presumably better inventory in the near future. Unless you have a specific playstle tuned to melee or PvE, there's very little here that's truly enticing.
Destiny 2 is available now on PS4, Xbox One and PC.
What are your thoughts on Destiny 2's Xur inventory this week? Will you be picking up Skyburner's Oath or the Dragon's Shadow? Tell us in the comments section!