'Destiny 2' Xur Inventory & Location February 15: Sunshot & Actium War Rig
Destiny 2 has a new Xur inventory featuring Sunshot, Actium War Rig, Lucky Raspberry and the Skull of Dire Ahamkara. In this quick guide, we'll tell you where to find Xur and reveal the advantages and rolls of each piece of gear.
Where is Xur in Destiny 2 today?
Xur can be found in the Winding Cove of the EDZ. Those who don't know where that is can use the map below.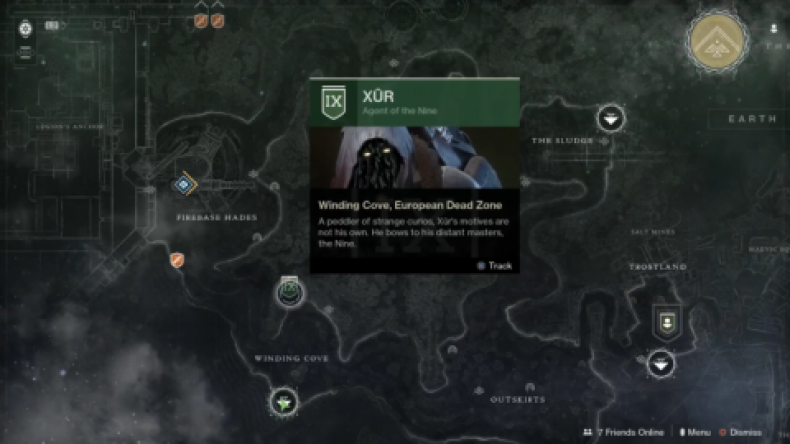 Destiny 2 Xur Inventory February 15
Once you've found Xur, here's a quick recap of everything he's carrying.
Sunshot [Hand Cannon - 29 Legendary Shards] : This weapon drops during the campaign, but it's a nice addition to your collection regardless. Leveraging the Sunburn perk lets you easily vaporize targets with explosive rounds. It's a great PvE gun with super-satisfying ammo. Considering the fairly recent Hand Cannon buffs, it's not the worst investment.
Lucky Raspberry [Hunter Chest Armor - 23 Legendary Shards] : The Lucky Raspberry features the Probability Matrix perk, which increases the chaining of the Arc Bolt Grenade with a random chance for recharge and a guaranteed recharge after a full chain. Especially if you're an Arcstrider, its advantages in PvE and PvP alike are obvious. Toss grenades at human opponents from a distance or clear large clusters of AI foes with an endless barrage of projectiles. For many Hunters, this is a can't-miss Exotic.

Unflinching Bow Aim - Unflinching Fusion Rifle Aim - Unflinching Kinetic Aim
Scout Rifle Reserves - Special Ammo Finder

Actium War Rig [Titan Chest Armor - 23 Legendary Shards : With Auto-Loading Link, this armor steadily reloads a portion of your ammo from reserves. The advantage may sound limited at first, but it's an absolute beast when paired with Sweet Business or Breakneck. Auto-Rifles are a little hit or miss right now overall, but if you use this armor correctly, you can make them a lot better in all situations.

Unflinching Bow Aim - Unflinching Fusion Rifle Aim - Unflinching Kinetic Aim
Scout Rifle Reserves - Special Ammo Finder

Skull of Dire Ahamkara [Warlock Helmet - 23 Legendary Shards] : This has an Actual Grinder perk that buffs resistance during Nova Bomb. Nova Bomb kills also give Super Energy. If you're a Voidwalker, this is a must-have Exotic after recent buffs. With Nova Bombs in hand, you'll have an endless stream of Super Energy.
Mobility / Recovery
Bow Targeting / Hand Cannon Targeting / Hands-On (Bonus super energy on melee kills)
Shotgun Reserves / Heavy Ammo Finder
Five of Swords: This is a Nightfall Challenge Card that can raise or lower the Power handicap to fit your needs. Raising the handicap increases your score multiplier.
Today's Xur inventory certainly isn't the best one Destiny 2 has ever seen, but there are a few standouts depending on your class. The Lucky Raspberry is probably the best prize here, but some of the others are OK too. Still, it's a bit frustrating to know the weapon is one that players can already get very easily. Overall, we'd suggest waiting for a better week unless the Raspberry really suits your playstyle.
Destiny 2 is available on PS4, Xbox One and PC. Xur will be active through the Weekly Reset on Tuesday.
What are your thoughts on Xur's inventory for February 15? Did you grab Sunshot or the Lucky Raspberry? Tell us in the comments section!