'Destiny 2' Xur Inventory & Location June 28: Vigilance Wing & One-Eyed Mask
Destiny 2 has a new Xur inventory this weekend, and we're here to tell you the good and bad of his setup. If you've been on the hunt for Vigilance Wing, One-Eyed Mask or Chromatic Fire, we'll tell you the location to find it.
Where is Xur in Destiny 2 today?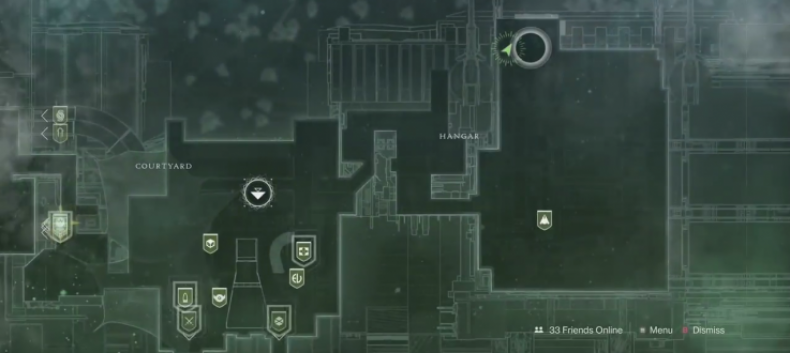 You'll find Xur in the Hangar area of the Tower near Dead Orbit. Those who don't know where that is can use the map below.
Destiny 2 Xur Inventory June 28
Once you've located Xur, here's a quick recap of everything he's carrying alongside all possible perk rolls.
Vigilance Wing [Primary Pulse Rifle - 29 Legendary Shards]: This Pulse Rifle is best defined by its Harsh Truth perk, which includes a five-round burst. When a nearby ally is killed, you gain health regeneration and movement speed. This makes the gun especially helpful in Crucible. Updated recoil stats make Vigilance Wing slightly less potent since Forsaken, but it still shreds in PvP.
St0mp-EE5 [Hunter Leg Armor - 23 Legendary Shards]: Its Hydraulic Boosters increase sprint speed and slide distance. It also improves your High Jump, Strafe Jump and Triple Jump. In the recent Hunter meta, this is a solid choice for Guardians who don't have much in the way of mobility gear. The St0mp-EE5 won't be super-useful against AI in PvE, but it sure helps make a quick getaway against human foes.

Auto Rifle Dexterity - Fusion Rifle Dexterity - Perpetuation
Scout Rifle Scavenger - Sidearm Scavenger

One-Eyed Mask [Titan Helmet - 23 Legendary Shards]: This desirable helmet has the Vengeance perk, which tracks enemies that damage you. Destroying the targeted foe offers increased damage and overshield. This Exotic has become infamous for being seriously OP in PvP even after recent nerfs. In other words, those hoping to have some fun in Crucible over the weekend are about to be very disappointed.

Bow Targeting - Hand Cannon Targeting - Remote Connection
Fusion Rifle Reserves - Sniper Rifle Reserves

Chromatic Fire [Warlock Chest Armor - 23 Legendary Shards]: This armor has the Crystalline Transistor perk, which creates an explosion after precision kills with a Kinetic weapon. Paired with Blast Furnace, Ace or Breakneck, this is an amazing Exotic for AoE effects in PvP or PvE alike. It's not going to suit everybody's playstyle, but this is the only Forsaken Exotic in today's catalog. In other words, Warlocks should get it while it's available.

Unflinching Auto Rifle Aim - Unflinching Hand Cannon Aim - Unflinching Kinetic Aim
Sidearm Reserves - Submachine Gun Reserves

Five of Swords: This is a Nightfall Challenge Card that can raise or lower the Power handicap to fit your needs. Raising the handicap increases your score multiplier.
The World [Invitation of the Nine - Nine Legendary Shards]

Complete the Lake of Shadows Strike.
Collect Nine Fallen Samples.
Collect Nine Cabal Samples.
Collect Nine Taken Samples.
While there's nothing particularly new about Xur's inventory for the week of June 28, there are still a couple of standout items here. A Titan with any interest in Crucible would be foolish to ignore the One-Eyed Mask while it's on sale, and the same can be said about Vigilance Wing. Both of these Exotics were nerfed for their potency in PvP, but tweaks haven't been enough to stop this gear from dominating the meta. Hunters and Warlocks may want to buy a Fated Engram this week, but we suspect Xur will have better offerings for those players in the future.
Destiny 2 is available now on PS4, Xbox One and PC.
What are your thoughts on Xur's Destiny 2 inventory for June 28? Will you be buying Vigilance Wing or the One-Eyed Mask? Tell us in the comments section!