'Destiny 2' Xur Inventory & Location November 1: Vigilance Wing & Peacekeepers
Destiny 2 has an updated Xur inventory for the weekend of November 1, and we want you to make the most of it. Below, we tell you where Xur is located and explain why you should consider purchasing Exotics like the Vigilance Wing, Peacekeepers and Nezarec's Sin. Here's everything you need to know.
Where is Xur in Destiny 2 November 1
This week you'll find Xur in his usual spot at the Barge in Watcher's Grave on Nessus. Those who don't know where that location is will find it on the map below.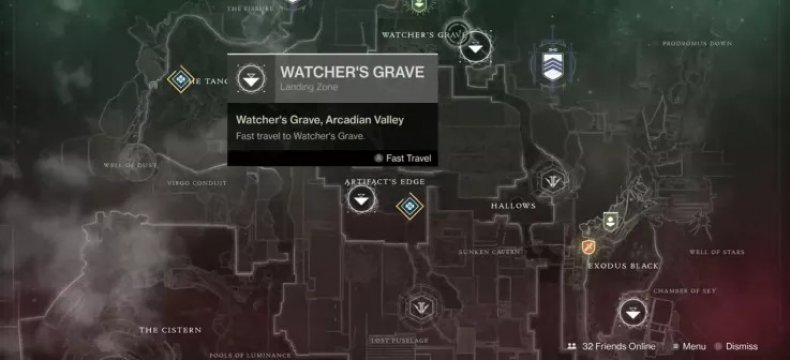 Destiny 2 Xur Inventory November 1
Once you've found Xur, here's a recap of the gear he's selling in his shop. Due to changes with the way Xur gear rolls work after Shadowkeep, gear rolls will not be listed.
Vigilance Wing [Primary Pulse Rifle - 29 Legendary Shards]: This Pulse Rifle is best defined by its Harsh Truth perk, which includes a five-round burst. When a nearby ally is killed, you gain health regeneration and movement speed. This makes the gun especially helpful in Crucible. Updated recoil stats make Vigilance Wing slightly less potent since Forsaken, but it still shreds in PvP.
Lucky Pants [Hunter Leg Armor - 23 Legendary Shards]: With the Illegally Modified Holster perk, precision hits load a single round to the chamber of a stowed Hand Cannon. Hand Cannons also load faster and are more accurate once you swap to them. fI you like using Ace of Spades or Last Word, you can't go wrong with these. That being said, if you don't use Hand Cannons, they're pretty much useless.
Nezarec's Sin [Warlock Helmet- 23 Legendary Shards]: With the Abysmal Extractors perk, Void damage increases ability energy recharge rate. This might be a smart Exotic for those trying out the Void Warlock subclass.
Peacekeepers [Titan Leg Armor 23 Shards]: The main lure of Peacekeepers is its Mecha Holster perk, which reloads stowed SMGs to make them instantly ready when you switch them back in. Since it's possible to cycle between two SMGs, the Peacekeepers' benefits have a tendency to stack.
Five of Swords: This is a Nightfall Challenge Card that can raise or lower the Power handicap to fit your needs. Raising the handicap increases your score multiplier
The High Priestess [Invitation of the Nine - Nine Legendary Shards]:

Complete the Inverted Spire Strike
Nine Vex Samples
Nine Cabal Samples
Nine Fallen Samples
This week's Xur inventory doesn't offer much that hasn't been seen before, but Nezarec's Sin is a clear standout for Warlocks. In terms of having a strong Super-regen Exotic, this is one of the best a Guardian can ask for. Especially if you play lots of PvE where you need to take down powerful bosses on a regular basis, you'd be foolish to not pick up the Sin. Beyond that, though, the rest of the options are pretty standard. Vigilance Wing is a really solid rifle, but it's on sale from Xur very frequently. Players should feel comfortable saving Shards for one later while investing in something like Nezarec's now. If that's not your style, either wait for next week or try your luck at a Fated Engram.
Destiny 2 is available now on PS4, Xbox One and PC.
What are thoughts on Xur's inventory for November 1? Will you be picking up Vigilance Wing or Peacekeepers? Tell us in the comments section!