'Destiny 2' Xur Inventory & Location May 31: Wings of the Sacred Dawn & Fr0st-EE5
Destiny 2 has a new Xur inventory, so we're here to describe its benefits and reveal the mysterious vendors location. If you're in the market for Wings of the Sacred Dawn or Fr0st-EE5, the May 31 lineup has you covered,
Where is Xur in Destiny 2 today?
You'll find Xur in the Hangar area of the Tower. Those who don't know where that is can use the map below.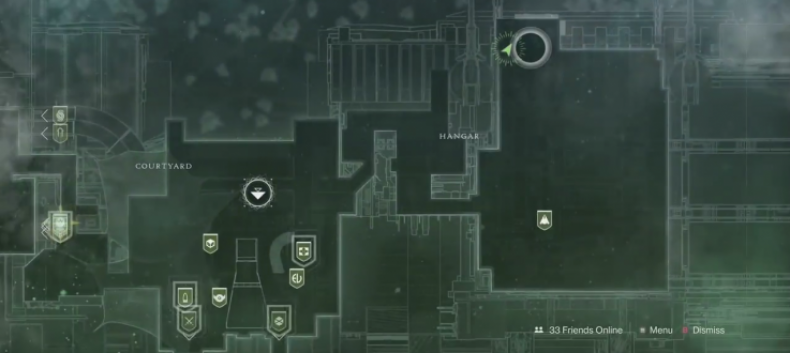 Destiny 2 Xur Inventory May 31
Once you've located Xur, here's a recap of the gear he's carrying alongside the respective rolls.
Wings Of The Sacred Dawn [Warlock Chest - 23 Legendary Shards]: This Exotic has the Tome Of Dawn perk, which briefly suspends you while aiming weapons in mid-air. This Exotic may be interesting to experiment with due to fairly recent changes in mid-air accuracy, but you're still putting yourself in a very vulnerable position for a pretty small reward.

Unflinching Bow Aim - Unflinching Fusion Rifle Aim - Unflinching Kinetic Aim
Scout Rifle Reserves - Special Ammo Finder

Aeon Safe [Titan Gauntlets - 23 Legendary Shards]: The hard truth about Aeon Safe is that it's probably one of the worst Exotics in all of Destiny 2. It offers specific energy boosts depending on your class, but those boosts only activate if that player is also wearing Aeon Cult gear. In other words, these gloves are pointless unless everyone else on your team is wearing them too. Why does Xur keep selling this?

Fusion Loader / Hand Cannon Loader / Impact Induction / Shotgun Scavenger / Heavy Ammo Finder

Fr0st-EE5 [Hunter Leg Armor - 23 Legendary Shards]: This Hunter armor has the Rapid Cooldown perk, which increases grenade, melee and dodge regeneration while sprinting. Dodging also increases sprint speed. Many players tend to run these for a neutral game, but the advantage isn't that great compared to other Hunter options. On the bright side, it is possible to get an ability recharge by running in circles.

Fusion Rifle Dexterity / Hand Cannon Dexterity / Bomber
Scout Rifle Reserves / Special Ammo Finder

Five of Swords: This is a Nightfall Challenge Card that can raise or lower the Power handicap to fit your needs. Raising the handicap increases your score multiplier.
The World [Invitation of the Nine - Nine Legendary Shards]

Complete the Lake of Shadows Strike
Collect nine Fallen samples
Collect nine Cabal samples
Collect nine Taken samples
When all is said and done Destiny 2 Season of the Drifter has essentially ended with a whimper rather than a bang. In a rather rare occurrence, Xur appears to be selling no weapons this week. As far as the gear is concerned, then, most of these items are for very specific use cases or simply don't match up to other Exotics in their class. For those who thought Xur couldn't get any worse, this week's inventory is essentially rock bottom. Let's hope he's saving up for something special in honor of Season of the Opulence.
Destiny 2 is available now on PS4, Xbox One and PC.
What are your thoughts on the Xur inventory for May 31? Will you be buying Wings of the Sacred Dawn or Fr0st-EE5? Tell us in the comments section!