'Destiny 2' Xur Inventory and Location December 11: Trinity Ghoul and Armamentarium
Destiny 2 has a new Xur inventory for December 11 featuring Trinity Ghoul, Gwisin Vest and Armamentarium. Want to know if you should be spending Legendary Shards on some new gear that helps you get the Hawkmoon? You've come to the right place. Below, we detail all you need to know about Xur's latest location and the stat rolls of his new items.
Destiny 2 Xur location December 11
This week, Xur can be found in his standard spot in the Hangar area of the Tower near Dead Orbit. Those who don't know where that is are free to consult the map below. If he doesn't show up, just load into another planet and come back.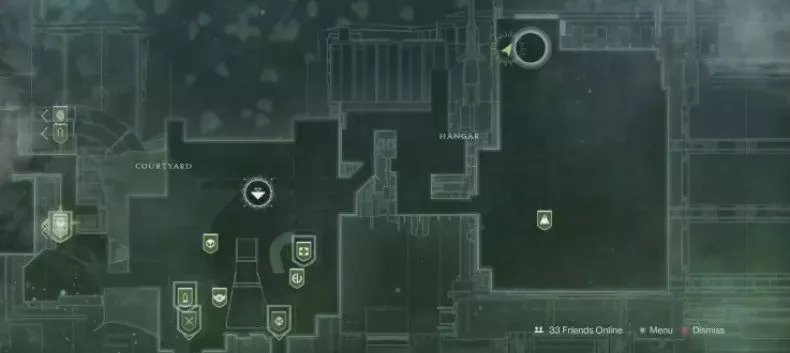 Destiny 2 Xur inventory December 11
Now that you've successfully pinpointed Xur's location, let's take a look at the wares he's carrying. The random stat rolls are listed below as well.
Trinity Ghoul [Energy Combat Bow - 29 Legendary Shards]: Its Split Electron perk fires an arrow that splits when released. Aiming down sights and a full draw also increases the bow's spread. It's best suited for add clearing in PvE, but don't expect it to dominate with high-level bosses. If you're hungry for multikills, this is a really effective way to get them. This is no Wish-Ender, but it's pretty darn close. Especially if you can snag the catalyst, this is a no-brainer for New Light players.
Gwisin Vest [Hunter Chest Armor - 23 Legendary Shards]: Its Roving Assassin perk restores Super energy for every Spectral Blades kill you get before going into stealth mode. In short, this advantage lets your Supers last forever as long as you keep killing. Especially in PvP, this piece of gear is one of the better items you can get right now.

MOB 14, RES 3, REC 16, DIS 2, INT 12, STR 15

Armamentarium [Titan Chest Armor - 23 Legendary Shards]: This Chest armor offers an additional grenade charge with the And Another Thing perk. Because it allows you to essentially double your output of Suppressor Grenades, it becomes very difficult for enemies to level you with a Roaming Super. Pair it with the advantages of the updated Sentinel class and you'll never want to go back. This roll looks ridiculously lopsided, but it will probably serve you decently well nonetheless.

MOB 2, RES 28, REC 3, DIS 10, INT 10, STR 12

Vesper of Radius [Warlock Chest Armor - 23 Legendary Shards]: If you're in need of Exotic Chest Armor, Xur has you covered. The primary perk for this one is Planetary Torrent, which adds an extra Arc Shockwave to your Rifts. Especially if you're using a Rift-based character, this one's well worth picking up. Unfortunately, the sickest part of this joke is that you can't use it till December 17, as the Vesper has been disabled due to a glitch that was wrecking Guardians in PvP.

MOB 10, RES 15, REC 8, DIS 12, INT 2, STR 16

A question [Exotic Cipher]: Complete strikes or win matches in Crucible or Gambit. Extra progress is awarded for more challenging activities and for succeeding with clanmates. (21)
In the wider realm of possible Xur inventories, the offering for December 11 is fairly solid. As stated above, Trinity Ghoul is one of the best and most fun items in all of Destiny 2, making it a perfect buy for all the free New Light players just hopping in.
On the gear side, it's Warlocks who are getting spurned the most, given that this weekly armor can't even be used for several days. It'll be a nice addition to your collection once it's available, but featuring it right now feels downright cruel. Beyond that, your mileage will vary based on how you choose to play the game. If you're a Titan who loves a good grenade, even that lopsided Armamentarium might be a smart purchase. There's plenty to consider through the weekend, which isn't always the case when it comes to Xur.
Destiny 2 is available now on PS5, PS4, Xbox Series X|S, Xbox One, PC and Stadia.
What do you think of everything Xur is selling on December 11? Will you be picking up Trinity Ghoul or Armamentarium? Tell us in the comments section!