'Destiny 2' Xur Inventory and Location December 4: Wardcliff Coil and Graviton Forfeit
Destiny 2 players can check out a new inventory from Xur for the weekend of December 4. It features Wardcliff Coil, Graviton Forfeit, Citan's Ramparts and more. Need to know how you should spend those precious Legendary Shards on your characters? Mulling over the possibilities of grabbing a Fated Engram? Below, we'll tell you all you need to know.
Destiny 2 Xur location December 4
This week Xur is located at his typical spot at the Winding Cove in the EDZ. You can see precisely where the spot is on the map below. If he doesn't show up the first time, just reload the area and see if he spawns in.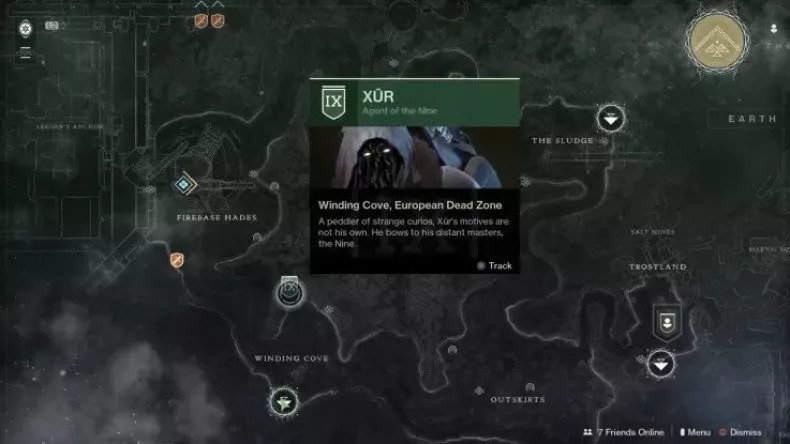 Destiny 2 Xur inventory December 4
Once you've located the beloved Exotic vendor, let's take a closer look at the wares he's got in the shop. We've also listed the random stat rolls for each piece of gear as well.
Wardcliff Coil [Exotic Rocket Launcher - 29 Legendary Shards]: It includes two perks called Mad Scientist and Mechanized Autolader. Fire a huge barrage of rockets and reload your gun every time you step over an applicable magazine. The Wardcliff is difficult to control but great for racking up numerous kills in a short amount of time. It's a decent alternative to the Deathbringer for those who've yet to complete that quest.
Graviton Forfeit [Hunter Helmet - 23 Legendary Shards]: With the Vanishing Shadow perk, you can increase the duration of any invis effects. Your melee also charges a bit faster while invisible. In general this isn't a very popular Exotic, as many Hunters feel the helmet could use a serious buff. Although, when paired with the right mobility mod, you can stay invisible longer than you probably should. It's helpful in PvP, but most Guardians seem to prefer Graviton in PvE instead. That stat roll is pretty solid.

MOB 10, RES 9, REC 14, DIS 7, INT 14, SR 8

Citan's Ramparts [Titan Gauntlets - 23 Legendary Shards: With its Assault Barricade perk, you and your allies have the ability to shoot through your Towering Barricade. While this advantage isn't quite strong enough to be used as an effective sniper's nest, it can be leveraged to gain a combat advantage in PvP and PvE alike. For Guardians who like run-and-gun gameplay, this Exotic very much complements that style. It's not completely OP, but it can certainly serve its purpose in the right hands.

MOB 2, RES 14, REC 13, DIS 14, INT 2, STR 14

Verity's Brow [Warlock Helmet - 23 Legendary Shards]: This neat helmet comes with the Fourth Magic perk that boosts grenade recharge for you and your allies after energy-weapon kills. Especially if your character is in an Arc subclass, it ensures you'll have projectiles to throw for as long as you need them. Combined with any high-damage weapon, this headpiece is a can't miss. The stat roll really brings it down, though.

MOB 12, RES 15, REC 4, DIS 9, INT 14, STR 6

A question [Exotic Cipher]: Complete strikes or win matches in Crucible or Gambit. Extra progress is awarded for more challenging activities and for succeeding with clanmates. (21)
Overall, the Xur inventory for December 4 is pretty average. The Wardcliff Coil is definitely worth a look for those who don't have it yet, while the rolls for Citan's Ramparts and Graviton Forfeit may make those options worth some consideration depending on how you play. The real pity of the bunch is Verity's Brow which, while a nice Exotic for those who love grenades, isn't complimented too well by a stat distribution that's not even double digits in key areas. We wish we could be a little more definitive in our review, but many of these Exotics could fare well with certain players. Generally speaking, however, there's plenty of more exciting stuff he could be selling.
Destiny 2 is available now on PS5, PS4, Xbox Series X|S, Xbox One, PC and Stadia.
What do you think of the Xur inventory for December 4? Will you be picking up Wardcliff Coil or Graviton Forfeit? Tell us in the comments section!