'Destiny 2' Xur Inventory and Location March 19: Trinity Ghoul and Sanguine Alchemy
Destiny 2 has been graced by Xur's presence once again for the weekend of March 19. This week his inventory includes Trinity Ghoul and Sanguine Alchemy. Want to know which Exotics best compliment your Guardian? Curious about the random stat rolls attached to each individual piece of gear? We've got the locations, data and recommendations you're looking for.
Destiny 2 Xur location March 19
This week you'll find Xur at his frequently visited spot at Watcher's Grave on Nessus. Here's a map for those who still need to pinpoint his precise location.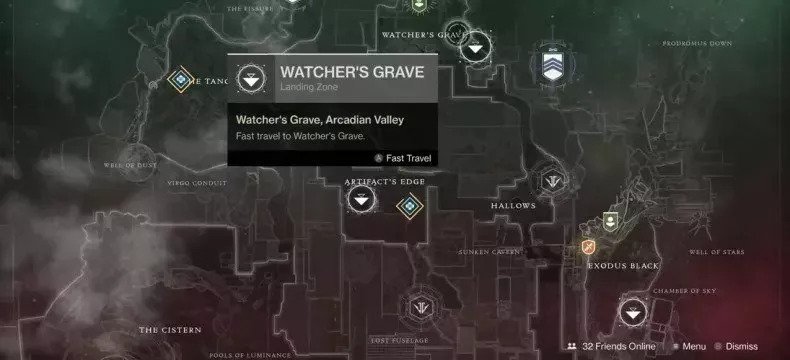 Destiny 2 Xur inventory March 19
Now that you know where Xur is located, let's take a look at the gear he's got in his inventory. Randomized stat rolls are listed below each applicable piece of gear as well.
Trinity Ghoul [Energy Combat Bow - 29 Legendary Shards]: Its Split Electron perk fires an arrow that splits when released. Aiming down sights and a full draw also increases the bow's spread. It's best suited for add clearing in PvE, but don't expect it to dominate with high-level bosses. If you're hungry for multikills, this is a really effective way to get them. This is no Wish-Ender, but it's pretty darn close. Especially if you can snag the Catalyst, this is a no-brainer for New Light players.
Aeon Swift [Hunter Gauntlets - 23 Legendary Shards]: For Hunters, the Aeon Swift's Aeon Energy offers buff energy to nearby opponents. This isn't the most popular Exotic in the meta, but it serves its purpose in support roles. These also have specialty mods now, making them way more useful than before. The stat roll is positively average, but these gloves may still be worth experimenting with if you previously passed on them when they were truly terrible.

MOB 9, RES 14, REC 10, DIS 8, INT 14, STR 7

Khepri's Horn [Titan Helmet - 23 Legendary Shards]: For the Titans of the group, Khepri's Horn is a neat little helmet. It's been improved over the years but still isn't an extremely popular choice. The Solar Rampat perk allows you to recharge your barricade with Solar kills, then you can use that energy to release a bunch of fireballs from behind cover.

MOB 9, RES 8, REC 14, DIS 12, INT 6, STR 16

Sanguine Alchemy [Warlock Chest Armor - 23 Legendary Shards]: Not overly popular, Sanguine Alchemy has the Heightened Senses perk. When standing in a Rift, powerful enemies are more clearly visible. It's also possible to maintain radar while aiming down sights. This extra visibility is definitely great for team coordination, and it might be worth the extra Shards if you have some to spare.

MOB 6, RES 10, REC 18, DIS 15, INT 7, STR 8

Exotic Engram [97 Legendary Shards]: If you don't like the look of what's in the inventory today, you can spend a little extra money for a chance to get something else from the loot pool instead.
Given how up and down Xur inventories can be, the offering for March 19 is fairly uneventful. The Trinity Ghoul really is great with its Catalyst if you can manage to snag it, making it an ideal choice for new Guardians. Beyond that obvious standout, though, what players get from the latest inventory is a collection of gear that's far from ideal in the current meta. For example, even though that Sanguine roll looks pretty solid, the Exotic itself isn't necessarily worthy enough to buy in multiples. The rule of always purchasing what you don't have still mostly applies in this case, but March 19 offers a truly mediocre Xur turnout for those who've been playing Destiny 2 for a while.
Destiny 2 is available now on PS5, PS4, Xbox Series X|S, Xbox One, PC and Stadia.
What are your thoughts on the March 19 Xur inventory? Will you be picking up Trinity Ghoul or Sanguine Alchemy? Tell us in the comments section!