'Destiny 2' Xur Location & Inventory April 27 - Telesto, Mask of Quiet One
Destiny 2 players can check out a new cache of Exotics from Xur starting today. His wares include the Telesto, Mask Of The Quiet One and much, much more.
'DESTINY 2' XUR LOCATION TODAY - APRIL 27
You'll find Xur in the Winding Cove of the European Dead Zone. If you need some additional help, feel free to use the map below.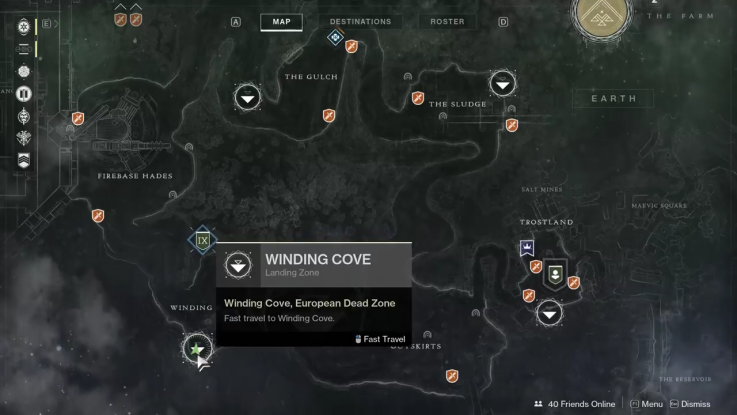 XUR INVENTORY 'DESTINY 2' - APRIL 27
Per usual, Xur is selling one Exotic weapon and three Exotic pieces of gear this weekend. While his gear selection isn't all that exciting, this week's weapon choice has some perks that make it worth your time.
Telesto [Heavy Fusion Rifle - 29 Shards]: Its strengths are in its Unplanned Reprieve and Harbinger's Pulse perks. With those two abilities, you can attach and detonate Fusion projectiles while also getting immediate reloads for multikills. Especially considering Warmind updates will buff weapons like this to make them produce Orbs, this Exotic is worth keeping an eye on. The Telesto has a winning combination of range and AoE. It's called the "besto" for a reason.
Young Ahamkara's Spine [Hunter Gauntlets - 23 Shards]: Especially if you're playing Destiny 2 as the Gunslinger subclass, this spine may be worth the investment of shards. The Wish-Dragon Teeth perk increases Tripmine Grenade duration and marks the enemies caught in its blast. Hunters can toss a grenade in a general direction and easily pick off the stranglers surrounding it.
Mask Of The Quiet One [Titan Helmet - 23 Shards]: With the Dreaded Visage perk, Titans gain melee, grenade and class ability energy when hurt. We wouldn't recommend this Exotic unless you're trying to collect a complete set. It may be fun to see if you can game the system by having your strike team shoot you on purpose, though.
Wings Of The Sacred Dawn [Warlock Chest - 23 Shards]: This Exotic has the Tome Of Dawn perk, which briefly suspends you while aiming weapons in mid-air. This Exotic may be interesting to experiment with now that mid-air accuracy has been increased, but you're still putting yourself in a very vulnerable position for a pretty small reward.
Three Of Coins [31 Shards]: It equates to a 50 percent increase in the chance of Exotic drops after completing an activity. Without knowing the exact base chance, though, it's hard to know if this limited buff is worth it. If you don't have one of the above Exotics, buy those instead.
Fated Engram [97 Shards]: This Engram automatically generates an Exotic you don't already have. It's limited to one purchase per account per week.
Xur continues to be fairly uninteresting, but we absolutely encourage you to splurge on the Telesto if you don't have one already. Enjoy this selection until the Weekly Reset occurs May 1 at 1 p.m. EDT.
Destiny 2 is available now on PS4, Xbox One and PC. Xur's location and inventory are identical across all platforms.
What are your thoughts on Xur's inventory this week? Will you be buying the Telesto or Mask Of The Quiet One? Tell us in the comments section!
'Destiny 2' Xur Location & Inventory April 27 - Telesto, Mask of Quiet One | Gaming