'Destiny 2' Xur Inventory and Location February 19: Crimson and Una Furiosa
Destiny 2 has a new Xur inventory for February 19 that includes Crimson, Una Furiosa, St0mp-EE5 and more, Below, we outline all you need to know about each of the gear pieces and items on sale. Whether you're a new Guardian who's just getting their feet wet or a longtime fan making their weekly rounds, here's our best advice for spending those precious Legendary Shards.
Destiny 2 Xur location February 19
This week you'll find Xur on the EDZ in the Winding Cove. He visits this location quite frequently, but it's marked on the map below in case you can't find it.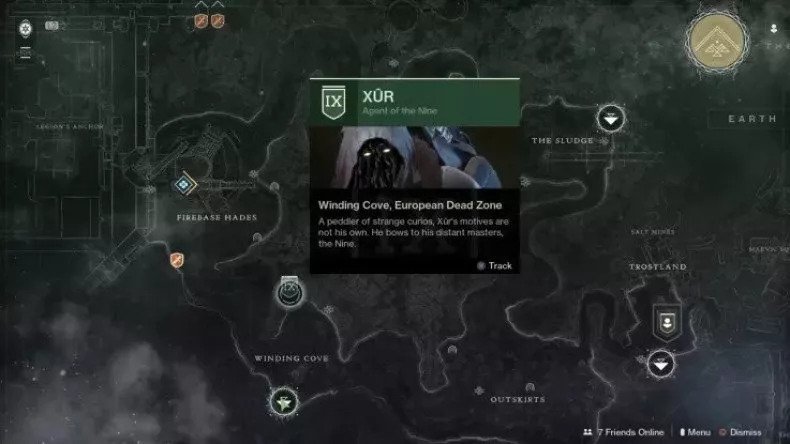 Destiny 2 Xur inventory February 19
Now that you've pinpointed Xur's latest location, let's take a look at the Exotics he's selling. The random stat rolls for each applicable item are listed below as well.
Crimson [Primary Hand Cannon - 29 Legendary Shards]: The Banned Weapon perk offers a three-round burst, and it's got a really attainable Catalyst that helps it shred in Crucible and Gambit. Once you start racking up kills, you'll also have the chance to heal up. No matter your class, this is a must-have Exotic for the collection.
St0mp-EE5 [Hunter Leg Armor - 23 Legendary Shards]: Its Hydraulic Boosters increase sprint speed and slide distance. It also improves your High Jump, Strafe Jump and Triple Jump. In the recent Hunter meta, this is a solid choice for Guardians who don't have much in the way of mobility gear. The St0mp-EE5 won't be super-useful against AI in PvE, but it sure helps make a quick getaway against human foes. This Resilience roll isn't ideal, but they're still worth a purchase if you don't have a pair already.

MOB 12, RES 18, REC 2, DIS 8, INT 9, STR 14

Ursa Furiosa [Titan Gauntlets - 23 Legendary Shards]: The Ursine Guard perk lets you move faster while Sentinel Shield is active. Additionally, guarded energy converts to Super energy once your Super finishes. This is a really strong Exotic for Void class Titans in PvE, but be forewarned that it requires a ton of absorbed damage to get your Super back. In other words, human foes in PvP mostly won't be dumb enough to let it be worthwhile.

MOB 15, RES 4, REC 13, DIS 7, INT 14, STR 10

Chromatic Fire [Warlock Chest Armor - 23 Legendary Shards]: This armor has the Crystalline Transistor perk, which creates an explosion after precision kills with a Kinetic weapon. Not only is this a pretty strong roll in general, but it seems like a huge win for any Guardian who may have picked up the new Dead Man's Tale Exotic.

MOB 14, RES 4, REC 15, DIS 2, INT 17, STR 13

Exotic Engram [97 Shards]: As long as you've collected Exotics from the previous season, they'll start dropping in these Engrams. If you're a veteran Guardian who doesn't like anything in this particular inventory, you might want to try one of these instead.
In the grand scheme of possible Xur inventories, the setup for February 19 is pretty strong. Obviously, that St0mp-EE5 roll is quite bad, but the base Exotic is critical enough to the PvP meta that you should probably get it anyway. As for the other Exotics, the rolls are extremely strong. Chromatic Fire may not be the best-looking chest armor on the block, but with these stats, the shortcomings and oddities can be overlooked. There's nothing new or exciting for sale today, but the content that's on offer is good nonetheless. Especially given that we probably won't see too many balance changes for quite a while, you can feel confident in these purchases for the foreseeable future. It's hard to go wrong with almost everything here.
Destiny 2 is available now on PS5, PS4, Xbox Series X|S, Xbox One, PC and Stadia.
What will you be buying from Xur today? Are Crimson or Una Furiosa on the top of your list? Tell us in the comments section!