'Destiny 2' Xur Inventory and Location February 5: Telesto and Severance Enclosure
Destiny 2 has an updated Xur inventory for February 5 that features Telesto, Severance Enclosure, Sunbracers and more. Are you a new Guardian curious about which Exotics best complement your collection? Are you a veteran player more concerned about the specifics of stat rolls and pinpointing Xur's precise location? Below, we explain everything you need to know about the latest goods up for sale.
Destiny 2 Xur location February 5
This week you'll find Xur in his standard spot at the Winding Cove in the EDZ. Those who don't know where that location is are free to consult the map below.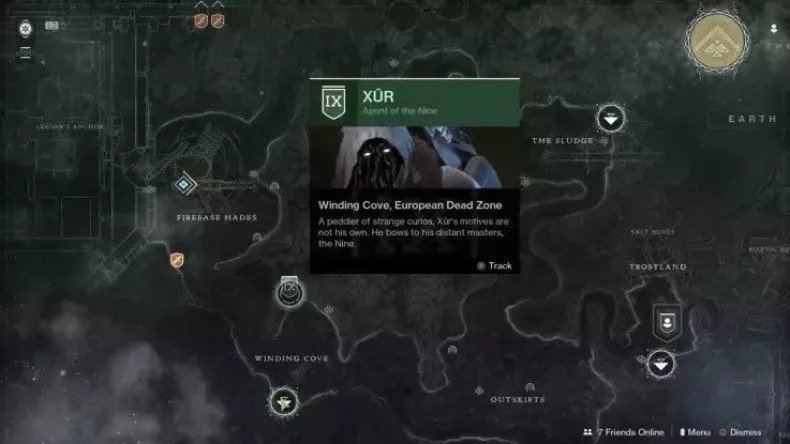 Destiny 2 Xur inventory February 5
Now that you've found Xur's latest location, here's a full rundown of the goods he's carrying. The randomized stat rolls are listed below each applicable item.
Telesto [Heavy Fusion Rifle - 29 Legendary Shards]: Its strengths are in its Unplanned Reprieve and Harbinger's Pulse perks. With those two abilities, you can attach and detonate Fusion projectiles while also getting immediate reloads for multi-kills. Updates buffed weapons like this to make them produce Orbs, so this Exotic is worth keeping an eye on. The Telesto has a winning combination of range and AoE. It's called the "besto" for a reason.
Gwisin Vest [Hunter Chest Armor - 23 Legendary Shards]: Its Roving Assassin perk restores Super energy for every Spectral Blades kill you get before going into stealth mode. In short, this advantage lets your Supers last forever as long as you keep killing. Especially in PvP, this piece of gear is one of the better items you can get right now.

MOB 14, RES 3, REC 16, DIS 7, INT 13, STR 8.

Severance Enclosure [Titan Chest Armor - 23 Legendary Shards]: With the Spheromatik Trigger Perk, powered melee kills and Finishers unleash explosions. This is another melee-focused PvP option that isn't very good. It's similar to the Dunemarchers, except these have less of a radius and require a full kill to be effective. For Titans, this Exotic isn't worth your time unless you don't have it or really want a complete collection.

MOB 14, RES 7, REC 9, DIS 18, INT 9, STR 2.

Sunbracers [Warlock Gauntlets - 23 Legendary Shards]: The main draw for these is the Helium Spirals perk, which increases the duration of Solar Grenades and offers unlimited Solar Grenade energy for Solar melee kills. It allows you to have multiple grenades cooking for an extended period of time. You can't just toss a bunch at once, but there's still a real advantage here in terms of crowd control. This is best suited for PvE, where enemies are more apt to walk into grenades, but it's not a terrible Exotic overall.

MOB 11, RES 16, REC 3, DIS 15, INT 10, STR 6

A question [Exotic Cipher]: Complete strikes or win matches in Crucible or Gambit. Extra progress is awarded for more challenging activities and for succeeding with clanmates. (22)
When compared to other possible Xur inventories that might appear, the lineup for February 5 is fairly boring for longtime players. Those who don't have a Telesto should absolutely get one, but the rest of this gear is good but not great. The only possible exception to the rule is the Hunter class, with a very strong roll for the Gwisin Vest. For those who are exceptionally strong in Crucible, that Chest Armor remains pretty awesome. Items like Severance Enclosure might feel like junk today, but who knows what balance changes may be due in the coming season. As we've seen with recent changes made to the Aeon set, even the lamest of Exotics may be valued as treasure someday. With this possibility in mind, newcomers might want to buy whatever they don't have, while veteran players are likely to pass on Xur today.
Destiny 2 is available now on PS5, PS4, Xbox Series X|S, Xbox One, PC and Stadia.
What are your thoughts on the Xur inventory for February 5? Will you be picking up Telesto or Gwisin Vest? Tell us in the comments section!