'Destiny 2' Xur Inventory and Location January 22: Skyburner's Oath and Actium War Rig
Destiny 2 has a new Xur inventory that includes Skyburner's Oath, Actium War Rig, Lucky Raspberry and more. If you're a new or veteran Guardian wondering how your precious Shards should be spent, you've come to the right place. Below, we reveal the vendor's latest location and offer a full breakdown of every piece of gear he's carrying. From suggestions to stat rolls, we've got everything worth knowing.
Destiny 2 Xur location January 22
This week, you'll find Xur hanging at his usual spot at the Winding Cove in the EDZ. Those who don't know where that's located are free to use the map below.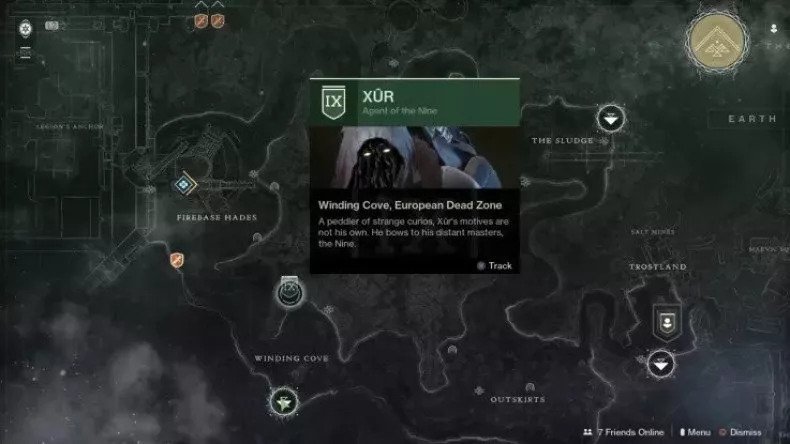 Destiny 2 Xur inventory January 22
Now that you know how to find Xur, here's a quick recap of the wares he's carrying. All random stat rolls for gear pieces are listed below as well.
Skyburner's Oath [Scout Rifle - 29 Legendary Shards]: This weapon has the Slug Rifle perk that makes its rounds more powerful when aiming down sights. No one would reasonably confuse the Oath with being the best Scout in the game, which makes it more suited for collection than actual use. It's an average gun with many others in its type that outclass it. It might be fun for the occasional romp in Crucible, but not much beyond that.
Lucky Raspberry [Hunter Chest Armor - 23 Legendary Shards]: The Lucky Raspberry features the Probability Matrix perk, which increases the chaining of the Arc Bolt Grenade with a random chance for recharge and a guaranteed recharge after a full chain. Especially if you're an Arcstrider, its advantages in PvE and PvP alike are obvious. Toss grenades at human opponents from a distance or clear large clusters of AI foes with an endless barrage of projectiles. For some Hunters, this could be a can't-miss Exotic with this roll in particular.

MOB 15, RES 7, REC 9, DIS 15, INT 6, STR 9

Actium War Rig [Titan Chest Armor - 23 Legendary Shards]: With Auto-Loading Link, this armor steadily reloads a portion of your ammo from reserves. The advantage may sound limited at first, but it's an absolute beast when paired with Sweet Business or Heir Apparent. Auto-Rifles are a little hit or miss right now overall, but if you use this armor correctly, you can make them a lot better in all situations. Some might argue Titan's don't need that much speed, but with the right complimentary mods this could be good.

MOB 29, RES 3, REC 3, DIS 15, INT 6, STR 10

Karnstein Armlets Warlock Gauntlets [Warlock Gauntlets - 23 Legendary Shards]: Its Vampire's Caress perk buffs melee attack resilience and mobility while highlighting injured enemies. Melee kills also restore health. This Exotic is only meaningful for a very specific type of Warlock, so we'd generally suggest passing on it unless you're trying to collect everything.

MOB 8, RES 20, REC 7, DIS 15, INT 2, STR 13

A question [Exotic Cipher]: Complete strikes or win matches in Crucible or Gambit. Extra progress is awarded for more challenging activities and for succeeding with clanmates. (21)
Overall, we'd consider the Xur inventory for January 22 to be somewhere between average and bad. The stat rolls are obviously the weirdest aspect of the collection, as many of them appear to be insanely lopsided compared to what they traditionally are. The stats will definitely work well with specific builds based around guns like Sweet Business, but they're certainly not all-purpose rolls by any stretch of the imagination.
If you plan on using most of this gear for an extended period of time, you need to have the right mods to offset the obvious weaknesses. If it's possible to tailor your build to that lopsided War Rig, you may love it, but getting it set up correctly may be a bit tough. All new players should buy what they don't have, but doubling up will depend on the spec of your character. Also, couldn't there be a better weapon option than Skyburner's Oath?
Destiny 2 is available now on PS5, PS4, Xbox Series X/S, Xbox One, PC and Stadia.
What are your thoughts on the Xur inventory for January 22? Will you be buying Skyburner's Oath or Actium War Rig? Tell us in the comments section!