'Destiny 2' Xur Inventory and Location January 8: Telesto and Antaeus Wards
Destiny 2 continues into 2021 with a brand-new Xur inventory featuring some of the game's most infamous Exotics. If you've been looking to get your hands on Telesto, Antaeus Wards or Sealed Ahamkara Grasps, now's your chance. Below, we reveal Xur's updated location and the unique stat rolls for each piece of gear. If you've got shards to spend, we're here to direct you to the best stuff.
Destiny 2 Xur location January 8
This week, you'll find Xur at the Winding Cove on the EDZ. This has been one of Xur's mainstay locations for years, but those who don't know where it is are free to consult the map below.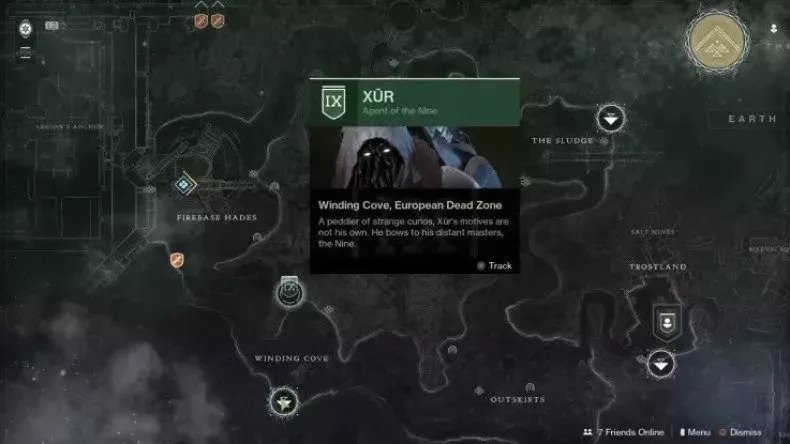 Destiny 2 Xur inventory January 8
Now that you know where Xur is located, let's take a look at the wares he's carrying. Below you'll find a brief review of each item followed by the random stat rolls for each one.
Telesto [Heavy Fusion Rifle - 29 Legendary Shards]: Its strengths are in its Unplanned Reprieve and Harbinger's Pulse perks. With those two abilities, you can attach and detonate Fusion projectiles while also getting immediate reloads for multikills. Updates buffed weapons like this to make them produce Orbs, so this Exotic is worth keeping an eye on. The Telesto has a winning combination of range and AoE. It's called the "besto" for a reason.
Sealed Ahamkara Grasps [Hunter Gauntlets - 23 Shards]: If you're a Hunter, the Nightmare Fuel perk makes the Sealed Ahamkara Grasps worth it. It essentially allows you to reload your weapon with each melee kill. With that in mind, this Exotic is best used when your character is spec'd to handle close encounters with the Way of a Thousand Cuts and Ikelos Shotgun. In PvE or Gambit scenarios where you're facing enemies that are more susceptible to melee death, the advantage is a big one. They're not as powerful as they used to be, but they're still fun to use.

MOB 3, RES 16, REC 14, DIS 6, INT 12, STR 15

Antaeus Wards [Titan Leg Armor - 23 Legendary Shards]: With the Reflective Vents perk, sliding reflects projectiles. Any reflection also grants Super energy. In general, this is a high-skill Exotic with some serious benefits in PvP. Especially if you're able to reflect a Nova Bomb or Blade Barrage, the advantage of this armor pays off quickly. Just get up close, shield up, absorb the shot and return one of your own. Despite being nerfed, they're helpful when running shotguns in Crucible.

MOB 19, RES 7, REC 7, DIS 6, INT 2, STR 22

Getaway Artist [Warlock Gauntlets]: These Warlock gloves have the Dynamic Duo perk, which converts Arc Grenades into a supercharged Arc Soul that functions as an enormous turret. The roll here is very strong, which makes it worth consideration on its own. It's not that popular in PvP, but it can perform well in the right hands. We've seen it paired with Cereberus, Hard Light and more over the years, which may help you decide how it complements your build. The stats aren't great here, but it may be worth stashing anyway.

MOB 2, RES 12, REC 18, DIS 7, INT 14, STR 9

A Question [Exotic Cipher]: Complete strikes or win matches in Crucible or Gambit. Extra progress is awarded for more challenging activities and for succeeding with clanmates. (21)
As the first Xur inventory of 2021, today's setup is generally fairly bland. The Telesto is absolutely a must-buy weapon for those who don't have it, but many of the class-specific options could be passed by for various reasons. Obviously, newcomers should always purchase any available Exotics they don't already have, but more experienced players are either looking at Exotics that are poorly rolled or a bit too far past their prime.
The Sealed Ahamkara Grasps in particular don't show up very often, but the rest of these items will likely reappear over the next few weeks. If you've amassed a solid collection, today might be a decent day to take advantage of a Fated Engram instead. Hopefully, there will be something a little more exciting on offer next week. The inventory for January 8 isn't the worst, it just lacks wow factor.
Destiny 2 is available now on PS5, PS4, Xbox Series X|S, Xbox One, PC and Stadia.
What are your thoughts on the Xur inventory for January 8? Will you be picking up Telesto or Antaeus Wards? Tell us in the comments section!