'Destiny 2' Xur Inventory & Location November 6: Fighting Lion & Promethium Spur
Destiny 2 players can look for Xur one last time before Beyond Light arrives, and the beloved Exotic seller has brought some exciting wares with him, including Fighting Lion, Promethium Spur, Wormhusk Crown and more. If you need help spending Legendary Shards, we've got you covered! Xur's latest location and stat rolls are below.
Destiny 2 Xur location November 6
This week, you'll find Xur at Giant's Scar on Io for what could be the last time in the foreseeable future. If you don't know where that location is, it's marked on the map below.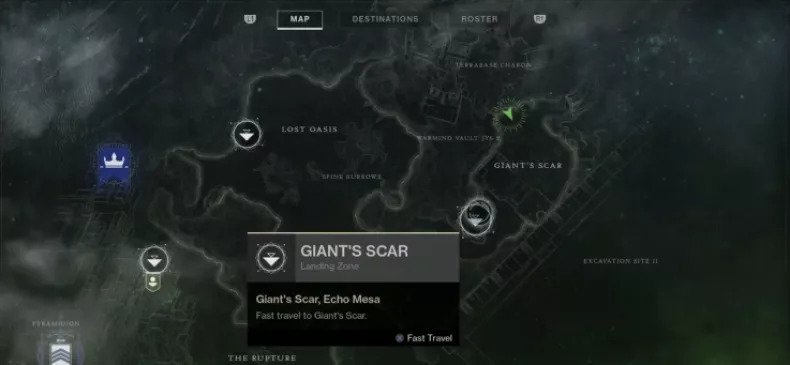 Destiny 2 Xur inventory November 6
Now that you've found Xur, here's a recap of his goods and their respective random stat rolls:
Fighting Lion [Energy Grenade Launcher - 29 Legendary Shards]: Fighting Lion is the premier weapon this week, and it has the Delayed Gratification perk. With it, grenades bounce with delayed detonation. Especially when combined with the Dire Artillery mod, this thing dominates at clearing adds or eliminating enemies in Crucible. It's one of the most fun and best Exotics in the game right now, so we'd suggest getting one if you don't have it already. It takes some getting used to, but it's a beast once you master it.
Wormhusk Crown [Hunter Helmet - 23 Legendary Shards]: With the Burning Souls perk, dodging offers a small health and shield buff. It's hard to argue against that advantage when everyone can use a little bit of health in everything from PvP to Escalation Protocol. With the right mods, it's possible to get a drip feed of health every few seconds. In general, this Crown is a good all-purpose Exotic. This Wormhisk in particular sounds like it would shred in PvP.

MOB 16, RES 8, REC 8, DIS 11, INT 16, STR 2

Actium War Rig [Titan Chest Armor - 23 Legendary Shards]: With Auto-Loading Link, this armor steadily reloads a portion of your ammo from reserves. The advantage may sound limited at first, but it's an absolute beast when paired with Sweet Business or Breakneck. Auto-Rifles are a little hit or miss right now overall, but if you use this armor correctly, you can make them a lot better in all situations.

MOB 10, RES 8, REC 14, DIS 9, INT 13, STR 9

Promethium Spur [Warlock Leg Armor - 23 Legendary Shards]: The Promethium Spur has the Ember of Light Perk, which creates a Healing and Empowering Rift at the location of slain enemies when Daybreak is active. This is a decent support Exotic for situations where you need to eliminate lots of threats quickly, but it's also another Exotic that only has a specific use case. If you buy it, you're probably only doing so to improve your Engram drops.

MOB 17, RES 6, REC 8, DIS 7, INT 14, STR 10

Five of Swords: This is a Nightfall Challenge Card that can raise or lower the Power handicap to fit your needs. Raising the handicap increases your score multiplier.
Overall, the final Season of Arrivals Xur inventory is pretty strong unless you're a Warlock main. Fighting Lion is one of the most fun weapons in all of Destiny 2 if you know how to use it, but its high skill ceiling may make it a deterrent for new Guardians.
Elsewhere in the set, this Wormhusk Crown is very strong for PvP, and the REC stats of Actium make it worth the second look on that merit alone. In past seasons it generally felt like Xur took the last week off, so we're glad to see him coming out strong in preparation for Beyond Light. Obviously rebalancing in Tuesday's patch could make the situation better or worse for many popular Exotics, but this is a very strong lineup in the present day.
Destiny 2 is available now on PS4, Xbox One, PC and Stadia.
What do you think of the November 6 Xur inventory? Will you be picking up Fighting Lion or Promethium Spur? Tell us in the comments section!