'Destiny 2' Xur Inventory & Location October 23: Cerberus+1 & Heart of Inmost Light
Destiny 2 has a new Xur inventory for October 23, featuring Cerberus+1, Heart of Inmost Light, Lucky Pants and more. Below, we recap all there is to know about Xur's limited-time gear and its respective stat rolls. Having trouble figuring out where those Legendary Shards should be spent? We'll offer our best recommendations for Guardians of all classes.
Destiny 2 Xur location October 23
This week, you'll find Xur at one of his mainstays at the Winding Cove on the EDZ. Those who don't know precisely where that location is are free to use the map below.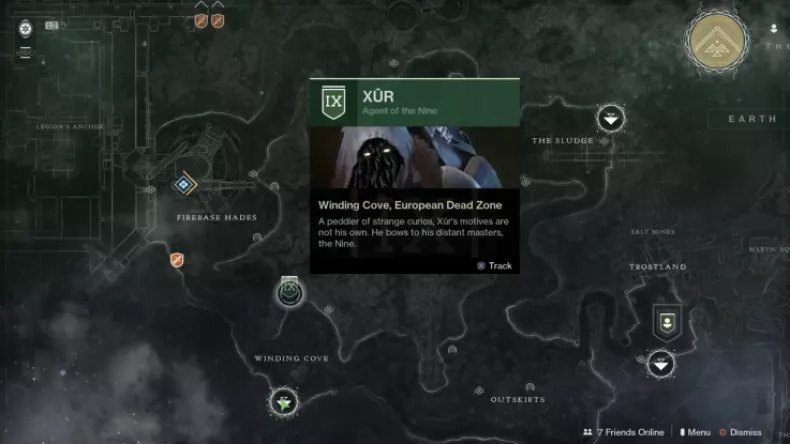 Destiny 2 Xur inventory October 23
Now that you know Xur's location, it's time to take an in-depth look at the wares he's carrying this weekend. Read about all the gear and its random stat rolls below.
Cerberus +1 [Primary Auto-Rifle - 29 Legendary Shards]: With this gun's four-headed dog Perk, it has the ability to shoot erratically from four barrels at once. In PvP, this thing plays like a shotgun, which makes it a brutal adversary up close. This high-DPS weapon is also great against bosses in PvE, but there are still plenty others that outclass it.
Lucky Pants [Hunter Leg Armor - 23 Legendary Shards]: With the Illegally Modified Holster perk, precision hits load a single round to the chamber of a stowed Hand Cannon. Hand Cannons also load faster and are more accurate once you swap to them. If you like using Ace of Spades or Last Word, you can't go wrong with these. This one is maybe a little boring, but a solid roll and upcoming improvements to Hand Cannons might make this item a smart investment for the future.

MOB MOB 15, RES 3, REC 13, DIS 13, INT 16, STR 2

Heart of Inmost Light [Titan Chest Armor - 23 Legendary Shards]: With the Overflowing Light perk, using any ability empowers the other two ability classes. Empowered abilities have faster regen, melees and grenades do more damage and Barricades have more hit points. With such a versatile perk, this armor is good for both PvE and PvP alike, depending on the way you wish to use it. Titans in any class should definitely consider this one for its roll and use.

MOB 10, RES 14, REC 9, DIS 13, INT 9, STR 9

Felwinter's Helm [Warlock Helmet - 23 Legendary Shards]: This helmet has the Warlord's End perk, which dictates that powered melee kills create a burst of energy that weakens nearby enemies. This Exotic was once supreme and has had its share of nerfs, but it's still a solid option for Warlocks who like to melee in PvE. The debuff it offers can sometimes be inconsistent, but, when things are firing on all cylinders, it does exactly as advertised.

MOB 10, RES 6, REC 15, DIS 9, INT 15, STR 6

Five of Swords: This is a Nightfall Challenge Card that can raise or lower the Power handicap to fit your needs. Raising the handicap increases your score multiplier.
Given the immense possibilities for every Xur inventory in Destiny 2, the setup for October 23 is quite strong indeed. Titans and Warlocks are probably having the best week of all with Heart of Inmost Light and Felwinter's Helm, but even the Lucky Pants roll isn't exactly terrible.
The worst part of today's lineup is probably the weapon, since Cerberus+1 has repeatedly been on offer from Xur over the past few weeks and it isn't quite the best at what it does. Not every inventory can be drop-dead awesome, though, and there's plenty of solid stuff here. Especially as we inch toward the release date of the Beyond Light expansion, strong gear like this could pay off for everyone.
Destiny 2 is available now on PS4, Xbox One, PC and Stadia.
Will you be purchasing any of the items in the October 23 Xur inventory? Does the Heart of Inmost Light or Felwinter's Helm tickle your fancy? Tell us in the comments section!