'Destiny 2' Xur Inventory & Location October 30: Eternal Warrior & Transversive Steps
Destiny 2 has a new Xur inventory for October 30 that includes Eternal Warrior, Transversive Steps, Ophidia Spathe and more. Want to know if your Guardian deserves a direct purchase or a Fated Engram? Then you've come to the right place. Below, we recap Xur's current location and review his latest collection of gear.
Destiny 2 Xur location October 30
This week Xur can be found at the Rig on Titan. Given that Titan is about to be vaulted with the launch of Beyond Light on November 10, this is probably the last time you'll see Xur here for the foreseeable future. If you've never been there, check out the location yourself using the map below.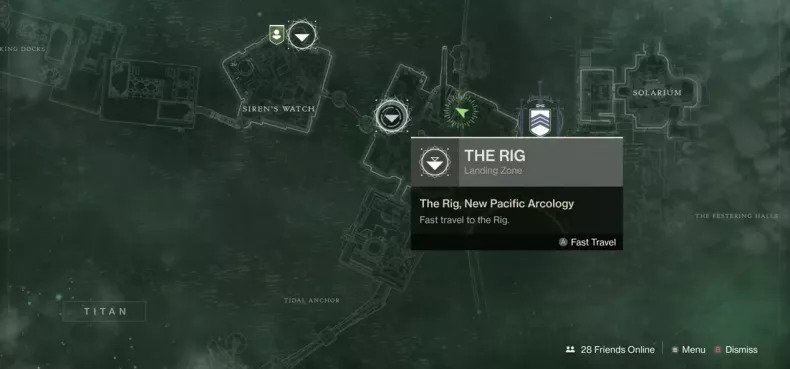 Destiny 2 Xur inventory October 30
Now that you know where Xur has set up camp for the weekend, here's a recap of all the gear he's carrying alongside its respective stat rolls.
Skyburner's Oath [Scout Rifle - 29 Legendary Shards]: This weapon has the Slug Rifle perk that makes its rounds more powerful when aiming down sights. The Oath isn't the best Scout in the game by any stretch of the imagination, which makes it more suited for collection than actual use. It's an average gun with many others in its type that outclass it. It might be fun for the occasional romp in Crucible, but not much beyond that.
Ophidia Spathe - Hunter Chest Armor [23 Legendary Shards]: If you love Throwing Knives, the Spathe is on point. Its Scissor Fingers Perk grants two knives in a single charge, which makes it a perfect pair with Way of a Thousand Cuts or Gambler's Dodge. You never have to stop throwing once these are equipped. In this case the roll looks pretty nice too.

MOB 4, RES 9, REC 21, DIS 9, INT 14, STR 6

Eternal Warrior [Titan Helmet - 23 Legendary Shards]: With the Resolute perk, Titans get an overshield when using Fists of Havoc. It's this precondition that makes this Exotic somewhat weak. After all, Fists of Havoc is so powerful on its own that the idea of having an overshield to compliment it seems pointless. Unless you want a helmet that feels like it does nothing, steer clear of this one.

MOB 2, RES 11, REC 19, DIS 15, INT 6, STR 7

Transversive Steps [Warlock Leg Armor - 23 Legendary Shards]: Its Strange Protractor perk increases sprint speed and automatically reloads your equipped weapon. Especially if you're a solo Warlock, this armor is for you. It eliminates the disadvantages of slow-loading weapons and helps you sprint to cover quickly. That's an awesome benefit in PvE and PvP alike. That stat roll distribution isn't great, but this is still probably worth picking up if you don't have it.

MOB 14, RES 12, REC 7, DIS 18, INT 9, STR 2

Five of Swords [Challenge Card]: This is a Nightfall Challenge Card that can raise or lower the Power handicap to fit your needs. Raising the handicap increases your score multiplier.
While the last few Xur setups have been pretty good over the past few weeks, this one is more bad than good. Titans in particular are getting screwed with Eternal Warrior, and the Ophidia Spathe has been available for Hunters quite frequently over the years. The biggest winner of the week is probably Warlock mains who have been waiting to see Transversive make its way to Xur's shop for a while now. That roll could obviously be better, but it's hard to ignore the effectiveness of that main perk. As we inch toward the release of Beyond Light the Xur inventory for October 30 is definitely a bit of a downer, but there's one more chance for something sweeter on November 6. For now, most Guardians might want to wait it out or take a chance on an Engram.
Destiny 2 is available now on PS4, Xbox One, PC and Stadia.
What do you think of the Xur inventory for October 30? Will you be getting Eternal Warrior or Transversive Steps? Tell us in the comments section!