'Destiny 2' Xur Inventory & Location October 9: Wardcliff Coil & One-Eyed Mask
Destiny 2 has a new Xur inventory of featured Exotics for the weekend of October 9 that includes Wardcliff Coil, One-Eyed Mask, Wormhusk Crown and more. Below, we reveal Xur's current location and explain which pieces of gear are worthy of your collection. We'll also outline the latest stat rolls too. Is this week a winner, or should you press your luck with a Fated Engram? Look below to find out!
Destiny 2 Xur location October 9
This week, Xur is hiding out in his usual spot at the Winding Cove in the EDZ. In case you don't know where that is, we've included a map below.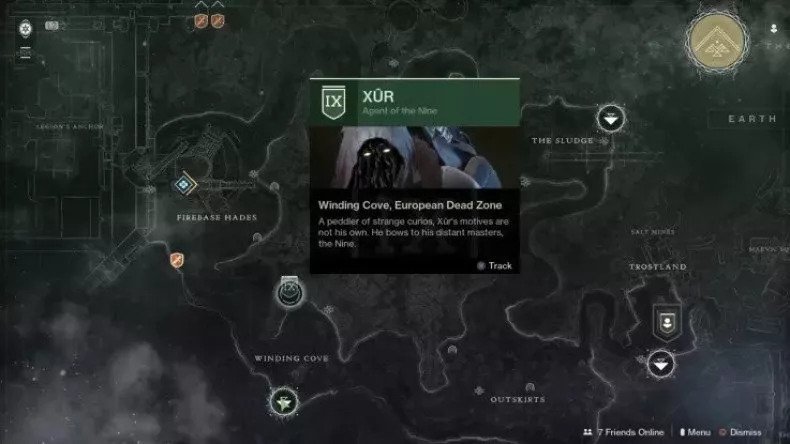 Destiny 2 Xur inventory October 9
Now that you've found Xur's resting place, let's recap the main weapon, gear and gear rolls he has to offer throughout the weekend.
Wardcliff Coil [Exotic Rocket Launcher - 29 Legendary Shards]: It includes two perks called Mad Scientist and Mechanized Autolader. Fire a huge barrage of rockets and reload your gun every time you step over an applicable magazine. The Wardcliff is difficult to control but great for racking up numerous kills in a short amount of time. It's a decent alternative to the Deathbringer for those who've yet to complete that quest.
Wormhusk Crown [Hunter Helmet - 23 Legendary Shards]: With the Burning Souls perk, dodging offers a small health and shield buff. It's hard to argue against that advantage when everyone can use a little bit of health in everything from PvP to Escalation Protocol. With the right mods, it's possible to get a drip feed of health every few seconds. In general, this Crown is a good all-purpose Exotic.

MOB 9, RES 6, REC 17, DIS 22, INT 7, STR 2

One-Eyed Mask [Titan Helmet - 23 Legendary Shards]: This desirable helmet has the Vengeance perk, which tracks enemies that damage you. Destroying the targeted foe offers increased damage and overshield. This Exotic has become infamous for being seriously OP in PvP even after nerfs. In other words, new players hoping to have some fun in Crucible over the weekend are about to be very disappointed.

MOB 14, RES 9, REC 8, DIS 15, INT 12, STR 6

Felwinter's Helm [Warlock Helmet - 23 Legendary Shards]: This helmet has the Warlord's End perk, which dictates that powered melee kills create a burst of energy that weakens nearby enemies. This Exotic was once supreme and has had its share of nerfs, but it's still a solid option for Warlocks who like to melee in PvE. The debuff it offers can sometimes be inconsistent, but, when things are firing on all cylinders, it does exactly as advertised.

MOB 6, RES 14, REC 12, DIS 6, INT 14, STR 10

Five of Swords: This is a Nightfall Challenge Card that can raise or lower the Power handicap to fit your needs. Raising the handicap increases your score multiplier.
In the grand scheme of possibilities for a Xur inventory, the setup for October 9 is very strong. One-Eyed Mask and Wormhusk Crown in particular are still very relevant in the current meta, and the rolls for both pieces of gear are above average at least. With that in mind, Hunters and Titans alike should probably consider snatching up one of these if they don't have them already. Warlocks are maybe a bit left out with regard to the Felwinter's Helm, but even that item is noteworthy given that Xur doesn't sell it very often. While last week's inventory may have prompted a look at a Fated Engram, this one is much more of a winner with regard to the default selection. Enjoy it while it's available.
Destiny 2 is available now on PS4, Xbox One, PC and Stadia.
What are your thoughts on the Xur inventory for October 9? Will you be spending Shards on One-Eyed Mask or Wormhusk Crown? Tell us in the comments section!