'Destiny 2' Xur Location Aug. 31: Where Is Xur & What's His Inventory?
Destiny 2 changed how Xur works with the release of the 2.0 update earlier this week. Instead of being highlighted by an obvious marker on the world map, he's gone back to his secretive ways from Destiny 1. With that in mind, here's Xur's latest location and a recap of his inventory.
Where is Xur in 'Destiny 2' & What's His Location?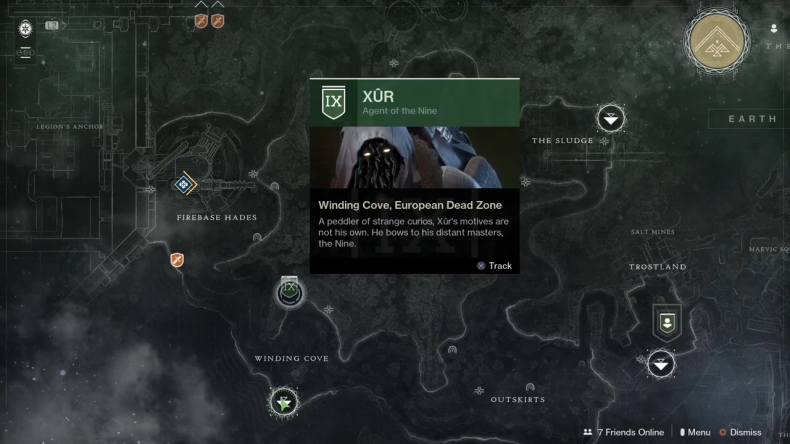 This week, Xur is hiding in the European Dead Zone north of the Winding Cove landing Zone. Those who've played Destiny 2 in the past will know he's been at this spot before. You can find him on the world map below.
'Destiny 2' Xur Inventory Aug. 31
Once you've found Xur, here's a quick look at the Exotics he's carrying.
Knucklehead Radar [Hunter Helmet] - 23 Shards: This Exotic Helmet will help you camp, because its perks make enemies easier to see. The Upgraded Sensor Pack provides radar while aiming, which will be super useful considering the trumped-up Sniper meta established by the Forsaken changes.
Prometheus Lens - 29 Shards: The Prometheus Lens is an Exotic Trace Rifle that packs some serious punch in PvE. This gun isn't as OP as it used to be, but it's still worth having in your armory as a raid companion.
Vesper of Radius - 23 Shards: If you're in need of Exotic Chest Armor, Xur has you covered. The primary perk for this one is Planetary Torrent, which adds an extra Arc Shockwave to your Rifts. Especially if you're using a Rift-based character, this one's well worth picking up.
Ashen Wake [Titan Gauntlets] - 23 Shards: This one has its standard perk called Bring the Heat. It causes Fusion Grenades to explode on impact with increased throw speed. This is another Exotic that benefits heavily from the recent changes to the Sandbox meta. If you've been slacking on your use of projectiles, now's the time to switch up your strategy.
Three of Coins - 31 Shards: As always, this item increases your chance of receiving Exotic Engrams if the item you're looking for is not in Xur's inventory. This item will be rendered obsolete when Forsaken goes live, so this is the last time it will be on offer.
That's all there is to know about Xur's latest location for now, but we expect there will be big changes in store for everyone's favorite Exotic dealer when Forsaken formally launches Sept. 4. With so many new weapons coming to the roster, we can't wait to to see how the inventory shifts.
Destiny 2 is available now on PS4, Xbox One and PC. Xur's location is the same on all platforms.
Were you able to find Xur in Destiny 2 this week? Which Exotic in the most recent inventory are you most excited about? Tell us in the comments section!