'Destiny 2' Xur & Trials Details April 20 - Selling Foetracer & More
Destiny 2 players can pick up some new Exotics from Xur today, and we've got a full recap of all his hottest items. If you've been waiting to get your hands on a Vigilance Wing or Foetracer, now's the time to spend those Shards.
WHERE IS XUR IN 'DESTINY 2' TODAY?
Xur is hiding at the Giant's Scar location on Io. Use the map below if you're having trouble, but the marker makes him pretty easy to find.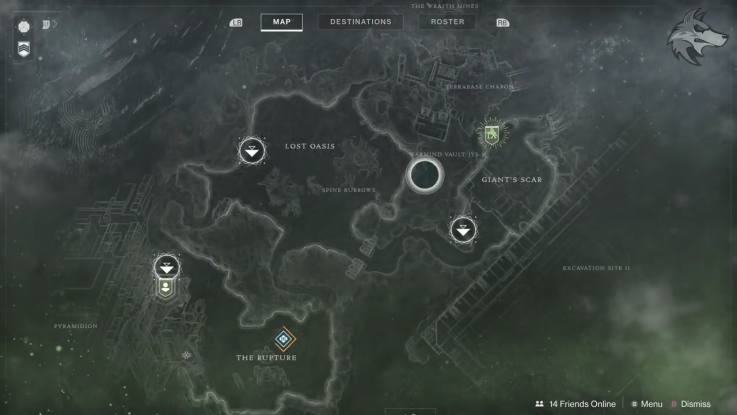 WHAT IS XUR SELLING TODAY IN 'DESTINY 2?'
Xur's April 20 Exotic inventory isn't the best, but it's got a few standouts. Check out the full list of options below.
Vigilance Wing [Pulse Rifle 29 Shards]: Most hardcore Destiny 2 players probably have a Vigilance Wing already given the gun's strong place in the PvP meta. That being said, if you're new to the game, this Exotic might be worth the extra Shards. Movement speed and health increase after kills, so its advantages are unquestionable. Pulse Rifles aren't for everyone, but the Vigilance Wing is one of Destiny 2's best.
Foetracer [Hunter Helmet 23 Shards]: The Relentless Tracker perk tracks targeted foes and deals more damage to tracked foes with low health so you can see enemies more clearly and do more damage to them. You can't go wrong with Foetracer in PvP, especially when paired with the Mida or a Pulse Rifle..
Peacekeepers [Titan Leg Armor 23 Shards]: The main lure of Peacekeepers is its Mecha Holster perk that reloads stowed SMGs to make them instantly ready when you switch them back in. Since it's possible to cycle between two SMGs, the Peacekeepers' benefits have a tendency to stack.
Vesper Of Radius [Warlock Chest Armor 23 Shards]: Its Planetary Torrent perk causes Rifts to release an Arc Shockwave when cast. Rift Energy also recharges faster in dangerous situations. If you like the Arc class this is a must, but it's not a popular Exotic at the moment.
Three Of Coins [31 Light Shards]: It equates to a 50 percent increase in the chance of Exotic drops after completing an activity. Without knowing the exact base chance, though, it's hard to know if this limited buff is worth it. If you don't have one of the above Exotics, buy those instead.
Fated Engram [97 Light Shards]: This Engram automatically generates an Exotic you don't already have. It's limited to one purchase per account per week.
TRIALS OF THE NINE DETAILS
Since Trials Of The Nine is also underway, we'll fill you in on those details as well. It runs now through 1 p.m. EDT on April 24. You'll be playing Countdown on The Fortress map. These weapons are your seven-win options:
Judgement [Hand Cannon]: The stats of this gun aren't that impressive in most categories, but Judgement is a fairly reliable Hand Cannon if you're looking for one. It shoots the bullets where you want them to go and packs a big punch in terms of impact.
The Long Walk [Sniper]: Especially with Outlaw and Quickdraw, The Long Walk is probably one of the best Snipers in Destiny 2. Its perks make it a very valuable option for long-range PvP.
Adjudicator [SMG]: If you'd rather slay in PvP from up close, the Adjudicator is a nice alternative. It's a strong Kinetic weapon that pairs well with a rifle of any kind. This gun is a solid compliment to most loadouts.
Flawless rewards include something new for your character's chest and legs.
That's all we have for Xur and Trials today, but more will surely be available next week.
Destiny 2 is available now on PS4, Xbox One and PC. Xur's inventory is identical across all platforms.
What are your thoughts on Xur's inventory today? Will you be picking up the Foetracer? Tell us in the comments section!
'Destiny 2' Xur & Trials Details April 20 - Selling Foetracer & More | Gaming