'Destiny 2' Year 3 Shadowkeep Reveal Stream - Time, Date & How to Watch
Destiny 2 Year 3 is about to be revealed via a livestream, and we want to make sure you see every juicy detail as soon as it happens. Below, we recap the key dates, times and everything you should know about the upcoming Shadowkeep expansion.
What time is the Destiny 2 Year 3 reveal stream?
The Destiny 2 Year 3 reveal is set to take place June 6 at 1 p.m. EDT. The news was revealed via a teaser last Thursday, reminding Guardians to "tune in for the reveal of the next chapter of Destiny 2." With that in mind, it's overtly implied Bungie will detail the next expansion for its existing game as opposed to a full-fledged Destiny 3 offering.
Where to watch the Destiny 2 Year 3 reveal stream
The stream is expected to broadcast on Bungie's official Twitch and YouTube channels, as well as the official Destiny YouTube channel. YouTube generally performs better on lower-end hardware.
What to expect from Shadowkeep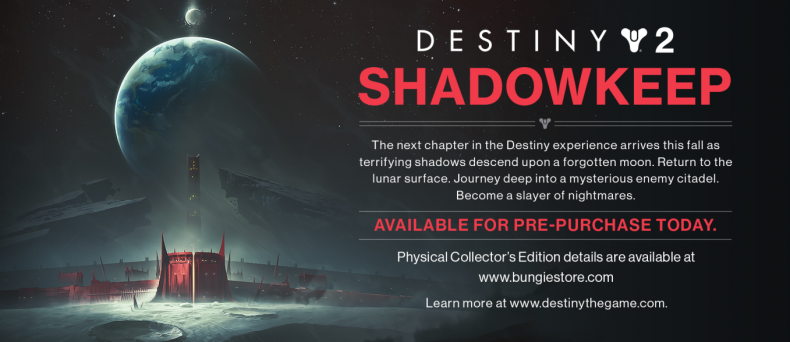 Based on datamines from Destiny 2's recent Season of Opulence update, we now know that the Year 3 expansion, Shadowkeep, takes place on the moon. Here's the official description.
"The next chapter in the Destiny experience arrives this fall as terrifying shadows descend upon a forgotten moon. Return to the lunar surface. Journey deep into a mysterious enemy citadel. Become a slayer of nightmares."
So, if you happened to miss those Wizards from the moon you battled in the original Destiny, it sounds like you'll have the chance to confront them again soon. As faithful Guardians will know, the moon is home to the Hive, a race which made a resurgence in the plot of Forsaken. The Hive are responsible for the Dreaming City being trapped in a time warp, so it sounds like Destiny 2's next chapter will focus on breaking that spell and the ramifications of doing so.
The Year 3 Annual Pass will likely go into effect in September, but eager fans can pre-order various editions after the stream. It's worth noting that, while Forsaken didn't have a Collector's Edition when it launched last year, Shadowkeep will offer one. That's all we know for now, but we imagine the livestream will go into much greater detail on the matter.
Destiny 2 is available now on PS4, Xbox One and PC. The Year 3 livestream begins June 6 at 1 p.m. EDT.
What do you want to see from Destiny 2's Year 3 livestream? Does Shadowkeep sound exciting to you? Tell us in the comments section!