'Destiny 2' Year 2 Reveal Stream Recap - Forsaken DLC & Weapon Changes
Destiny 2 's Year 2 reveal stream is underway, and we're keeping a live blog of all the big announcements. Over the course of the hour-long showcase, we'll recap everything we know about the Forsaken expansion, upcoming gameplay changes and a possible first look at weapon randomization. We'll post the trailers, release dates and key moments here as they unfold.
Foresaken
Different tone, vibe
Western revenge.
Cayde fills a prison that breaks.
Takes place in Tangled Shore in Reef
Your enemy is the Scorn. Hunting down Barren criminals in Barren Hunt
Make it feel like a game that never ends
Releases Sept. 4, story reveal at E3
Weapon System
​Third slot. Can play like D1 or D2.
Every weapon feels different with random rolls. You can customize with Mods.
Masterworks system reworked where levels increase over time.
New supers: Fire Knives (different take on Golden Gun), Fire Hammer,
Void Warlock teleportation
Weapon Type: Bow and arrow. Short, medium and long.
Gambit: PvE and PvE blended. You see other team in seperate arena with combatants. Combatnts drop motes to collect. When you've collected enough you send a Locker that locks the banked motes down. Blockers invade enemy teams to stall the other team's bank. You win by collecting the most motes.
It's a risk-reward mode. Playable at E3 and Guardiancon. Lives as its own mode.
Raid: More bosses than ever. Dreaming City. New destination. It's like Vault of Glass and Dreadnaught had a baby. Magical, weird and mysterious. Puzzles. Raiders change the location.
Armor perks random rolls new subclass path.
Annual pass: different from expansions. Black Armory, Joker's Wild, Penumbra. Give you more, more often. More about Power and gear. Activities, challenges and collectibles. Not as much on ciematics. Each release starts a new season. It's unclear how much the Annual Pass costs if you already own Destiny 2, but the implication from these prices is that it will be about $30.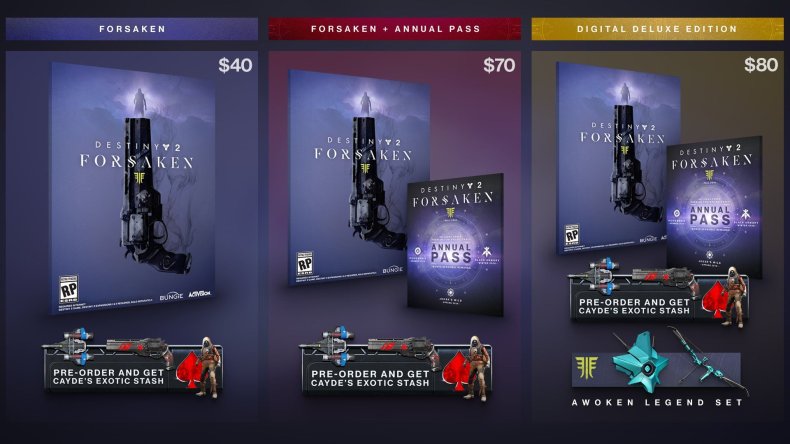 6v6 Returns, Rumble permanent.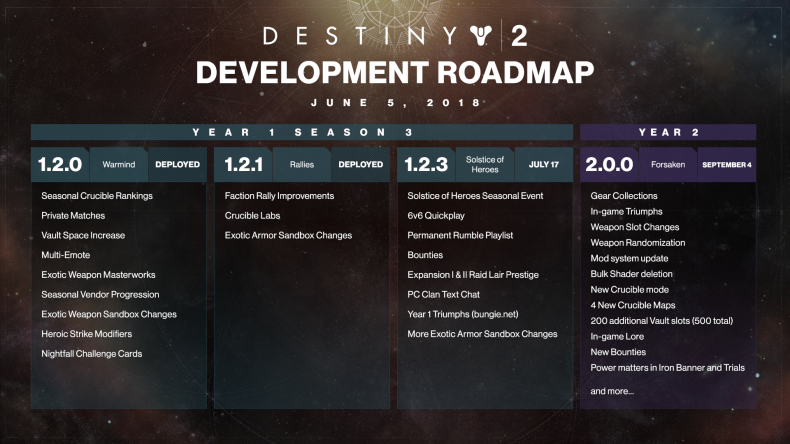 2.0
Vault space increasing
Random rolls tested: Personalize the chase for weapons.
Weapon slots: More control over playstyle. You can decide what to do with those first two. Playable at E3.
Triumphs:. Gambit, Lore, Vanguard triumphs etc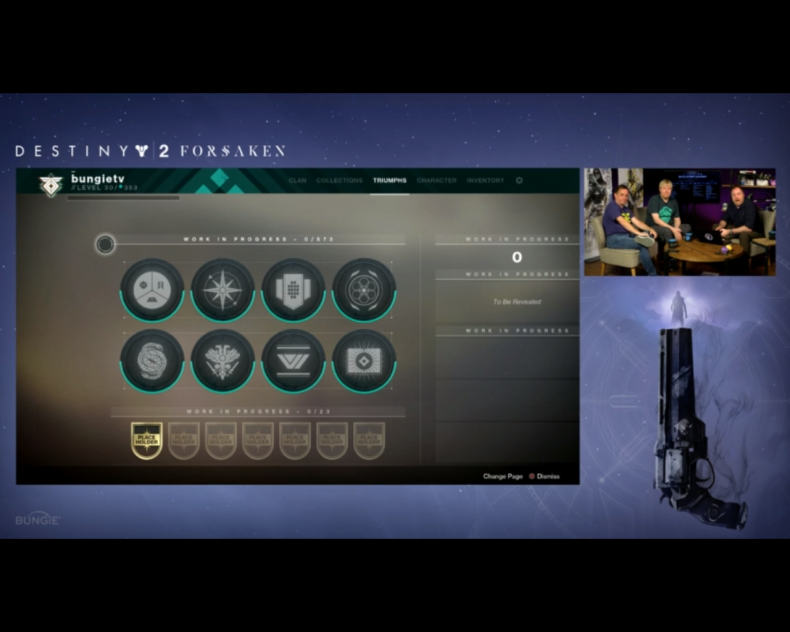 Collections: Exotics groups by weapon type, armor. Similar to kiosk in the Tower. You can restore dismantled Exotics. It tells you how to get event weapons and which you don't have. Collect Sparrwos, weapons flair, etc.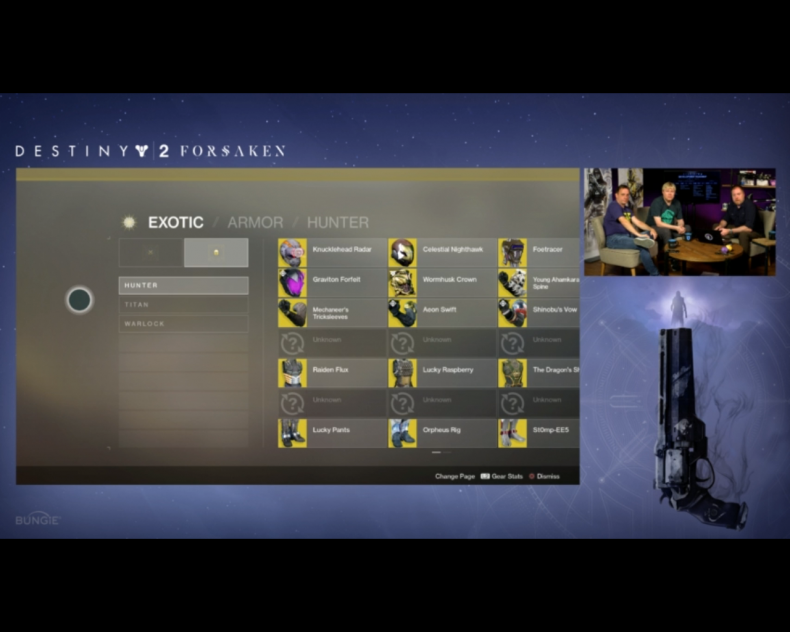 Triumphs and collections available to all. Launches with Forsaken.
That's it for the stream. We'll clean up this post with more detauls as they arrive.
Destiny 2 is available now on PS4, Xbox One and PC. Foresaken releases Sept. 4.