'Destroy Racists': George Washington Statue Smeared With Fake Blood
A statue of President George Washington was vandalized in Baltimore's Druid Hill Park on Sunday, with red blood-like paint.
Along with the fake blood, "Destroy Racists" was scribbled at the base of the monument, a sentiment prompted by nationwide anti-racism protests, sparked as a result of the death of George Floyd on May 25 while in Minneapolis Police custody.
The first president of the United States was a known owner of more than 100 slaves. Washington inherited his first 10 slaves aged 11, and was reported to work them painfully hard during daylight hours, with the minimum provisions, food and clothing. However, it's believed that he grew out of favor with slavery and arranged for his slaves to be given freedom after his death.
This is not the first time a statue has been labeled controversial in Baltimore. A campaign to erase various symbols of the pro-slavery Civil War South came in 2017 after clashes in Charlottesville due to a white supremacy rally. The Confederate Women's Monument in Bishop Park was removed, as was one in Wyman Park of American Confederate generals Robert E. Lee and Stonewall Jackson.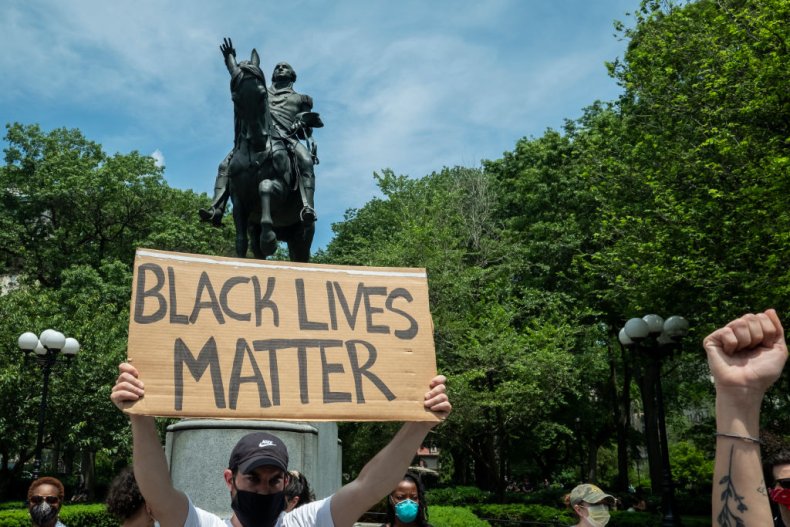 In the past few weeks, statues of Confederates and slave traders have been targeted across the nation by Black Lives Matter protesters, including those in Virginia, North Carolina, California, Oregon and Alabama.
Protesters are provoking officials to look at the racial context and suitability of emblems in their public spaces. As a reaction to recent statue vandalism, some states have taken official action to remove images of controversial figures.
North Carolina Gov. Roy Cooper this weekend officially ordered the removal of all Confederate monuments on Capitol grounds. "Monuments to white supremacy don't belong in places of allegiance and it's past time that these painful memorials be moved in a legal, safe way," said Cooper in an official statement.
"I am concerned about the dangerous efforts to pull down and carry off large, heavy statues and the strong potential for violent clashes at the site."
Critics of the removal of statues believe it is erasing history. "We're like the Soviet Union in the 1930s when Trotsky's picture was removed everywhere," said Victor Davis Hanson, a senior fellow at the Hoover Institution, to Fox News. It's like "when the Nazis re-named 1932/1933 as Year Zero, and the Taliban blew up the Bayamon statues," he continued.
Professor of history Gordon-Reed at Harvard Law disagrees with Hanson, "History will still be taught," she said to The Harvard Gazette. "We will know who Robert E. Lee was. Who Jefferson Davis was. Who Frederick Douglass was. Who Abraham Lincoln was. There are far more dangerous threats to history. Defunding the humanities, cutting history classes and departments. Those are the real threats to history."