Could Destroying Palmyra's Notorious Prison Lead to a Surge in ISIS Support?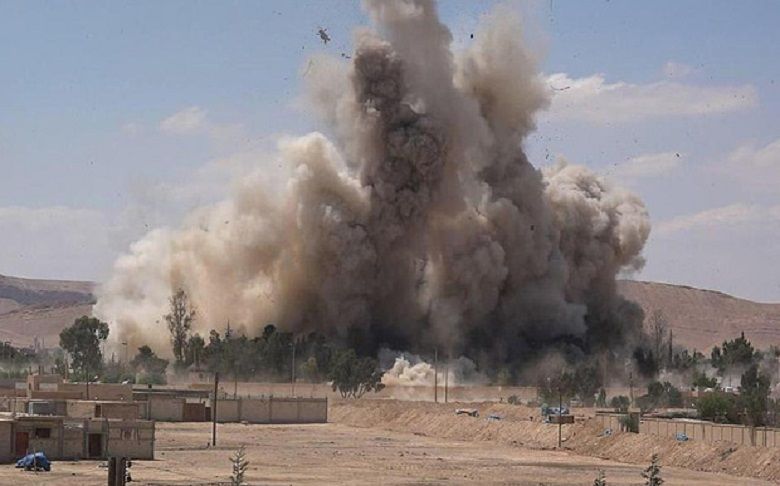 ISIS's destruction of a notorious Palmyra prison constitutes a psychological victory which could generate support for the jihadists, according to a former political prisoner who spent nine years in the jail.
The militants released photographs over the weekend of fighters armed with petrol cans in the prison yard, huge explosions and the supposed ruins of Tadmor military prison afterwards. According to a monitoring group, the prison was empty at the time of detonation.
Syrian state media did not report the destruction of the prison, which was the site of a 1980 regime-orchestrated massacre and has a history of human rights abuses and torture.
ISIS took control of Palmyra almost a fortnight ago and have executed some 400 people since the capture. Last week, an audio statement from a purported Isis commander claimed that they would not damage the 2,000-year-old Roman ruins in Palmyra, which is listed as a UNESCO World Heritage Site.
Dr Bara Sarraj was imprisoned at Tadmor between 1984 and 1993 after being blindfolded and kidnapped on his way to a university lecture in his hometown of Damascus.
Arrested at the age of 21 on spurious charges of opposing the regime, Sarraj says he was brutally beaten throughout his time in Tadmor before being transferred to Saydnaya prison, near Damascus, for a further three years before finally being released in 1996.
He fears that ISIS' propaganda tactic of destroying a symbol of president Bashar al-Assad's oppressive regime could have the effect of convincing persecuted Syrians to back their cause.
"Will they get support from people [for destroying Tadmor prison]? I think from the less educated because people will not understand. They see the Islamic banner and they will believe them, that will be the fuel," says Sarraj, now a microbiologist and college teacher in Chicago.
"Under the slogan 'The enemy of my enemy is my friend' - that's how they will look at it, they will say this is Assad's symbol, so it's a good thing [that it has been destroyed]."
However, Sarraj explains that Tadmor prison is split into two facilities, separated by about one mile. He says that Isis' photos only show the destruction of what he calls the "criminal" section, not the "political" section where alleged opponents of the regime like him were detained.
He adds that, if both parts of the prison have been destroyed, he would be saddened at the loss of a "museum" of the regime's crimes against the Syrian people. "You feel it's like your house - true, it's your house by force, but it's a house I lived in for nine years," he says.
Tadmor prison is synonymous with oppression exerted by successive generations of the Assad family on Syria. In June 1980, following a failed Muslim Brotherhood assassination of then president Hafez al-Assad, father of Bashar, Syrian soldiers entered the jail and executed hundreds of prisoners in their dormitories.
The prison was shut in 2001 after Bashar assumed office in 2000, but was reopened in 2011 in order to accommodate hundreds of anti-regime demonstrators arrested following protests which marked the start of the Syrian civil war, which has since claimed more than 200,000 lives.
Charlie Winter, jihadism researcher at the Quilliam Foundation, says that the destruction of Tadmor prison signals a show of strength by ISIS.
"In terms of the decision-making behind the Isis propaganda machine, it is a very visual, impactful way to demonstrate their control over Palmyra and what they intend to do to the last vestiges of the Assad regime's control there," says Winter.
He says that the militants main priority is "winning over the hearts and minds" of Palmyra's citizens, not destroying the city's ancient ruins. Even during the initial offensive to take Palmyra, Winter cites evidence that Isis reopened a bakery and distributed free bread to citizens in a bid to whip up public support.
The takeover of Palmyra means that Isis are now in control of more than 50% of Syrian territory. The US Embassy in Syria said last night that regime airstrikes were supporting an ISIS advance on the northern city of Aleppo in a bid to oust anti-Assad rebels.