Crippling of Russia's Moskva Cruiser May Be Game Changer for Ukraine War
The destruction of the flagship of the Russian Black Sea Fleet, if confirmed, could be a game changer for the war in Ukraine, some experts believe.
"If Ukraine can challenge the Black Sea Fleet (and it appears they can) then taking back Crimea is very much in the cards. Total victory possible," wrote security expert Paul Massaro on Twitter.
"The historic performance of the Ukrainian military vs. the dismal showing by the Russians is really something to behold," Massaro—the senior policy advisor for counter-corruption and sanctions at the Commission on Security and Cooperation in Europe— added in a later tweet.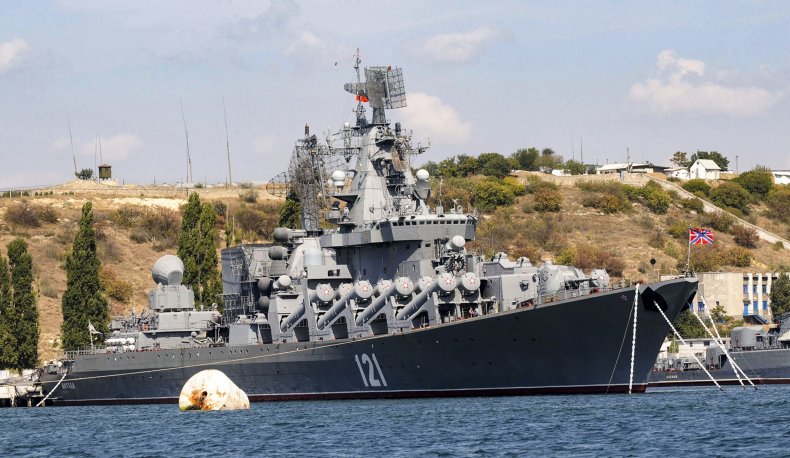 "At this point, what more does Ukraine have to prove? They are 100% capable of winning this war. The West must shower support on them. All arms. All sanctions. Get it across the finish line," he said in another.
"Kyiv? Secured. Medvedchuk? Captured. Russian warship? F*cked off," he added.
Reports that the Moskva was seriously damaged by a blast came from both Ukrainian authorities and Russia's defense ministry, but neither have been independently confirmed.
Maksym Marchenko, governor of the Odesa Oblast and former commander of a battalion of Ukrainian ground forces, wrote on Telegram that the Russian ship was hit by two Ukrainian-made Neptune anti-ship cruise missiles which caused "very serious damage" to the Moskva.
Russia's Defense Ministry was later quoted by Russian state media saying that the missile cruiser was crippled by a blast, as a fire caused ammunition on the ship to blow up.
Former U.S. Navy chief petty officer and specialist in naval cryptography Malcolm Nance wrote on Twitter that, in his assessment of the reports emerging from Ukraine about the missile cruiser, the ship was "finished."
"As an expert in being attacked but surviving anti ship missiles (x3 times!) and damage from hitting a large anti ship sea mine ... if you "Abandoned ship" your sinking & all efforts to save her are ended. That. Ship. Is. Finished," Nance said.
"For Putin's Regime this is a crucial moment as the ship was the visual epitome of Russian Global Might," Daniel Kurz, professor of political science and history at Middlesex County College, wrote on Twitter.
The destruction of the Moskva is also likely to deliver a blow to Russian troops' morale.
"Not only was [Moskva] the Black Sea's military flagship, it was an icon of pride. Can't begin to imagine how the Kremlin will spin this to Russians," wrote Bellingat's Christo Grozev on Twitter.
Although Russian authorities confirmed that the ship had been damaged, they later added that the ship had not sunk.
In a comment reported by Russian state media RIA Novosti on Telegram, the Russian Ministry of Defense said that "the Moskva maintains buoyancy" and "the main missile armament was not damaged."
There hasn't been any independent confirmation of this claim.
According to reports by Russian state media quoted by Reuters and Agence France-Presse, the Russian ship was armed with 16 anti-ship Vulkan cruise missiles with a range of at least 440 miles, as well anti-submarine weapons and mine-torpedoes.
Newsweek has contacted the Ukraine's Ministry of Defense and Russia's Ministry of Foreign Affairs for comment.
UPDATE 04/14/22 at 9:40 a.m. EDT: This article was updated with a later comment by the Russian Defense Ministry and background.