Destructive SCOTUS Power Play Will Only Hurt Democrats | Opinion
Radical House and Senate Democrats introduced a plan to pack the Supreme Court with partisan justices that would fundamentally undermine the rule of law and change American democracy as we know it.
The Democratic Party should—and will—pay a political price for this proposal.
Even though the Democrats will likely pivot to what will be perceived as a more moderate approach to "reforming" the Court, Republicans have the opportunity to keep the spotlight focused on Democrats' radical big-picture agenda.
The proposal's unveiling would have been a master class in gaslighting had its true intentions not been so alarmingly obvious.
Rep. Mondaire Jones (D-N.Y.) called the current Supreme Court "hostile to democracy" because of its current conservative makeup. The only way we can "save our democracy," he argued, is to pack the court with four new liberal justices. He somehow considers a 7-6 liberal majority "balance" for the Supreme Court.
For Sen. Ed Markey (D-Mass.), a majority-liberal Court would "reflect the values of the majority of the American people on whose behalf they serve." One might wonder whether he made that argument during the four years under President Donald Trump and the two years when Congress was controlled by Republicans. (Answer: he didn't.)
The irony of Democrats framing a hostile takeover as a way to "save our democracy" shouldn't be lost on the American people. And no, the Supreme Court isn't there to reflect the values of an electorate but to interpret the Constitution and apply it equally to the American people, not merely the majority. This move wouldn't save our democracy—it would tyrannically end it.
That the Democrats introduced this idea is not shocking. The party's most radical members have embraced or justified the violence engulfing city streets from Brooklyn Center, Minnesota, to Portland, Oregon. The violent agitators scream "No justice! No peace!" and they mean it. They view "justice" as getting a result they support—and if they don't get it, they will burn a city to the ground. Just ask Rep. Maxine Waters (D-Cal.), who just this past weekend called for more confrontation if Derek Chauvin isn't found guilty of murder. That's not justice, that's mob rule.
That's the same ideology behind the naked power grab against the Supreme Court: that the Court doesn't always rule in favor of the Left's unconstitutional policies means an injustice has been committed. The only way to ensure "justice" is to rig the system with judges who will do your bidding.
Left-wing media outlets and partisan activists masquerading as objective reporters won't call this move out for the threat it poses to our democratic institutions. They'll embrace the thought exercise or even endorse it.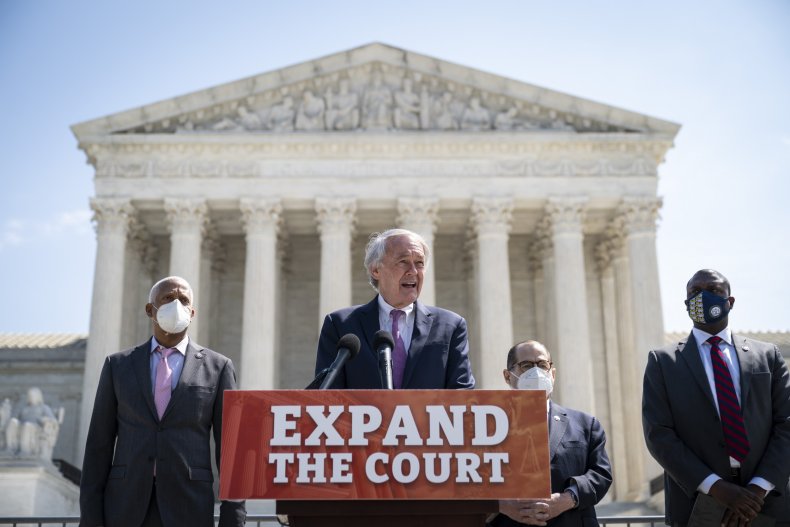 Thankfully, however, the American people already understand the dangers of this idea.
During the presidential election, a New York Times/Sienna College poll asked voters if they supported packing the Supreme Court. An astonishing 58 percent rejected it outright, with Republicans overwhelmingly opposing it at 89 percent and Democrats supporting it at an alarmingly high 57 percent. But independent-minded voters—the voting bloc that will win or lose an election in swing states—rejected court packing at 65 percent.
Follow-up polls by ABC News/Washington Post and Fox News showed similar results, though with a less drastic partisan divide.
Perhaps that political reality is the reason House Speaker Nancy Pelosi said she wouldn't bring the bill to the floor for a vote. Instead, she's waiting for the findings from a commission created by President Joe Biden on the topic.
Other Democrats will attempt to pivot from giving a simple answer, too. They'll say they're glad the issue is being discussed and they're eager to see what Biden's commission has to say. But it's not good enough to wait for a commission to come up with a report written after the issue has been focus-grouped. Democrats may punt on court packing, but push for an end to lifetime appointments—an idea that has more general support at the moment. This gives them a way to reframe the issue in a less damaging way ahead of the midterms.
Republicans shouldn't waste time before holding Democrats accountable. Defending the integrity of the Court is a winning issue, especially in swing states where Trump narrowly lost but Republicans still picked up House seats because of how far left the Democrats have swung. Midterms are historically bad for the sitting president's party. The 2022 election should be no less so than the shellacking President Barack Obama suffered in his first term.
Conservatives should make every move to keep this issue at the forefront and pressure Pelosi and Senate Majority Leader Chuck Schumer to put their proposal up for a vote. Republicans should be eager to officially reject it and put this dangerous idea to rest. Every day court packing remains viable is a danger to our democracy.
We should demand that media members ask Democrats where they stand on this legislation. How would Senators Catherine Cortez Masto (D-Nev.) and Raphael Warnock (D-Ga.) vote on the issue? What about Reps. Kim Schrier (D-Wash.), Charlie Crist (D-Fla.) and Elissa Slotkin (D-N.Y.)? And once they stake out a position against it—and those in vulnerable seats almost certainly all will be forced to—what is their plan to quell the progressive wave of their party pushing this radical agenda?
Any resistance to the far-left wing of the Democratic Party will only fuel the civil war within it. The progressive base will revolt, making it harder for vulnerable Democrats to hang on to seats in the midterms. The fighting will send a message to independents and moderate Democrats that the party is in trouble and unstable. This benefits Republicans while killing a sincerely bad bill.
Jason Rantz is a frequent guest on Fox News and is the host of the Jason Rantz Show on KTTH Seattle, heard weekday afternoons. You can subscribe to his podcast here and follow him on Twitter: @jasonrantz.
The views expressed in this article are the writer's own.