Detective Joseph Seals Identified as Police Officer Killed in Jersey City Shooting
A shooting in Jersey City, New Jersey has resulted in 6 deaths, including the death of one officer and both gunmen.
Identified as Detective Joseph Seals during a press conference, the married father of five was "our leading police officer in removing guns from the street", said Police Chief Michael Kelly, who spoke at the press conference Tuesday.
Kelly said Seals was a 15-year veteran police officer. He was promoted to detective within the last couple years, assigned to the city's Cease Fire Unit, the Jersey City shooting response team.
"Our hearts to out to him. We believe that he was killed while trying to interdict these bad guys," Kelly said.
Officers were called to the scene of an active shooter situation on Tuesday afternoon at 1:45 p.m.
A Bureau of Alcohol, Tobacco, Firearms and Explosives Tweet reporting an active shooter alerted the media to the existence of the shooter.
The Hudson County Prosecutor's Office later confirmed that an officer had been shot and killed during the shootout along with five civilians. Two other officers, Ray Sanchez and Fernello Fernandez, and one civilian are being treated for injuries involving shrapnel.
The two suspects, a currently unidentified pair of men, were believed to be shot and killed during the firefight, according to Kelly.
Representative Donald Payne Jr., a congressman from New Jersey, confirmed that six including the officer were dead. An explosive that may be an incendiary device was found at the scene and had been removed by the bomb squad, according to Police Chief Kelly, who expects the investigation to take months. No motive has yet been confirmed.
T.E.A.M.S., Canine Unit, Bomb Unit, Marine Services, Aviation, Field Ops, Tactical Patrol, Central Security, Trafficking, and Emergency Response Bureau were all on the scene and actively part of the investigation, according to the New Jersey State Police Twitter.
Press Secretary Hogan Gidley said President Donald Trump have been briefed about the situation, according to CNN.
New Jersey governor Chris Murphy covered the ongoing situation via his Twitter, saying that "officers [were] shot during this standoff."
"I have been briefed on the unfolding situation in Jersey City," Murphy tweeted. "Our thoughts and prayers are with the men and women of the Jersey City Police Department, especially with the officers shot during this standoff, and with the residents and schoolchildren currently under lockdown."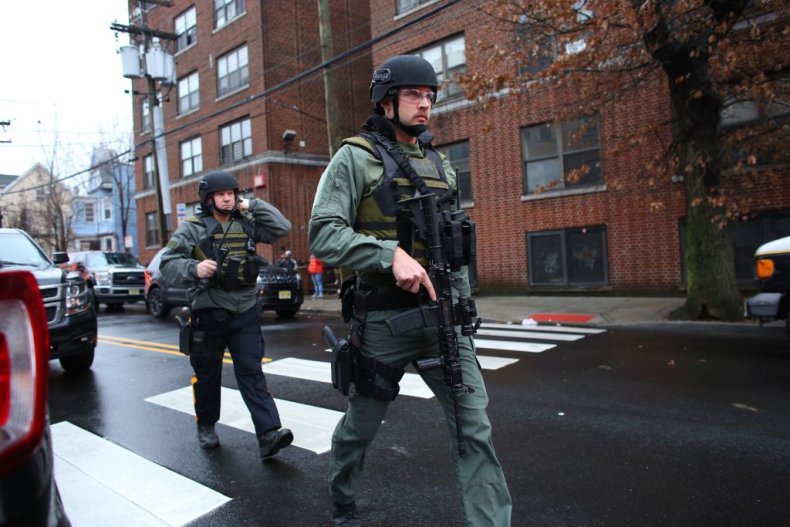 All schools in Jersey City were locked down in response to the situation soon after the shooting occurred; students and staff were reported safe. The lockdown was subsequently lifted at 4:15 p.m. The Jersey City Medical Center was also placed on lockdown, which continued beyond 4:15 p.m.