The Pokémon franchise is in for an interesting 2019. While many fans are waiting patiently for the first home console main game releasing for Nintendo Switch later this year, the first live-action film, Detective Pikachu starring Ryan Reynolds as the electricity-filled mouse, will introduce a whole new generation of potential fans to the franchise.
Capitalizing on this opportunity, The Pokémon Company is set to release a line of merchandise based on the film. From the Trading Card Game to apparel, Detective Pikachu merchandise is set to take the Pokémon world by storm, and they showed it off at this year's Toy Fair.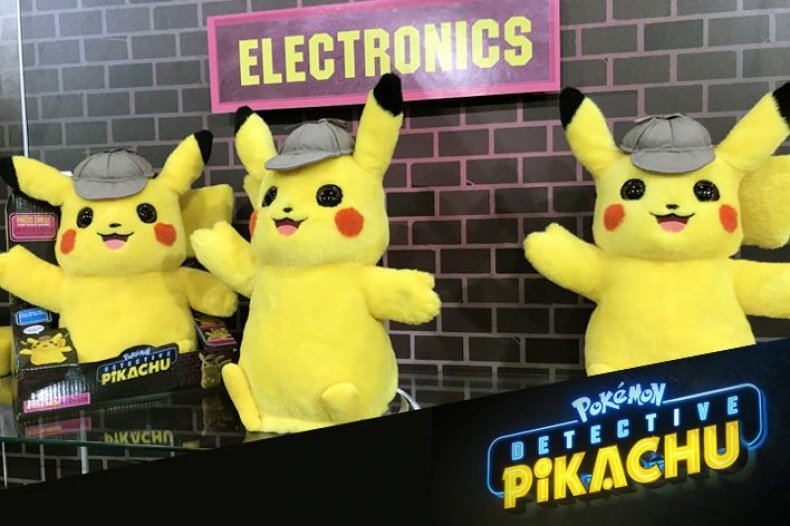 TRADING CARD GAME
The Pokémon TCG is beginning a new era with the Team Up expansion, which will bring two Pokémon onto one card. But fans of the game will be able to add Detective Pikachu cards to their collection.
A new booster pack titled Pokémon Detective Pikachu will debut in the U.S. on April 5 - other areas will get it on March 29 - and bring with it 26 cards featuring art based on the real-life looking Pokémon. They are tournament ready so if you're looking for new cards to use in your deck, be sure to check these out.
The first wave of cards include: Detective Pikachu, Greninja, Charizard, Mr. Mime, Jigglypuff and Psyduck.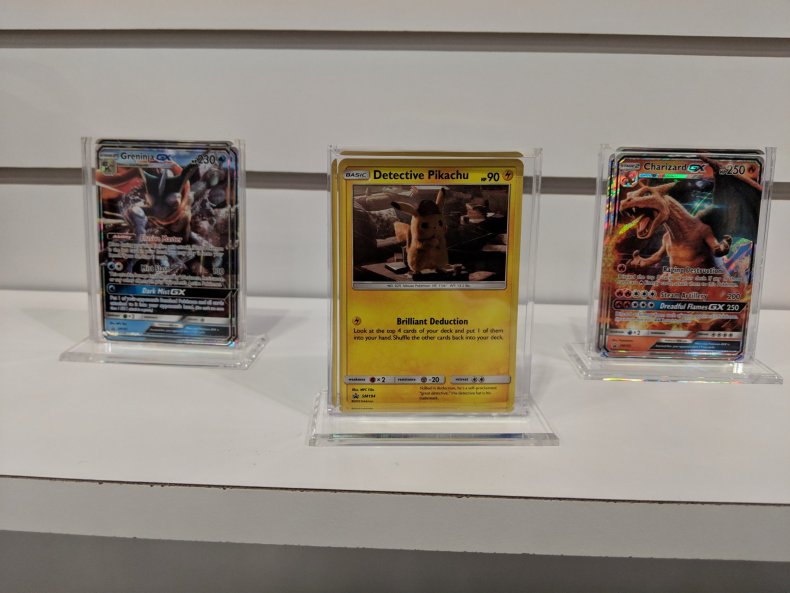 Fans of the TCG will be able to pick up the Case Files that feature Detective Pikachu, Charizard and Greninja. These packages include the featured Pokémon's card, a metallic coin, two booster packs from the Detective Pikachu set and one additional pack from another set. These will run for $9.99.
If you want the most Detective Pikachu TCG goodness, the Collector Chest will contain seven booster packs from the new set, two additional packs of an older set, a collector's pin, a notepad and a sticker sheet.
DETECTIVE PIKACHU APPAREL
Fans looking for new Pokémon-inspired apparel will find plenty as we get closer to the release of Detective Pikachu. The new line will be available on PokemonCenter.com starting April 2 with a second series arriving in May.
Surely fans have seen the official Deerstalker Hat, which lets fans wear the detective hat worn by Pikachu in the film - complete with Pikachu ears.
Merchandise based on various Pokémon and areas from the film will also be highlighted including the Hi-Hat Cafe hats - from New Era - shirts and a mug. For those non-coffee drinkers, fans can pick up Berry Juice Jigglypuff shirts that spotlight everyone's favorite singing Pokémon.
The Rhyme City Police Department cap, also from New Era, and shirt represent the city's best and brightest, while the 10-year anniversary collection celebrates when Pokémon and people begun to coexist.
There's also various stickers and pins that Pokémon fans can use to decorate their laptops, backpacks and jackets.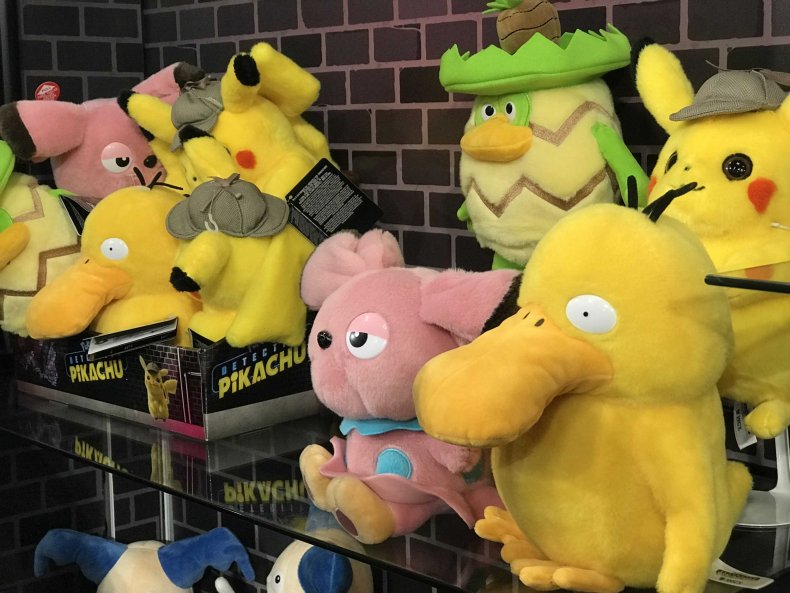 DETECTIVE PIKACHU TOYS/PLUSH
The Pokémon Company is partnering with toy companies to bring Detective Pikachu in various forms including plushies and figures.
Wicked Cool Toys is bringing an adorable plush that comes with 14 responses - all in Ryan Reynolds' voice - and motorized ears. And it has the signature detective hat. Two-inch figures are also coming to retailers featuring the likes of Detective Pikachu, Psyduck, and Bulbasaur. Ludicolo, Mr. Mime and more three-inch figures are also on the way.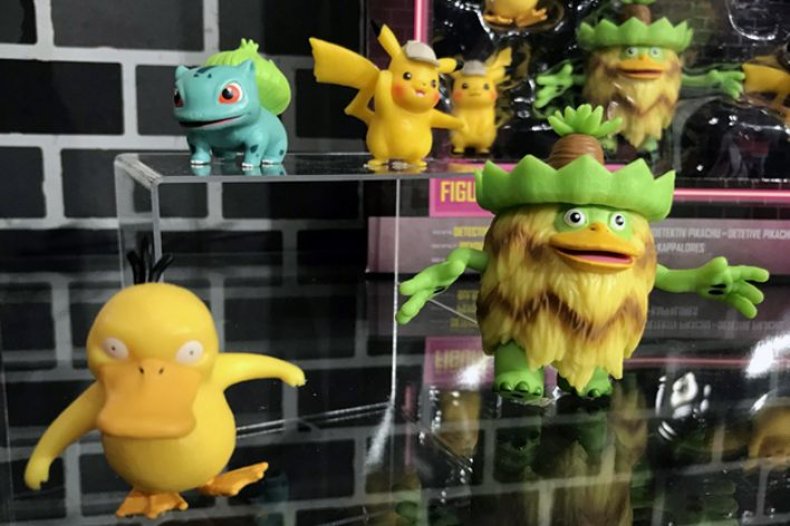 If blocky figures are more your thing, Mattel's Mega Construx building sets is expanding its Pokémon sets with the Detective Pikachu lines. There will be a large Detective Pikachu building set that - once you've built it - moves its tail and looks into its magnifying glass when you turn its arms. Mr. Mime returns in block form as well as Loudred and Lickitung. There will also be a Hi-Hat Cafe and Detective Pikachu office set.
What do you think of all the Detective Pikachu merchandise coming this year? Let us know in the comments section below.