Andrzej Sikora, Who Allegedly Sheltered Ethan Crumbley Parents, Might Be Charged: Police
The Detroit-based artist who allegedly sheltered James and Jennifer Crumbley after they received involuntary manslaughter charges in the Oxford High School shooting incident could be charged, police have said.
Oakland County resident Andrzej Sikora, who is linked to the studio where the parents of a 15-year-old accused Michigan school shooter were discovered following a manhunt, faces questioning by detectives, a local sheriff said on Sunday.
Sheriff Michael Bouchard and Detroit Police Chief James White said over the weekend that the 65-year-old could be charged if it was determined that he played a role in the disappearance of Ethan Crumbley's parents, FOX 2 Detroit reported.
The parents of the suspected Michigan high school shooter were found in the basement of a commercial building at 1111 Bellevue Street—the site of Sikora's art studio.
"They didn't break in. Somebody let them in," White said on Saturday, referring to the Crumbleys, who were arrested on December 4. "We don't know the relationship yet. That's active. That person could face charges."
Sikora's attorney Clarence Dass said in a statement that his client hasn't been charged with a crime so far, and that he "voluntarily contacted" police to provide information after learning of their arrest on December 4.
Dass also said that the artist shared a "friendly relationship" with the couple, but was unaware that they had been charged with four counts of involuntary manslaughter each.
"We will vigorously investigate the totality of the situation so a determination can be made if there is any criminality or obstruction of justice involved," Bouchard said in a statement. "Our findings will be presented to the prosecutor."
Dass told Detroit Free Press in a statement that his client "maintains his innocence throughout this process and is fully cooperating with law enforcement to assist in their investigation."
In a statement sent to Newsweek, Dass said Sikora had met officials at the Oakland County Sheriff's Office on Monday to "assist in their investigation of the tragedy at Oxford High School."
"Mr. Sikora fully cooperated and answered all of law enforcement's questions, including a search at his home. Mr. Sikora did not assist the Crumbleys in evading law enforcement, did not know there was a warrant for their arrest, and did not know they were at his art studio at the time of their arrest. He has not been charged with any crime, and will continue to assist members law enforcement in their pursuit of justice," said the statement.
A search began for James Crumbley, 45, and Jennifer Crumbley, 43, after manslaughter charges were announced against the pair. They are accused of purchasing the Sig Saur semi-automatic pistol that their son allegedly used in the mass shooting incident as an early Christmas present, and then ignoring warning signs that he intended to carry out an attack.
White said the couple "appeared to be hiding" in the art studio before they were arrested.
The Crumbleys pleaded not guilty to all charges at an arraignment on Saturday and were ordered held in lieu of $500,000 bail.
Meanwhile, their son Ethan Crumbley was charged on Wednesday with one count of terrorism, four counts of first-degree murder, seven counts of assault with intent to murder, and 12 counts of possession of a firearm while committing a felony. He is being charged as an adult.
The mass shooting incident at Oxford High School left four high school students dead and several more injured.
Those killed were identified as Hana St. Juliana, 14; Madisyn Baldwin, 17; Tate Myre, 16; and Justin Shilling, 17. One student remains in hospital in stable condition.
Newsweek has contacted the Detroit Police Department for additional comment.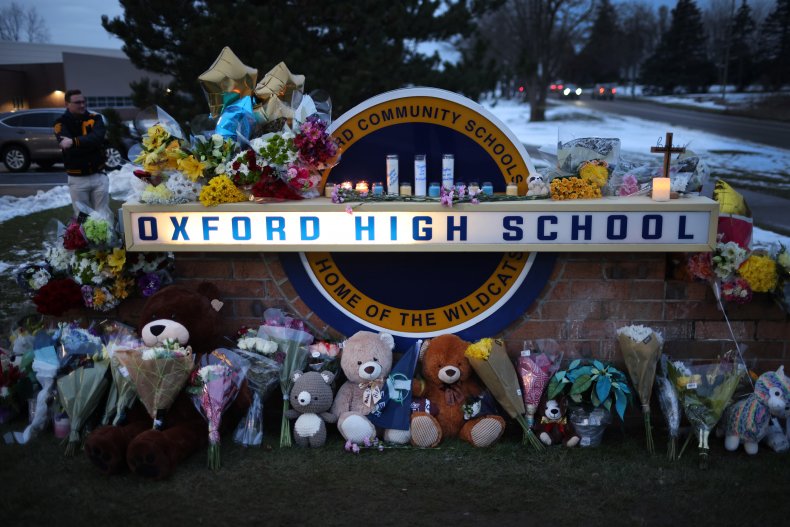 UPDATE 12/07/21 7:40 a.m. ET: This article was updated to include a statement from Andrzej Sikora's attorney Clarence Dass.