Detroit Artist Arrested By City Police While Painting Mural The City Hired Him To Create
A Detriot artist was arrested last week after police approached him about suspicions of vandalism while he was working on a city-commissioned mural.
Sheefy McFly, the artist tasked by the City of Detroit to paint the mural, was arrested on Wednesday after days of working on the mural, though the charges have nothing to do with vandalism. McFly, whose real name is Tashif Turner, was taken into custody for resisting arrest, obstructing police and for an outstanding warrant for a traffic ticket.
McFly told the Detroit Free Press that the arrest was an oxymoron, "doing something for the city and being arrested by the city."
According to McFly, he was issued a permit for the work by City Walls — a city-sponsored program that commissions artwork in public or city-owned spaces in an effort to deter graffiti — and that the police questioned him about his artwork on his first day working on the mural. However, with permit in hand, the police left him alone.
McFly told the Metro Times that he felt after a few days that police in the area had gotten used to him being there and on Wednesday he forgot to take the permit with him.
That day, McFly said he was approached by two new officers who thought he was vandalizing the wall.
"When I tried to walk towards my bag, they tried to act like I was resisting arrest and trying to run. They ran up on me like I'm dealing dope, bro, like I had crack on me and I had a gun in my bag," he told the Times.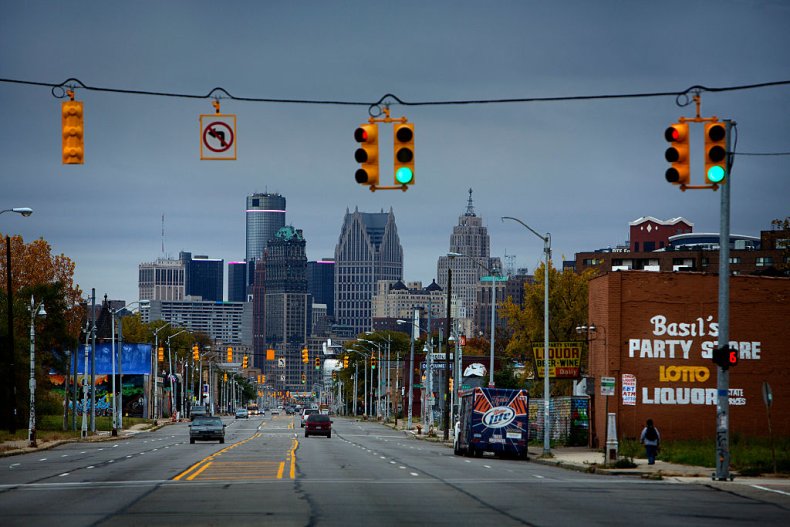 According to the Free Press, as McFly tried to explain that the city had hired him to create the artwork on the wall, several more police cars showed up. Shortly afterward, a city official arrived to vouch for McFly, but the situation escalated further and resulted in his arrest.
"They treated me like a felon even though I was commissioned by the city to do this...I felt threatened for my life. I felt like if I really didn't keep my composure, they would've beat my (expletive)," McFly told the Free Press.
He added in a separate interview with the Times that keeping his composure was important because, if he hadn't, "I felt like if I actually got angry, they can shoot. Like they will shoot me or they will beat me and I'm gonna still go to jail."
McFly said he spent 24 hours in the Detroit Detention Center before he was released. He will appear in court on July 3 in relation to the parking ticket, the charges of resisting arrest and obstructing an officer will likely be investigated by the Wayne County Prosecutor's Office, Detroit Police Department spokesperson Sgt. Nicole Kirkwood told the Free Press.
Holly Lance, a separate Detroit Police Department spokesperson, told the Times that Detriot PD did nothing wrong in detaining and arresting McFly.
"The bottom line is he had a permit, but he wasn't able to produce it. His actions resulted in what occurred next. He was being investigated for a felony. He did not cooperate with officers or have proper documentation," Lance said, adding that it is the discretion of the officers to arrest an individual with an outstanding warrant.
"They can either advise you that you have a warrant for your arrest, or they can take you in for it," Lance told the Times.
McFly said he isn't sure if he will go back to finish the mural.
"I may go back next week, but I need some days to collect myself and figure out how I can be safe. I feel racially profiled and bullied," he said.