Detroit Auto Show 2019: New Trucks, SUVs and Cars at NAIAS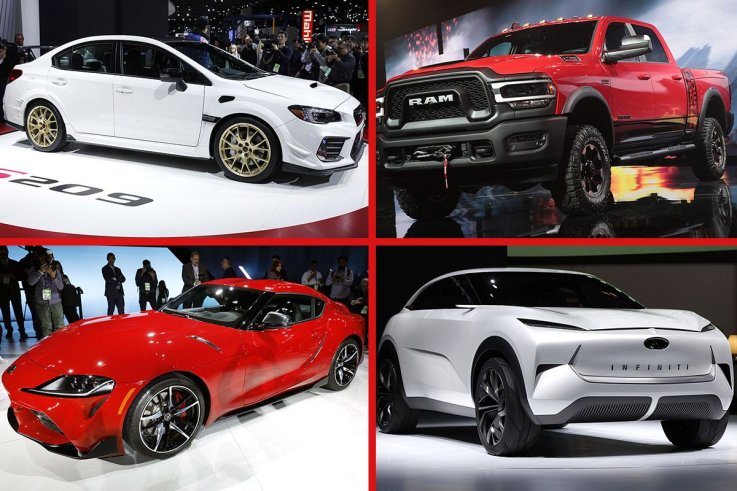 New SUVs from Ford and Cadillac and a heavy duty pickup truck from Ram get top billing at the 2019 North American International Auto Show in Detroit.
Ford's big Explorer SUV is getting its first update since the 2011 model. Now a rear-drive vehicle, the new Explorer has three rows of seats and the option of a turbocharged 2.3-liter four-cylinder engine producing 300 horsepower or a 365-horsepower 3-liter turbocharged V6. The Explorer goes on sale in the summer with a base price of $32,765 excluding shipping.
Ford is also updating its top-of-the-range Mustang. The 2020 fastback Shelby GT500 will have a supercharged 5.2-liter V8 engine producing a massive 700 horsepower and an acceleration of zero to 60 miles per hour in 3.5 seconds.
Cadillac is hoping its big new three-row XT6 luxury SUV can stand out in a crowded market that includes the Chevrolet Traverse, GMC Acadia and Buick Enclave. The XT6, which has a 3.6-liter V6 engine producing 310 horsepower, goes on sale in summer 2019. Price not yet announced.
Fans of big trucks will love the muscular styling of the new Ram heavy duty pickup, with a huge grille that is 30 percent larger than the current one. It comes with a 410 horsepower, 6.4-liter V8 as standard, with the option of a 400-horsepower, 6.7-liter six-cylinder diesel producing 1,000 foot pounds of torque. That beast can tow more than 35,000 pounds and carry 7,680 pounds in its bed.
Toyota is reviving its Supra GR sports car, which had something of a cult following back in the 80s and 90s. The 2020 model has a 335-horsepower 3-liter twin-turbo inline six-cylinder engine and will go on sale this summer from $49,990.
Lexus are showing the super-quick 2020 RC F Track Edition, with a 472-horsepower 5-liter V8 engine that powers it from 0 to 60 miles per hour in under four seconds.
Nissan's Infiniti brand is unveiling the QX Inspiration Concept, an all-electric Infiniti luxury SUV, with electric motors on all four wheels. Infiniti has announced it plans to make only electric vehicles or gas-electric hybrids from 2021.
In the slideshow below, Newsweek presents photos of some of the new SUVs, trucks and cars on show at the 2019 North American International Auto Show in Detroit, which opens to the public from January 19 to 27.