Detroit Elections Worker Alleges She 'Directly Observed' Voters Coached to Pick Joe Biden
A Detroit elections worker has alleged that she "directly observed" fellow election workers in the city coach voters to cast their ballots for Joe Biden, according to a new affidavit.
The affidavit, which was posted to Twitter by GOP spokesperson Elizabeth Harrington, outlines claims made by Jessy Jacob, a Detroit elections worker during the 2020 presidential election.
"I directly observed, on a daily basis, City of Detroit election workers and employees coaching and trying to coach voters to vote for Joe Biden and the Democrat Party," Jacob alleges in the affidavit. "I witnessed these workers and employees encouraging voters to do a straight Democrat ballot."
The affidavit also claims that Jacob was instructed by her supervisor "to adjust the mailing date of these absentee ballot packages to be dated earlier than they were actually sent. The supervisor was making announcements for all workers to engage in this practice."
According to the affidavit, Jacob worked at the election headquarters in Detroit for most of September, but then was moved to a satellite office in October.
The affidavit also claims that Jacob was instructed by her supervisor "not to ask for a driver's license or any photo I.D. when a person was trying to vote," and Jacob alleges that she observed a "large number of people" coming to the satellite location to vote in-person, "but they had already applied for an absentee ballot."
"These people were allowed to vote in-person and were not required to return the mailed absentee ballot or sign an affidavit that the voter lost the mailed absentee ballot," Jacob claims.
Harrington also shared several other affidavits on Twitter, which she claimed served as "evidence" of voter fraud in the state.
Harrington wrote in a subsequent tweet: "Another sworn affidavit from GOP poll watcher Zachary Larsen, former assistant AG. 'She had seen many ballots scanned that did not register in the poll book but that were nonetheless processed.'"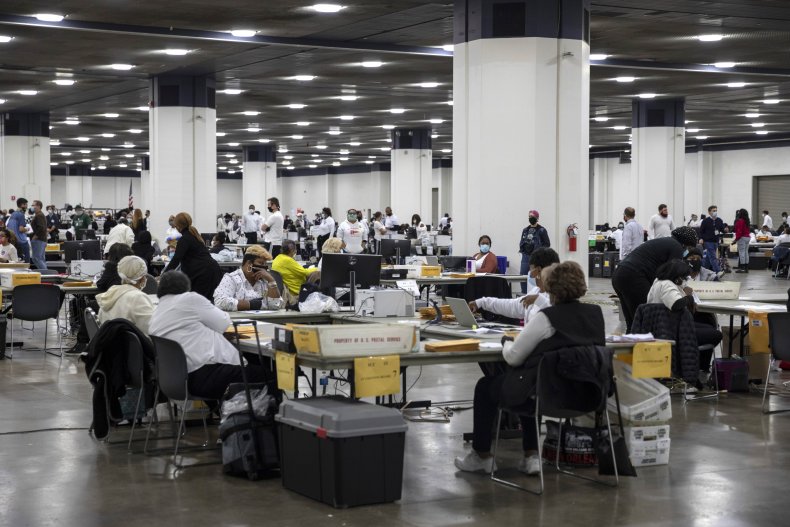 The affidavit comes as President Donald Trump continues to make seemingly baseless claims that Democrats are trying to steal the election as well as participating in voter fraud, after the Associated Press and several news networks on Saturday projected Joe Biden to be the winner of the 2020 presidential election.
In Michigan, there are currently two active lawsuits filed against the state's election results. According to DemocracyDocket.com, Constantino v. Detroit claims several fraud conspiracies in the Michigan election and is asking the state's board of elections to conduct an audit of the election, as well as ordering a new election to be held.
Trump and his campaign have also filed another lawsuit that attempts to stop the counting of absentee ballots in the state.
In response to the lawsuits, Michigan Republican Rep. Fred Upton said in a statement sent to WWMT News in Michigan, "All the Michigan ballots received by the poll closing deadline need to be counted openly and accurately. Period. If there are irregularities, show the evidence and investigate."
"I have not heard from any clerks in my district that there were irregularities in the process. The democratic process and the voices of the American people must be respected," he added in the statement.
Newsweek reached out to the Detroit City Clerk's office for comment but did not receive a response in time for publication.