Detroit High School Considers Dropping Ben Carson's Name Over Dislike for Trump Administration
The Detroit Board of Education is contemplating on removing Housing and Urban Development secretary Ben Carson's name from a local high school.
Carson, a Detroit native, has had his name on the Ben Carson High School of Science and Medicine since the school opened in 2011. That was before he was appointed as a member of President Donald Trump's cabinet, the Detroit Free Press reported. Some of the education board members like LaMar Lemmons have been pushing to remove Carson's name.
Lemmons told the Detroit News that residents "don't support the [Trump] administration." Placing Carson's name on the school was not widely supported and was chosen when the district was being run by an emergency financial manager.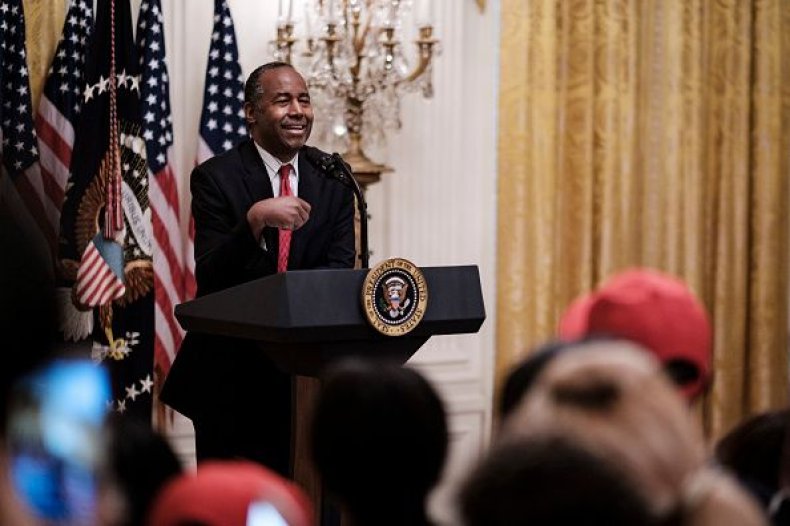 The board has the power to change the school's name if it's to honor "individuals who have made a significant contribution to the enhancement of education," according to the district. The name of the school can also be changed if "the community of the geographic area where the school is located requests a name change that more closely aligns with the history of the locality, or information newly discovered about the current name of the school is negative in nature," the district told The Detroit News.
The board is now looking for new names for other existing schools in the district, according to the Detroit Free Press. They will hold community meetings and conduct surveys to begin the process. The superintendent is slated to report back with the results to make a final recommendation, the Detroit Free Press reported. Lemmons told The Detroit News the name change might not happen before the next academic school year.
"We don't want to be premature," Lemmons told the publication. "The community will have input and influence the process."
Carson has been serving as one of Trump's Cabinet members since 2017 and was a 2016 presidential candidate for the Republican party. In March, internal emails found that Carson and his wife chose a $31,000 dining room set for his government office last August. The secretary's spokesperson, Raffi Williams, previously issued a statement to CNN denying that Carson's wife, Candy Carson, knew about the dining set purchase.
"Mrs. Carson and the secretary had no awareness that the table was being purchased," he told CNN in February.
Williams followed up with a different statement a month later and explained the emails, stating that his Carson's wife was presented options by the staff.
"When presented with options by professional staff, Mrs. Carson participated in the selection of specific styles," Williams told CNN.