Detroits Lions Release Their NFL 2020 Schedule Using 'Animal Crossing'
NFL teams released their schedules on Thursday, and the Detroit Lions took a unique approach with their announcement. The team revealed its schedule via Animal Crossing: New Horizons. So, yeah, seems like some members of the Detroit Lions organization have been spending their recent time indoors just like the rest of us.
The in-game announcement came from Nook Incorporated leader Tom Nook. "It's been a long time coming, but we are thrilled to finally be able to announce the Detroit Lions 2020 season schedule," the character said in the announcement video. "We can't wait to spend our Sundays between the lines, but before we make it that far, please enjoy this video presentation we put together for you."
Throughout the announcement, an avatar wearing Lions gear demonstrates what the team intends to do to their opponents in each game—like bury the Chicago Bears in a hole during their September 1 matchup. The avatar also goes around getting into other mischief, warning rivals teams what they have coming in adorable fashion, like by teaming up with another Lions-fan avatar to clobber another character in a Green Bay Packers jersey with a net.
There are also cheeky references to last season in the video: The opening of a present containing a tie is a nod to their game against the Arizona Cardinals in 2019, which ended in a tie. The avatar also shuts off the Lions' fight song "Gridiron Heroes" and hops into bed to announce a bye week.
The announcement video manages to fit in allusions to another quarantine favorite: Netflix's Tiger King. At one point in the clip, the avatars are greeted by a "Hey all u cool cats & kittens," and respond, "Straight baskin' like Carole"—that's how the clip confirms an upcoming game against the Jacksonville Jaguars.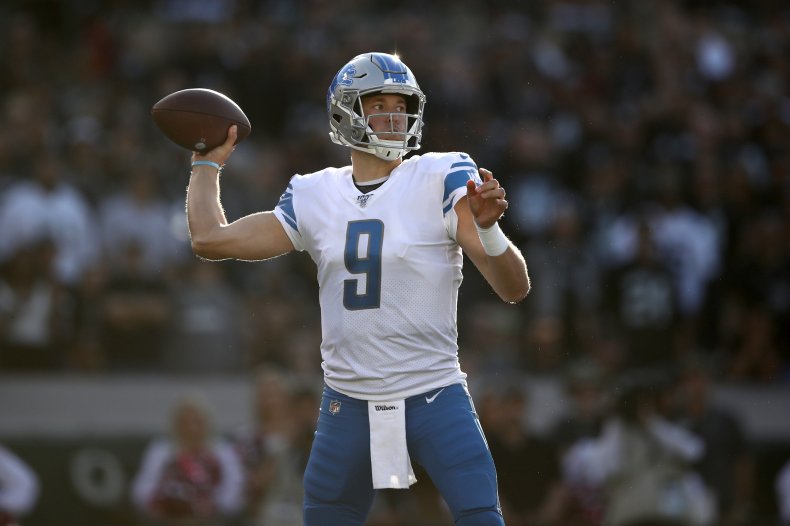 At the end of the video, Tom Nook marvels at the games that are lined up and assures fans that football would be back in no time. "There are certainly some great matchups planned for this year. I can hardly wait," he said. "NFL Football will be here before you know it. We hope everyone is equally as excited to kick off a new season of Detroit Lions football."
To coincide with the announcement, the team also gave fans Design IDs so that they could don Lions gear in the game and show off their support for Detroit in the game, while they're waiting for coronavirus restrictions to come to an end. The team is offering jerseys for QB Matthew Stafford, former running back Barry Sanders and place kicker Matt Prater, as well as a Lions cap.
The complete Detroit Lions schedule can be found on the team's website, along with where fans can watch each game.