A Detroit man was sentenced Tuesday to five years probation, as well as $1,898 in fines after he reportedly made serious death threats against Michigan Governor Gretchen Whitmer and Michigan Attorney General Dana Nessel.
Robert Tesh, 34, pleaded guilty but mentally ill to the charges in court. As a result of the plea, Tesh avoided a prison sentence, which could've been up to 20 years in the state of Michigan. However, in addition to the five years probation, he must also receive mental health treatment, where reports on his state of mind will be filed every quarter. He will also not be allowed to own weapons or firearms of any kind.
Attorney General Nessel appeared in court Tuesday to make a statement. "The deluge of threats that public officials have faced in the last year is unprecedented and unacceptable. No public official should be frightened of doing their job," Nessel said. "I have always supported the public's right to disagree and voice that disagreement, it's our First Amendment right as Americans. But when that disagreement crosses the line into a politically-motivated threat of violence, it must be prosecuted."
"As a public official, I receive death threats on a regular basis," Nessel continued. "However, I fiercely reject the idea that those threats are 'just part of the job' of being a public official. No one goes into public service envisioning that death threats will become part of their daily life, and no one should."
Tesh originally made the threats against the pair on April 14, 2020, on an unnamed social media app, according to police reports. The specific nature of the threats or what was said is unknown. Detroit Police arrested him at his home later that day, and he was charged with a false report or threat of terrorism.
At the time of his arrest, Tesh lived and worked in downtown Detroit as a real estate agent, according to Deadline Detroit, and prior to that had worked in marketing for a different realtor's firm before losing his job in 2018. Sources told the outlet that Tesh was originally from the Detroit suburb of Rochester Hills.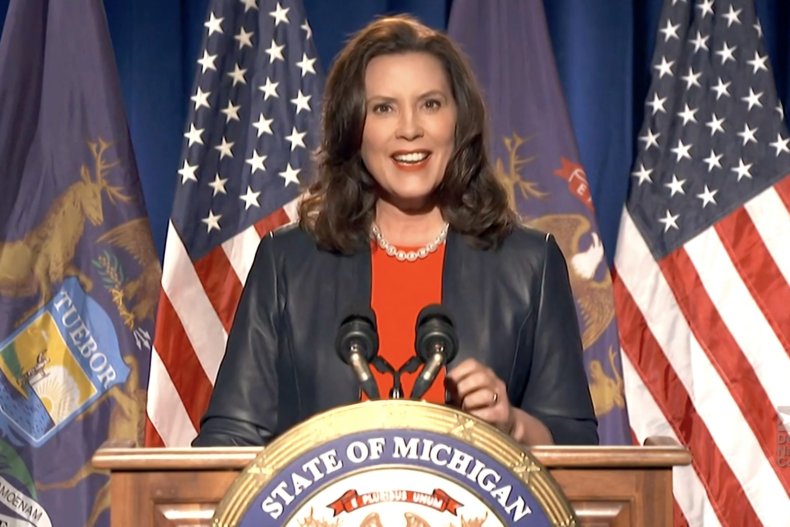 A member of the Democratic Party, Whitmer has served as governor of Michigan since 2019, and has been the target of a variety of threats since taking office. In October 2020, the FBI announced that 13 men had been arrested after they had allegedly plotted to kidnap Whitmer. Most of them were tied to a Michigan-based militia group, and six ended up being charged in federal court. One of the six has already been sentenced to six years in prison, and the others are set to face trial in March 2022.
The state of Michigan reportedly has one of the largest concentrations of paramilitary militia groups in the country. The Southern Poverty Law Center has estimated that there are around 180 active militia groups in the U.S., with 18 of them being in Michigan.
Newsweek has reached out to Governor Whitmer's office for comment.