Detroit, the U.S. metropolis with the highest percentage of Black residents, is on the brink of not having a Black member of Congress for the first time in almost 70 years. That's partly thanks to a redistricting map that now includes several mostly non-Black suburbs and partly due to the political ambitions of a self-funded Indian-American millionaire candidate who has blanketed the airwaves with ads.
Voters decide in tomorrow's primary whether Michigan's newly drawn 13th Congressional District sends State Representative Shri Thanedar, who is spending at least $5 million of his own money on the campaign, or one of eight Black candidates to Washington D.C. come January. The district is safely blue, so whoever wins the Democratic primary is virtually assured of election in November. But where the Detroit-centered seat once was dominated by Black voters, the new configuration makes Black Democrats a scant plurality of the electorate in the newly configured area.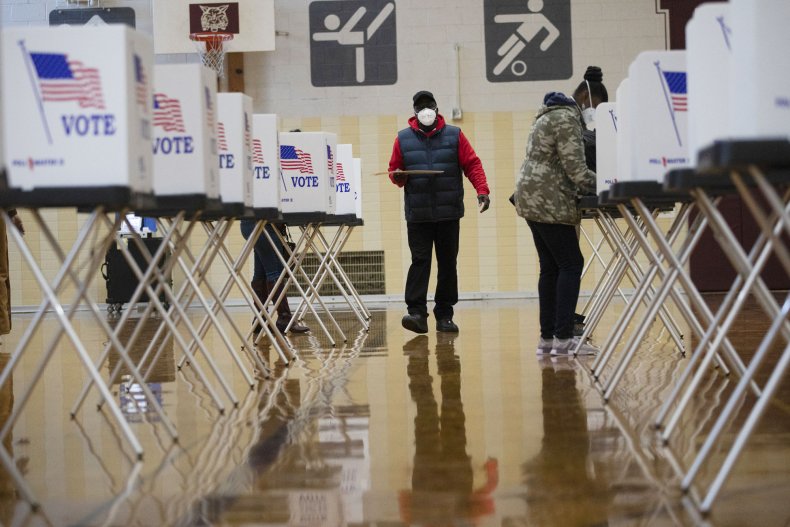 Of Thanedar's eight opponents, two are seen by experts here as viable contenders: State Senator Adam Hollier, who has raised more than $1 million and has the endorsement of Detroit Mayor Mike Duggan as well as the city's Black power brokers, and Portia Roberson, who runs a local anti-poverty nonprofit and netted the endorsement of the Detroit Free Press. Thanedar, however, topped the field with 22 percent in a poll conducted in late July by Lansing-based Target Insyght, which found Roberson at 17 percent, Hollier at 16 percent and the rest of the field in single digits.
The question of the color of the eventual winner is a major, blunt topic of discussion in the campaign. "We are days away from deciding whether or not Michigan and Detroit will have a Black member of Congress," Hollier said at a recent prayer breakfast at a Detroit church whose pastor, the Reverend Wendell Anthony, is the president of the city's NAACP chapter. "We've had one since the Fifties, and we got to decide if we don't keep having one. It's not just gonna happen because we want it to happen."
Surveying the Field
Thanedar, 67, is an entrepreneur who made his fortune in the chemical testing industry in St. Louis and Ann Arbor, Michigan. He has been airing TV ads for months and has assembled an effective field team, Target Insyght executive director Ed Sarpolus tells Newsweek. He is well-known not just for this campaign but for a 2018 run for the Democratic gubernatorial nomination in which he spent $10 million. He beat now-Governor Gretchen Whitmer in Detroit in the primary that year but lost to her statewide for the Democratic nomination.
Hollier and Roberson, by contrast, only started advertising in earnest in June and are dividing the Black vote while not building enough name recognition in the suburbs.
"The bottom line is Shri has the advantage, Hollier is making upward momentum,"" Sarpolus says. "If anyone can make some in-roads, they might be able to take that advantage away from Shri."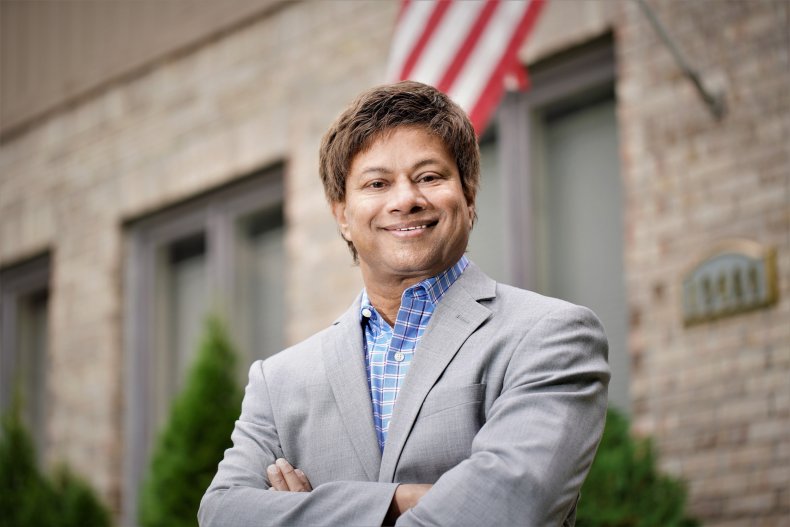 Sarpolus also says that women are expected to comprise 60 percent of the voters in the primary, a fact that could help Roberson as the race's leading female candidate.
The other congressional district with a chunk of Detroit, Michigan's 12th, is represented by Representative Rashida Tlaib, a Palestinian-American who is considered a shoo-in for a third term—especially now that her district encompasses some of the nation's most heavily Arab-American suburbs.
Shifting Demographics
That leaves MI-13, where incumbent Representative Brenda Lawrence, who is Black, is retiring. While the district boundaries shift every 10 years because of redistricting, much of the Detroit portion of the new 13th District was previously represented for 52 years by the late Representative John Conyers, the nation's longest-serving Black member of Congress. For 25 of those years, Conyers served alongside Representative Charles Diggs, Detroit's first Black congressman and the founding chairman of the Congressional Black Caucus.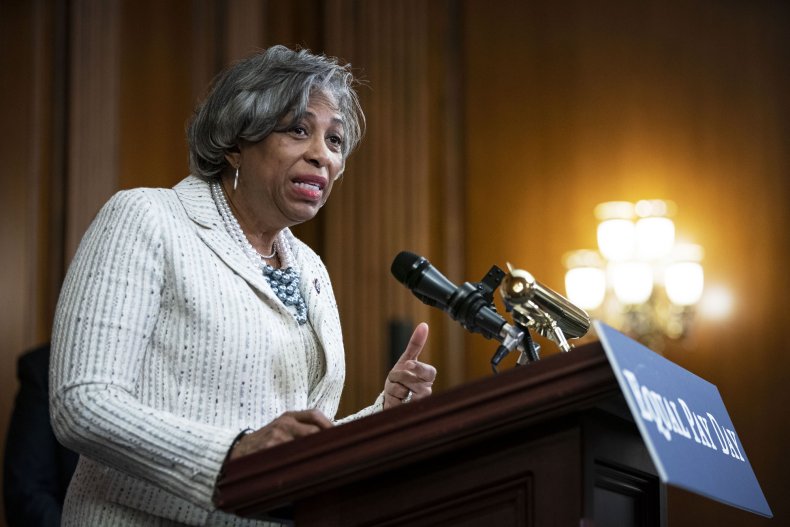 Both Detroit-centric districts became significantly less Detroit-centric after the 2020 Census found the city's population had slid more than 10 percent since 2010. Now at 639,000 residents, it is too small to contain a House district, which typically encompasses about 761,000 people. Thus, Michigan's independent redistricting commission created two Democratic-dominated districts anchored in the city but also populated by larger swaths of suburbs. More than 80 percent of Detroiters are Black, the highest share of any of the nation's largest cities, but Blacks are the plurality in only one district—the 13th—where 45 percent of the voting-age population is Black, 40 percent is white, 9 percent is Hispanic and 3 percent is Asian.
Black leaders tried and failed to prevent a crowded field of Black candidates when, in March, a group called the Legacy Committee for Unified Leadership that included the NAACP's Anthony gathered to pick a preferred candidate: Hollier. "If we split up the vote too far, we as people of color, we end up in a situation where we can be the only state with this significant an African American population that does not have a representative in Congress," Wayne County Executive Warren Evans said at the time. "Most of us have been around long enough to know that is very disconcerting to us."
Nonetheless, seven other Black candidates jumped in including a former city council member, a former state representative and John Conyers III, the late congressman's son. Of those, Roberson emerged as Hollier's stiffest competition, although she has raised only about half of the nearly $1 million he has collected in direct contributions. Hollier also has been backed by three PACs—the American Israel Public Affairs Committee, VoteVets and Protect Our Future—which have spent more than $5 million combined.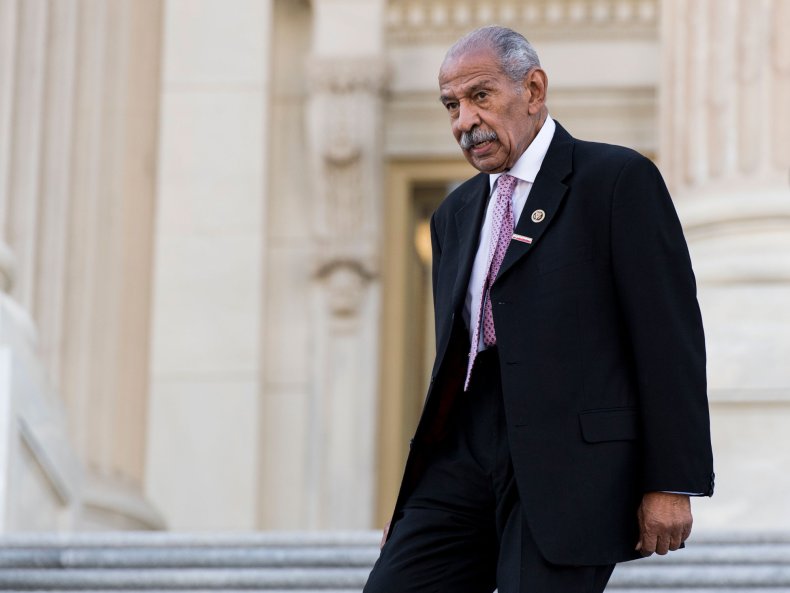 The Candidates Weigh In
Thanedar canceled a scheduled interview with Newsweek and instead responded via email to questions but did not address the inquiry about whether Detroit needs a Black representative in Congress. Instead, he leaned into castigating Hollier for being supported by PACs "backed by Republican billionaires."
"We trust the voters of the 13th District to decide their next Representative, not political elites or special interests," his spokeswoman wrote. "Shri, unlike others in this race, is not bought and sold by corporate interests."
That slam was a preemptive response to Hollier's charge that the millionaire is attempting to buy a House seat. The state senator was born and raised in Detroit, earned degrees at Cornell and the University of Michigan, enlisted in the Army, and returned to work in local politics and government. Thanedar, by contrast, moved to Detroit from Ann Arbor in 2019 to run for the seat he has held for one term in the state House.
"The reason we see that kind of spending in this race is because he moved here and said he was going to spend $5 million, and so any entity or organization or group that wants to elect a Black member of Congress would have to spend similarly," Hollier tells Newsweek. He denied that any of the PACs supporting him are "Republican organizations," noting they have endorsed many prominent Democrats, and went on: "There's no one in the world who would say that Shri Thanedar would be relevant in this seat if not for a $5 million contribution from himself to himself...The idea that someone who parachuted into a district can categorize me as being bought and paid for it is laughable."
Roberson, 52, took a shot at both men, saying voters "are very concerned that anyone could buy this race, whether it's money being given by a candidate in his own race or whether it's outside money being used to try and purchase a seat." A civil rights attorney who served in the Justice Department under President Barack Obama, Roberson won the Free Press endorsement in large part for her work saving a failing, indebted anti-racism nonprofit in Detroit as its CEO. She believes it's not only important to have a Black representative for Detroit but also a Black woman.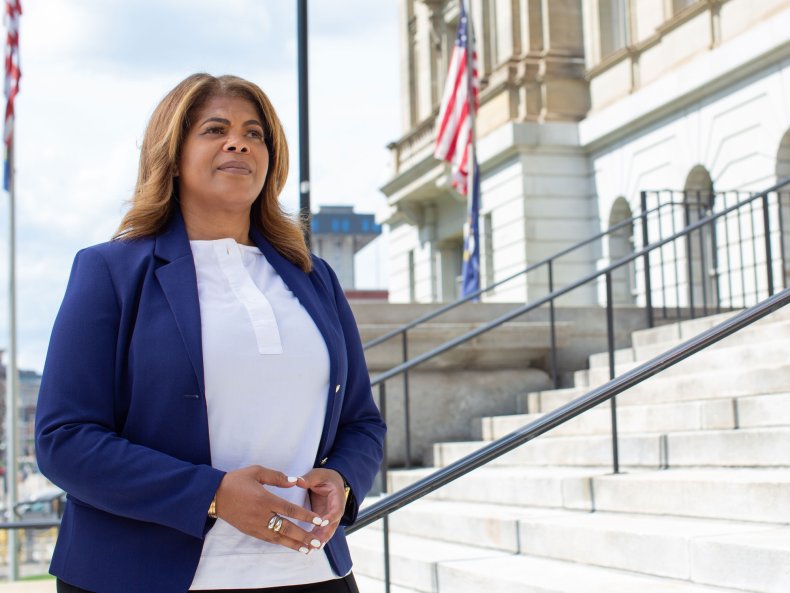 "I keep pointing out to people that right now, there are currently 25 Black women in Congress out of 435 in the House and another 100 in the Senate, so it is imperative that we have that kind of representation where we speak to the issues that are important to women and important to African Americans as well," Roberson says.
To many, the election result could reflect what sort of bigotry is the least potent to white voters. Mildred Gaddis, whose eponymous talk show has long been a fixture of Black radio in Detroit, put it this way: "This race is going to come down to whether or not non-Black voters have more disdain for a self-made millionaire who happens not to be Caucasian or a Black American."