Detroit Police Chief James Craig has called the police officer who shot and killed 19-year-old Hakim Littleton "a hero" in a Friday evening press conference. Craig's praise of the officer followed growing protests and calls for an investigation into Littleton's death at the hands of police.
"This officer is a hero," Craig said during the press conference. "He is what I would describe as an American hero."
The unnamed officer shot and killed Littleton on Friday afternoon while trying to arrest Darnell Sylvester on an active federal arrest warrant for drug distribution. Littleton was present during Sylvester's arrest. Sylvester was a suspect in an early morning July 5 shooting that killed three and injured five.
Police said that Littleton drew a pistol and began firing to prevent officers from arresting Sylvester. Littleton reportedly continued firing over his shoulder as police tackled him to the ground. Police say Littleton fired a total of four rounds from his 25-caliber Blue Steel semi-automatic pistol.
Video footage played at the press conference showed smoke rising from Littleton's pistol as an officer began tackling him.
"The officer who was initially fired upon showed tremendous courage in pursuing an armed suspect who clearly fired two shots in his direction," Craig said while reviewing video footage at the conference. "And it's simply a miracle that he wasn't struck in the head. We don't know how close because he was aiming the pistol.... It's a miracle he wasn't struck by gunfire."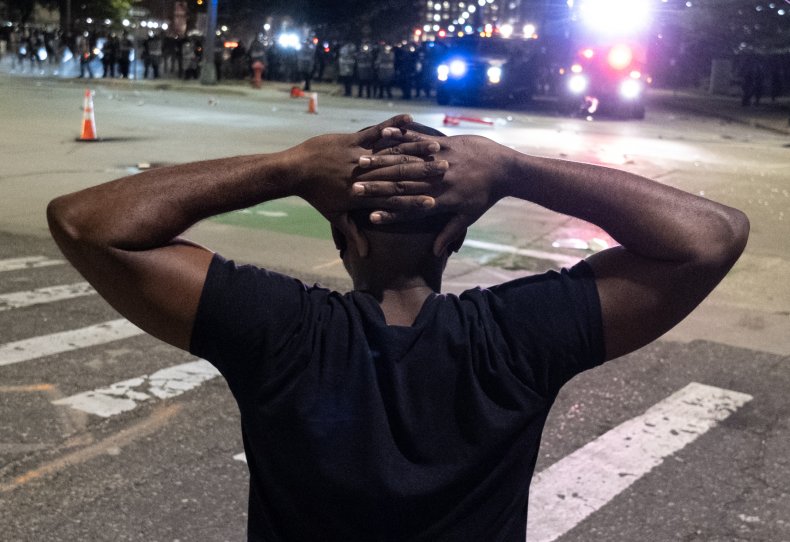 Craig said he wanted to hold a press conference and make the information public since a group of protesters had gathered at the scene of where the shooting took place. A few protesters allegedly threw rocks and bottles at two officers at the scene as word of the shooting began spreading on social media.
Craig said that protesters were angry and had said that they'd read on social media that Littleton was unarmed. Thus, the chief sought to share video footage and initial facts from the incident to provide some transparency and quell potential unrest. Craig said the protesters had been almost entirely peaceful.
Deseanae Wells, Littleton's cousin, disagrees with the police's version of events. She said she was present when it happened and that Littleton was unarmed. While Wells said Littleton approached the officer, she also claimed he had knelt down just before officers shot him.
"They murdered him. Shot him in his back walking down the street. Oh they told them to freeze, ok put your hands up. And they did, and they shot him trying to put his phone in his pocket," Wells said.
Wells' version of events does not match video police showed at the Friday evening press conference.