Detroit Police's Largest Ever Dogfighting Crackdown Ends With Major Bust
A joint venture between state and federal police as well as a non-profit organization has resulted in 133 dogs being rescued from a mass dog fighting ring in Michigan.
Bark Nation, the non-profit that works to end canine cruelty, called it "one of the largest operations to combat dogfighting in Michigan's history."
The charity's Facebook page said earlier this week, through combined efforts, these 133 dogs were removed from multiple properties in Detroit, Michigan, under suspicion of being involved in dogfighting.
The Bark Nation Director of Operations, Jessica Brown, spoke about the conditions the dogs were found in and the organization's happiness at being able to offer assistance.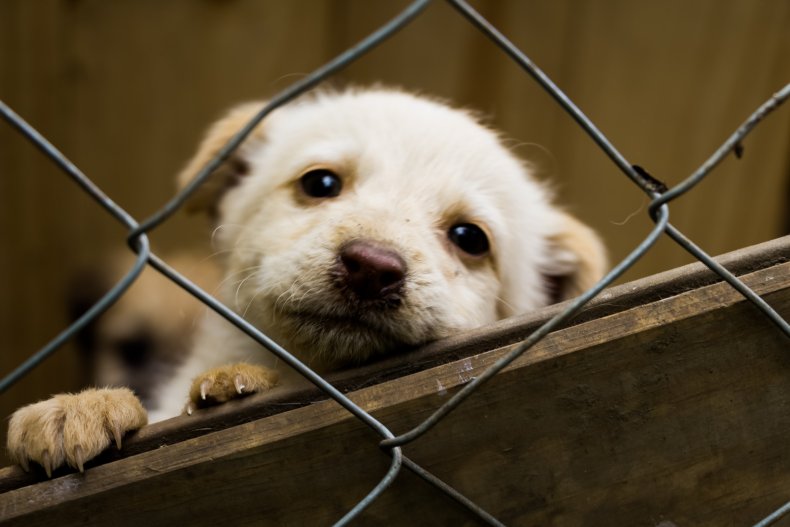 "Bark Nation was honored to have the privilege of deploying our National Animal Response Unit to assist local and federal law enforcement with the documentation and seizure of dogs from this ongoing case," she said, according to a WXYZ News report.
"The majority of the dogs rescued were found living outdoors, attached to heavy tow-style chains with minimal shelter from the elements.
"Many required immediate medical care for a variety of injuries and illnesses. We are hopeful all will recover successfully and be able to begin their life after dog fighting."
Brown added that many of the rescued dogs were "thin or underweight." She also highlighted the expected costs of nursing all the dogs back to good health.
"On average, it costs a little over $1,400 to care for each dog in our care. And we're estimating that this operation will cost a little over $74,000 for their medical and rehabilitation before they can be rehomed."
The non-profit organization has since set up a donation page on Facebook to ask the public to help contribute to the cost of care needed for the pooches.
So far, about $22,700 has been raised of its $35,000 goal from over 460 donations.
The charity has already thanked all the people who have donated thus far or reached out regarding the safety of the dogs.
Dogfighting is a felony in all 50 states and the District of Columbia, Guam, Puerto Rico, and the U.S. Virgin Islands but continues to occur "in every part of the country and in every type of community," according to the American Society for the Prevention of Cruelty to Animals (ASPCA) charity.
A report from the non-profit states: "In the past decade, the ASPCA has assisted with approximately 200 dogfighting cases in at least 24 states, and has impacted through rescue, consultations, and investigations nearly 5,000 victims of dogfighting.
"Fights can happen in a variety of locations ranging from back alleys to carefully-staged enterprises. Fights typically take place in a 14-20 square-foot pit designed to contain the animals.
"Fights can last just a few minutes or several hours, and both animals may suffer injuries including puncture wounds, lacerations, blood loss, crushing injuries, and broken bones.
"Although fights are not usually to the death, many dogs succumb to their injuries later, and losing dogs are often discarded, killed, or brutally executed as part of the "sport."
Newsweek has contacted Bark Nation and the Detroit Police Department for comment.