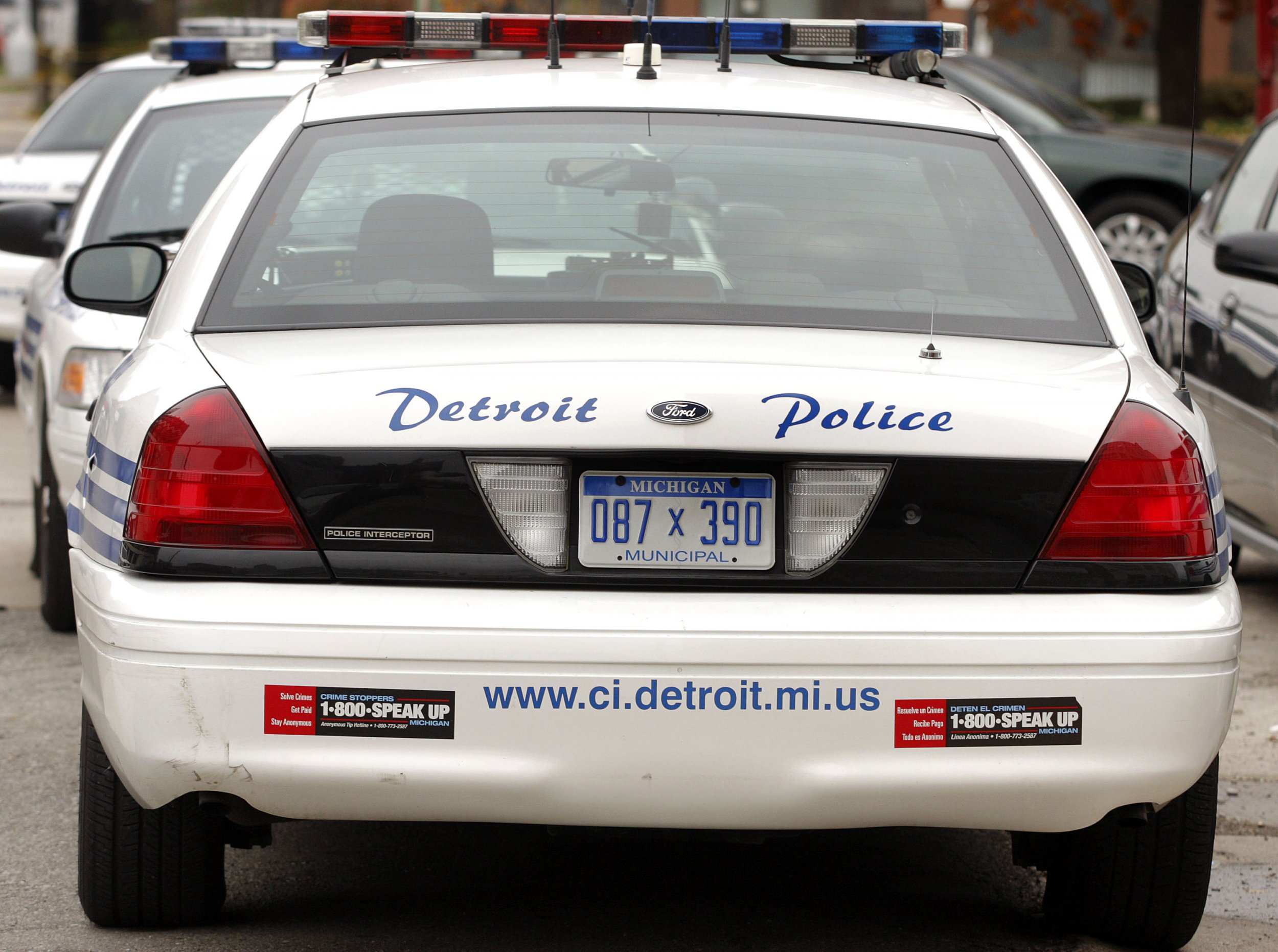 A Detroit police officer was suspended and an investigation has been launched after a video emerged showing him repeatedly striking a naked woman at Detroit Receiving Hospital, authorities said.
Detroit Police Department Chief James Craig said on Thursday that he was disturbed by what the video showed. The department announced the officer had been suspended with pay pending an investigation after the video was reported by WJBK.
The video, which was captured by a witness, showed the officer punching the woman multiple times while other officers hold her. The naked woman appeared to be cursing and spitting when the officer began to strike her, WJBK reported.
The Detroit Coalition Against Police Brutality, a police watchdog group, called for charges against the suspended officer in an email obtained by the New York Daily News.
"When we look at the video, we saw an officer with corporal stripes who had total disdain for a citizen who was obviously ill," spokesman Kenneth Reed wrote. "The hatred was palpable. These are officer who must be held to a higher standard."
Two officers initially responded to a "lewd and lascivious in progress" call at Brainard Street and Trumbull Avenue on Wednesday evening, Craig said. The officers encountered the woman, who appeared to be having a mental crisis.
Craig said the officers gave the woman a robe and transported her to Detroit Receiving Hospital without handcuffing her, despite department training.
"Things began to change" when the officers and the woman arrived at the hospital, Craig said. The woman took off her robe and began threatening and spitting on hospital employees.
The woman then allegedly bit one of the two security officers that came to help and attempted to bite one of the original officers. A male police officer attempted to calm her down, but when she did not respond he began punching her, Craig said, according to WDIV-TV.
Craig said on Thursday that the department teaches officers to de-escalate a situation. He said that video showed the suspect had turned her back to the officer, but he continued to punch her.
"It was at that point we had grave concerns for the officer's actions," Craig said.
An investigative team began interviewing witnesses after receiving the video from the witness. Craig said hospital staff noted the woman was aggressive and threatening but did not comment on the officer's response.
The officer, an 18-year veteran of the department, was "immediately suspended," Craig said.
In a statement to Newsweek, Wayne County Prosecutor's Office (WCPO) spokesperson Maria Miller said that the prosecutor's office is not conducting an investigation at this time.
Miller told Newsweek, "We have not received a warrant request yet for this case. When we have it we will follow our usual procedure in police involved cases and conduct a separate and independent investigation, and then we will make a charging decision."
Correction | A pervious version of this story incorrectly stated that the Wayne County Prosecutor's Office would reportedly launch a criminal investigation during the Detroit Police Department's internal investigation. The Wayne County Prosecutor's Office has clarified that it has not yet launched an investigation.
SaveSave