Detroit Teachers Protest Conditions; 'Sick-Outs' Close Dozens of Schools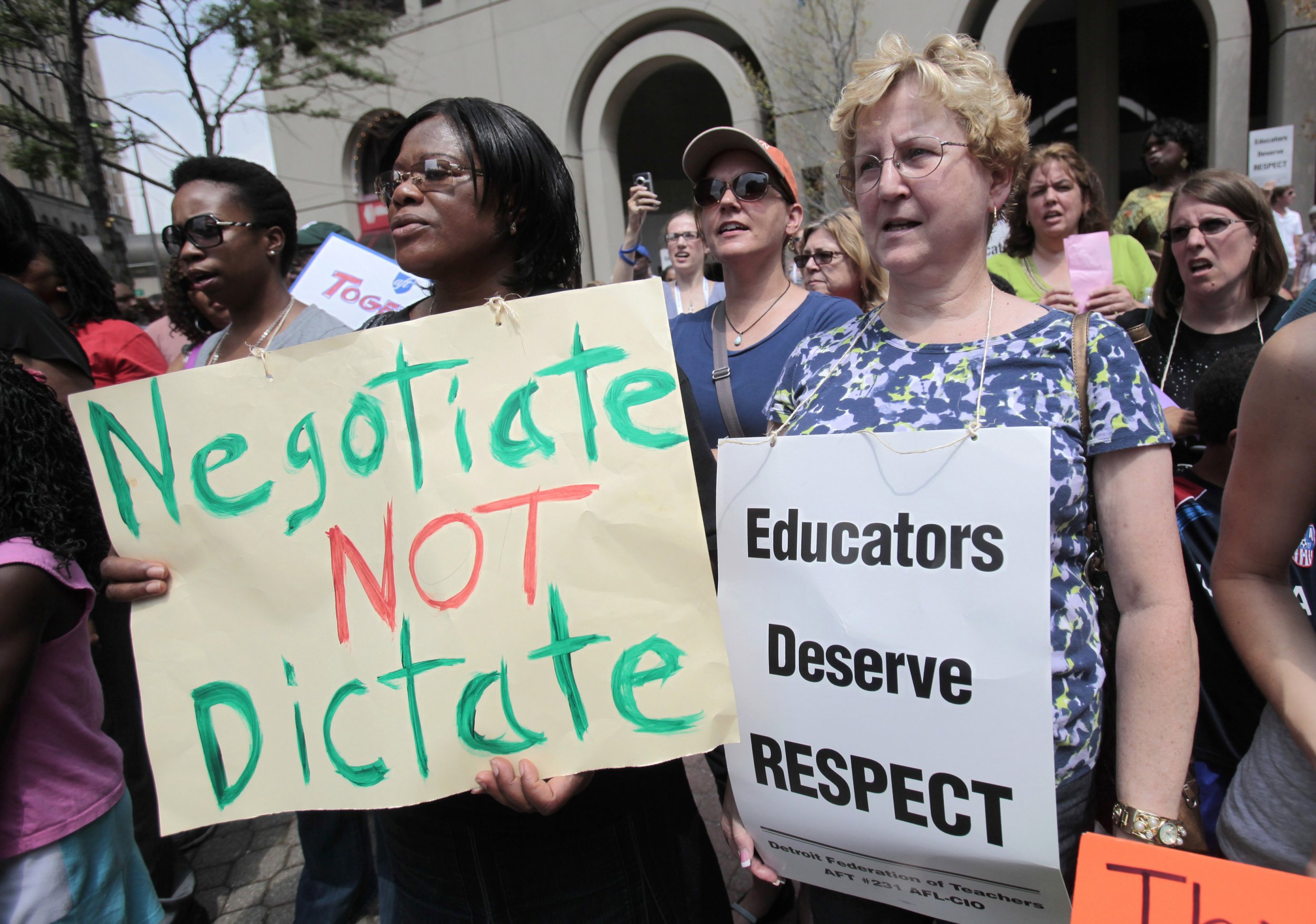 Dozens of schools in Detroit were closed on Monday amid a protest by teachers, who are demanding a safer environment that is more conducive to learning.
The teacher "sick-outs" closed 58 of the district's 100 schools, according to MLive.com, a local publication.
The crux of the issue is a struggle over management and restructuring of the public school system. Much to the frustration of the teachers, emergency managers are currently in charge of the school district, and the school board is thus limited in its influence on the public school system, MLive explains. "My staff and I understand and agree with the teachers' concerns about their compensation," Darnell Earley, the emergency manager of the public school system, told the Detroit Free Press. "I've been talking with the governor's office and the state Legislature about how critical it is that we address this issue as part of his plan to restructure DPS."
Detroit's mayor urged the teachers to return to work. "I understand the teachers' frustration, but our children need our teachers in the classroom. I encourage the teachers to end the sick-outs and remain in the schools, and I encourage our state officials to move quickly to address these pressing educational problems," Mike Duggan said in a statement.
In a statement, the organization Detroit: Teachers Fight Back said it is "demanding safe conditions, adequate learning environments, and a level playing field" for students. Sarah Jardine, a Detroit public school teacher, wrote an open letter to parents:
Dear Parent,
I write this to you on this night because you're on my mind. You live in Detroit and you send your child to Detroit Public Schools. You trust me everyday with your children. I feel that I owe you an apology. I apologize because I should have stood up. I kept quiet as they dismantled our schools. I was silent when they took your schools from you. I didn't protest in the streets when they put our schools in State control. I said nothing when they took your democracy. I should be ashamed of myself. I, the teacher you trusted, had power to start a revolution, and fight for you, and I didn't fight back. Tonight, I am going to make you a promise that I won't sit quiet any longer.

You're going to hear in the news, and in the papers, about how I don't care about the students. You're going to hear that taking days for sick-outs is selfish of teachers. I agree I have been selfish but it was my inaction that was selfish. It was me sitting in my position of authority in your children's life and doing nothing to protect them. I am sorry, I let this get so far. I promise that although I want a living wage that is not what brings me to action today. What makes me fighting mad is that your child, who I call "one of my kids", is learning in an environment that is in total chaos. I am sending a message to Michigan politicians that they must sit at the table and legislate to come up with a solution to the financial crisis that they caused.
In her letter, Jardine asked for school supplies, music classes, play space, properly maintained school buildings, manageable class size and quality food programs.
First-grade teacher Theresa Williams, meanwhile, told the Detroit Free Press she has 39 students in one class. "You want to meet the needs of all the children," she told the paper. "You have to do the best you can."
During a rally on Monday, teachers chanted " Detroit kids matter," and some Detroit public school parents said they backed the educators. "We're fighting for the kids," Jaime Diaz-Herrera, a parent, told the Free Press.
Earley, the emergency manager, took issue with the teachers' actions: "I don't disagree with anyone's right to protest," he said last week. "[But] using students as pawns to advance a political position in my opinion is not only unacceptable, it is also very unethical."
The Detroit Free Press investigated to determine if "sick-outs" are illegal and found that while they may be it would be up to officials to press the issue. "It's the employer's responsibility to file a complaint. We can't initiate it ourselves," Tanya Baker, a spokeswoman for the Michigan Employment Relations Commission, told the Free Press. "I think we would refer to this as a strike. It is a violation of Michigan law for public employees to go on strike."