General Motors has just delivered an electric shock to the automotive world. America's biggest automaker says that it wants its entire vehicle lineup to be electric by 2035. That's a mere 14 years from now.
This shouldn't be a shock. Electric cars are coming at us fast.
But recall that less than two years ago, then-President Donald Trump tried to slow this necessary transition. He demanded that carmakers reject California's tighter carbon-emissions standards—rules that would have helped Detroit move more quickly toward the clean energy vehicles the world was demanding.
GM sided with him, while Ford, Honda, Volkswagen and BMW were happy to work with California. Trump then retaliated against America's No. 2 carmaker, accusing Ford of wanting to build "a much more expensive car, that is far less safe and doesn't work as well." None of those charges are true, in case you're wondering.
Cynics say that GM CEO Mary Barra was playing up to Trump then and is now playing up to President Joe Biden, who is going big on clean energy. In any case, the move to an all-electric fleet is a business decision.
Britain, Ireland and the Netherlands say they will ban the sale of new gasoline cars by 2030. China announced that most vehicles sold there by 2035 must be electric. (GM sells more cars in China, through joint ventures, than in the United States.)
For an idea of how Wall Street views the electric vehicle future, consider that investors put a value on Tesla—an electric car and clean energy company founded in 2003—10 times that of GM.
Oh, and while Washington was trying to hold domestic carmakers back, China was building dominance. China leads the world in making battery packs for electric vehicles, by far. It's grabbed control of much of Earth's raw materials needed for electric cars. And it is offering princely subsidies for the vehicles' purchase.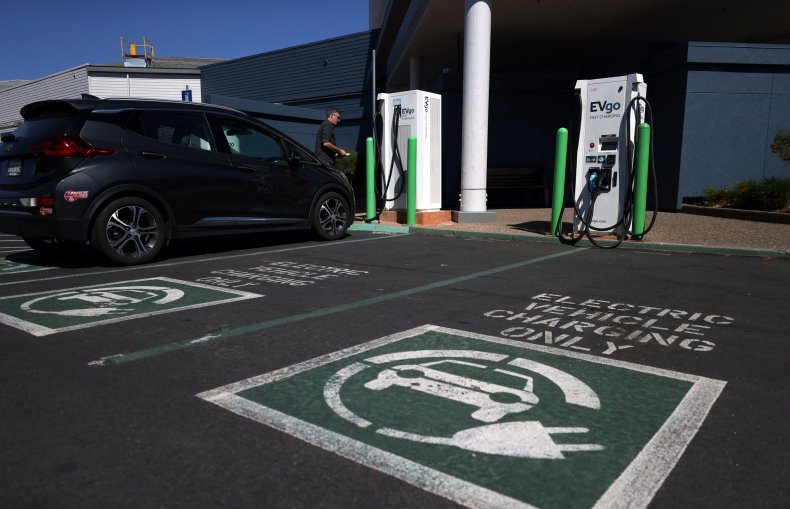 Biden wants to extend the $7,500 tax incentive to buy EVs and says he will build 500,000 charging stations coast to coast. Both moves would further boost domestic demand for electric vehicles. That would lower the automakers' per-vehicle costs in a global market, raising the companies' profits.
But how strong is current domestic demand for electric vehicles? Let's put it this way: One day after GM started taking orders for a zero-emission Hummer, the first year's production was sold out.
Back in the days of oil supremacy, the Hummer had become the epitome of polluting excess. Some owners seemed to like it for that reason. But power is no longer the province of fossil fuels. The electric Hummer has 1,000 horsepower and can go zero to 60 miles per hour in three seconds.
Meanwhile, the Ford Mustang Mach-E sport utility vehicle was a star at the recent Beijing Auto Show. The Mach-E is a complicated concept. Not your pony car of yore, it is an electrified SUV cosmetically altered to look a bit Mustang-like. It has four doors! Whatever. Edmunds just made it its top-rated luxury EV, beating out Audi, Porsche, Jaguar, Polestar and Tesla.
Funny to read that Rep. Debbie Dingell, a Michigan Democrat and former GM executive, said she told carmakers: "When Joe Biden gets elected, your world will turn upside down. You've got to be at the table or else this thing gets jammed down your throat."
By contrast, Bloomberg News reports that "Biden's position has been met with a collective sigh of relief in some quarters of Detroit." Finally, an administration is interested in easing the necessary transition.
GM plans to build an electric-vehicle battery factory in the Lordstown, Ohio, area. Here we go.
Froma Harrop is an award-winning journalist, author and syndicated columnist.
The views expressed in this article are the writer's own.