City officials in Detroit are working to implement a plan that will send workers door to door in an effort to provide residents with information about where and how they can obtain a COVID-19 vaccine.
The Detroit City Council green-lit the plan on Tuesday through the approval of a contract with the Detroit Employment Solutions Corporation worth more than $1 million, according to The Detroit News.
The city's efforts will use a census-like approach to communicate directly with residents as efforts to vaccinate Americans ramp up in Michigan and throughout the country.
According to the City Council's Tuesday session agenda, the goal of the contract is "to provide outreach canvassing to increase vaccine appointments for eligible Detroiters."
City Councilman Scott Benson celebrated the contract's approval in a Tuesday post on Facebook that accompanied a link to the Detroit News article.
"This contract will ensure that ALL Detroiters know the facts about the vaccines and where they can get free shots," Benson's post said.
The councilman added: "We want to make sure everyone is educated and that they know about each of the facilities for them to obtain that vaccination. We just want to make sure that all Detroiters are making themselves aware and avail themselves to these opportunities."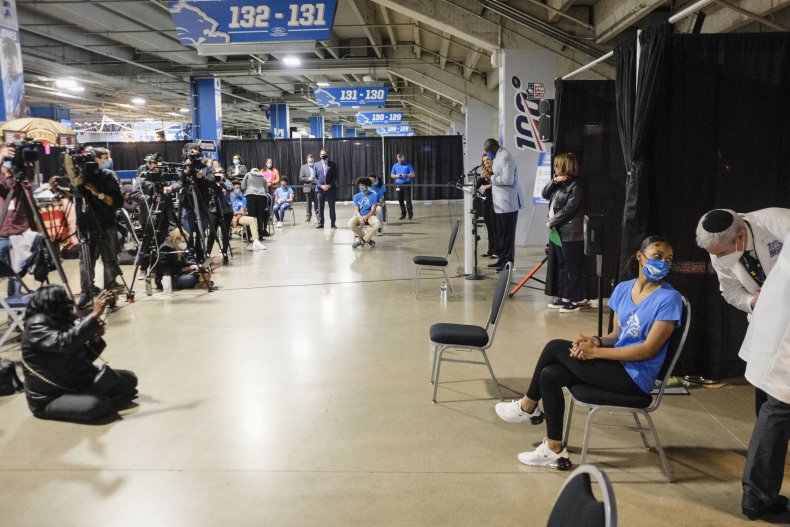 Vicki Kovari, an executive assistant to Detroit Mayor Mike Duggan who led the city's 2020 Census count, told WWJ-AM earlier this week that the city aspires to begin the door-to-door vaccine awareness campaign at the end of this month with the goal of knocking on "every residential door in the city of Detroit."
Michigan has emerged in recent weeks as the country's latest COVID-19 hotspot. By Tuesday, April 6, the state reported more than 707,000 infections since the start of the pandemic, with more than 16,000 resident deaths linked to the virus. More than 36,500 of the state's total infections were reported in Detroit, according to the city's health department.
The COVID-19 situation in Detroit has similarly "taken a turn for the worse" in recent days, Duggan said earlier this week.
"Detroit used to be a national leader in fighting Covid and things have taken a turn for the worse," Duggan tweeted on Monday. "We need to protect our City by masking up, social distancing, and getting the Covid-19 vaccine as soon as possible."
Though Michigan became the latest state to experience a surge in new cases, vaccination efforts continue ramping up, with nearly 3 million residents vaccinated against the virus by April 5, according to state data. In Detroit, city officials took steps earlier this week to expand access to vaccinations, with eight new locations expected to offer the Johnson & Johnson vaccine during a weeklong clinic starting on April 12.
Newsweek reached out to Duggan's office and Detroit Employment Solutions Corporation for comment and will update this article with any response.