Deutsche Bank Should Be Investigated On Jared Kushner And Donald Trump 'Questions of Impropriety': Watchdog
A watchdog group demanded on Wednesday that the Federal Reserve System (FRS) investigate whether Deutsche Bank has been complying to anti-money laundering laws in light of "questions of impropriety" on behalf of clients President Donald Trump and his son-in-law, Jared Kushner.
In its letter to the FRS, Citizens for Responsibility and Ethics in Washington (CREW) cited recent reports that Deutsche Bank had a lax approach to money laundering laws and possibly violated the Bank Secrecy Act.
Deutsche Bank employees said that rejecting anti-money laundering compliance advice related to Trump and Kushner was part of a "pattern of the bank's executives rejecting valid reports to protect relationships with lucrative clients," according to a New York Times report in May. The employees said the bank's management stopped suspicious activity report filings to federal law enforcement that involved entities controlled by Trump and Kushner, who is a senior White House adviser.
A Deutsche Bank employee alleged that the bank was applying heightened scrutiny to dozens of accounts associated with politically-exposed people that could include Trump and Kushner. The report also raised problems with the bank's handling of accounts owned by high net worth people including Trump.
"Jared Kushner is involved in commercial, high-end real estate, which is a high-risk industry," CREW spokesman Jordan Libowitz told Newsweek. "His sources of income in this industry are also seemingly high-risk and raise questions."
Libowitz added that Deutsche Bank is "refusing to act on whistle blower concerns regarding both these issues, and thus two high-risk situations are going unaddressed."
CREW executive director Noah Bookbinder said in a statement said that "questions about transactions between President Trump and foreign actors whose conduct seemingly warranted suspicious activity reports, potentially facilitated by Deutsche Bank, harms the public legitimacy of the institution of the presidency itself."
The letter demands that the FRS "make the results of the investigation available to the public in order to dispel any questions of impropriety on behalf of President Trump."
A spokesperson for Kushner's family-owned real estate business, Kushner Companies, in a statement to Newsweek on Wednesday evening said: "Any allegations regarding Deutsche Bank's relationship with Kushner Companies which involved money laundering is completely made up and totally false. The New York Times continues to create dots that just don't connect."
The White House did not immediately respond to requests for comment. A spokesman for Deutsche Bank declined to comment to Newsweek on Wednesday afternoon.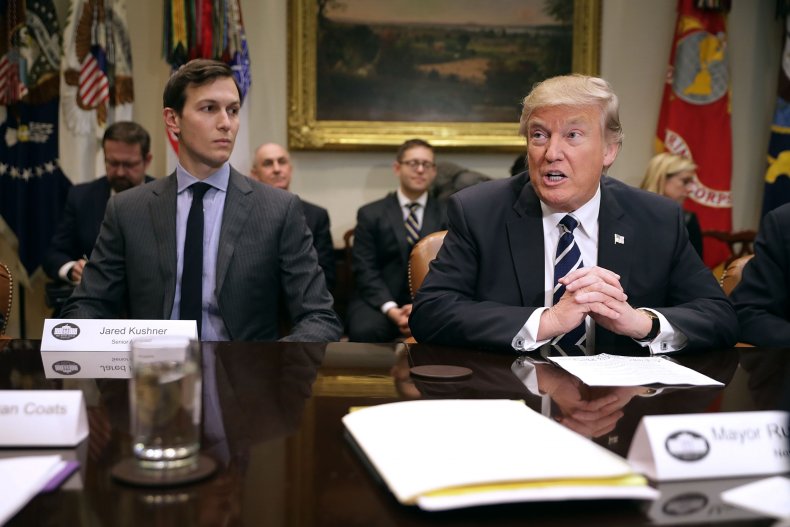 In May, a federal judge in New York rejected an effort by Trump to stop Deutsche Bank and other big banking institutions from handing over his family financial documents to investigators. The judge refused to grant a preliminary injunction that Trump's lawyers asked for to prevent Deutsche Bank from complying with a congressional subpoena, which was bad news for the president.
Deutsche Bank has reportedly let Trump borrow billions of dollars in the past few decades when other major financial institutions declined because of his bankruptcies. Kushner and his wife, Ivanka Trump, have unsecured credit lines from Deutsche Bank, and New York State's Department of Financial Services in February reportedly requested loan information from the bank related to Kushner and his business.